If a good old fishing adventure, be it locally or overseas, gets you excited every time you hear about it, there's a high probability you might fall in love with the Deep Sea Dosh online slot game too. This game is rapidly emerging as an excellent recreational pastime for fishing and gambling enthusiasts all over the world.
Have a spin under the sea with the cool and exciting online casino game Deep Sea Dosh and you might develop a completely different and positive perspective towards online casino games.
Basics of the game
Based on an underwater theme, Deep Sea Dosh is an online slot game featuring 3 reels and just one single pay line. It comprises of attractive features including base game bonuses. The game is set inside a Disney sort of underwater setting, made complete with the inclusion of a toothy shark, a trident-wielding character and a pretty mermaid (here's how people gathered in the US some time ago to celebrate their love of mermaids.
The basic symbols on the reels are the conventional kinds such as lemons, oranges, cherries and bars, however, you'd also find some nautical symbols like oysters, pearls, yellow fish, mermaid, crabs and a character with trident. On a side note, if you do love underwater adventures, these are 10 best diving adventures you must definitely look at.
Various bonus features
Treasure chest game titled 'Take it or leave it' – this one's a randomly triggered game that involves treasure chests you can already see floating over the slot game's reels. The reels get slowly filled up with water and the game starts by opening every chest and revealing a multiplier varying from 10x to 150x. Thereafter, 5 chests are removed from the game and you are offered a specific multiplier. It's up to you whether you decide to reject or accept this multiplier. In case you reject it, 5 most chests would get removed from the game and you'd be made another offer. If you reject that offer as well, you'd be bound to accept the final multiplier offer made to you.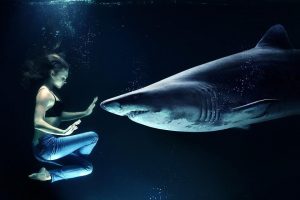 Nudges and holds – Players get offered nudges on a random basis once they've spun the reels a few times. These nudges enable you to nudge the single reels down, sometimes making winning combinations. Such nudges might also get repeated in the following spins. Holds on the other hand enable players to freeze any particular reel, with the hope of landing a winning combination during the next spin.
Shifta – You might get shown a Shifta after any of the unsuccessful spins. This feature rearranges the reels in a manner that you might land a winning pay line.
Let 'em spin – Anytime you see this message appearing on the notice board above the reels, just blindly press the 'Spin' button and enjoy the guaranteed win!
There's hardly any strategy involved in this game as it's mostly about spinning the reels, sitting back and hoping for the right combinations!
Final word
Deep Sea Dosh online slot is hugely popular among fishing lovers throughout the world. Not only do people actively play this online slot game, they also win plenty of money with it. It's essentially a conventional slot game that also has a bonus feature in it. All in all, it's a must-play for any fishing enthusiast!