The Lower Thames Championship, held between Penton Hook and Molesey on September 18 saw some amazing catches of fish. The Warlingham & DAS run event, sponsored by Dulley Ceilings and Partitions saw 121anglers take part following a chilly night and tackling difficult, clear conditions.
But Robert Wright (Maver Image VDE) recorded his best ever victory from below Penton Hook where he offered a 13 metre pole and caster over groundbait to land 26-3-0 of roach to 12 oz. The 25 year-old gas engineer from Tottenham, London had to wait 90 minutes before seeing any action but then caught fish steadily to lift the £1,200 prize, crystal trophy dedicated to the memory of the late David Bird and £100 in betting vouchers courtesy of William Hill bookmakers.
The event was covered by a SkySport TV crew who were at hand at Walton Bridge to witness runner up Roy Breakwell's catch. The Davies Angling backed star from Englefield Green in Surrey was pegged opposite a pleasure angler and when the latter caught a bream, Roy attacked with groundbait feeder and worm. He landed four bream to 6 lb and bits for 23-1-0 and collected £1,000. Amazingly Roy hooked a feeder he had lost earlier in the match, complete with 5 lb bream hanging on the "lost" rig!
Performance of the day, and probably one of the most amazing small fish catches ever, went to Watford based Simon Willsmore (Milo/D & A Tackle) who was at Laleham. He set out his stall with a two metre whip and pinkie over groundbait to land over 700 gudgeon along with three stray perch and a roach for 19-10-0 and £800.
Fourth spot went to Malden Rushett, Surrey Thames expert Andy Rogers (Guildford Angling Centre) who was close to Molesey's famous hump swim and fished a "Topper" float and double bronze maggot over hemp and maggots for 19-8-0 of roach.
Molesey also produced the next two weights including Bristol based Alan Symonds who had 18-6-0 of perch for sixth place. Seldom can have four different species (roach, bream, gudgeon and perch) featured in such quantity to have featured in the top six of a match. Only the chub and dace were missing!
Note: Warlingham DAS were sponsored by San Miguel Lager, marketed by the now defunct Truman brewery, in 1981 and ran a match on the Wey Navigation. In 1982 the match was switched to the Thames and became the Lower Thames Championship. It was videoed, albeit by amateurs as was the 1983 event.
In 1984, Greene King arrived as new sponsors and the Abbot Ale Lower Thames Championships ran for a further three years. When the sponsorship concluded the match went into mothballs as the Thames went into decline for various reasons including cormorant predation, over abstraction, habitat changes and natural lifecycles of species. Specimen fishing improved but matches almost vanished.
Dulley Ceilings and Partitions agreed in 2008 to support a revival of the competition as there were encouraging signs that whilst dace stocks were not back in the vast quantities of the early 80s, other species were. Their contribution of £3,000 per match was more in real terms than the two beer companies over two decades earlier.
LOWER THAMES CHAMPS THREAD

www.warlingham-anglers.co.uk
www.dcplimited.co.uk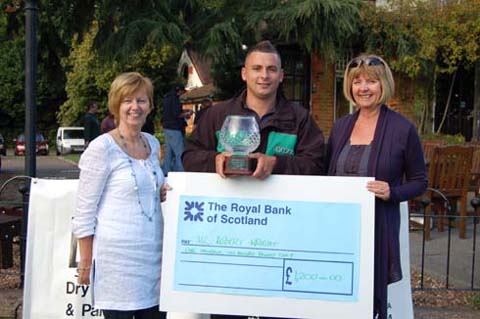 Carole Beacroft of DCP, 2010 Lower Thames Match Fishing Champion Rob Wright and Carole Bailey, Finance Director of DCP.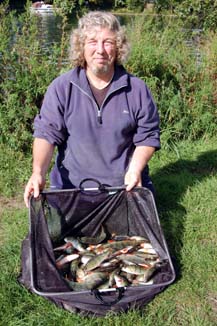 Alan Symonds 18-6-0 of perch.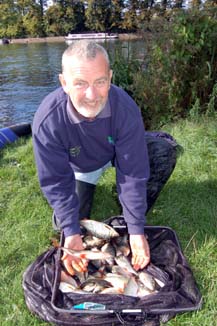 Andy Rogers with 19-8-0 of roach.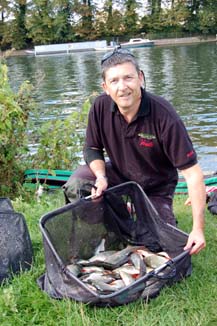 Mark Warne 19-2-8 of roach.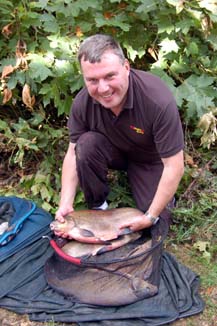 Roy Breakwell with bream.