Leamington Angling Association member Robert Swann ended the season in style with what could be a river record barbel from the Warwickshire Avon.
Robert was fishing the association's stretch of the Midlands river at Wasperton using good, old fashioned barbel tactics – luncheon meat over a bed of groundbait – to land the fish that he says took the scales around to exactly 17lb.
River barbel specialist Andy Hart, who has had barbel to 16lb 2oz from the river, confirmed that were the weight verified, Robert's fish beat's the existing record of 16lb 4oz banked by Gavin Heritage.
"The bigger barbel seem to be singular fish and tend to swim around with the carp – which are also packing it on. I've heard of carp of over 40lb from the Warwickshire Avon," said Andy.
"Pre-baiting is definitely the way to go for these fish. I use a lot of Vitalin – which is a superb pre-bait and very cheap too. I add boilies and flavours to it.
"I'm not surprised at all that a 17-pounder has been caught – the fish are packing on the weight and are really healthy and I would expect to see barbel of 18lb, 19lb or even 20lb in the next few years."
However, Warks Avon specialist Ashley Burton said: "I have major doubts. I know the stretch and it's never produced a fish of anything like this size before. I had fish to 15lb and just don't think it looks a 17-pounder from the picture."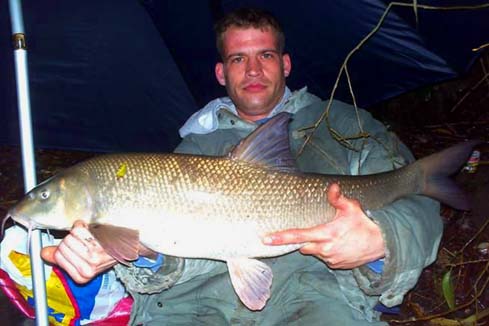 Robert Swann with his claimed 17lb barbel from Wasperton which is thought to be a new record
for the Warwickshire Avon.
---