Nine brave ladies enjoyed a weekend of fly fishing at the Arundell Arms in Devon from 28-30 March as participants in Casting for Recovery UK & Ireland, a unique outdoor-based programme specifically designed for women who have, or have had, breast cancer.
Casting for Recovery provides fly fishing programmes at idyllic retreats around the UK and Ireland. The Arundell Arms retreat was only the second to be held in the UK, and further retreats are planned for Wales in April, West Sussex and Northern Ireland in September. Venues for 2009 will be announced over the coming months and will include Scotland and the Republic of Ireland.
Any woman who has experienced breast cancer is eligible to apply to attend a retreat (with medical clearance from their doctor).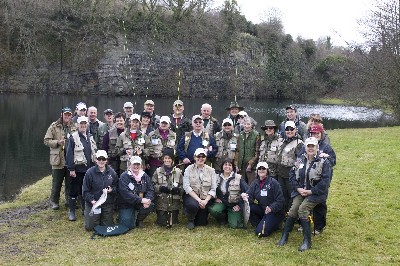 Retreats take place over two-and-a-half days and all accommodation, meals, counselling, and professional instruction are provided at no cost to participants due to the financial backing of the Countryside Alliance, although Anne Voss-Bark, owner of the Arundell Arms, generously donated the recent retreat to the programme.
Trained medical staff and fly fishing instructors are on hand at all times and the fishing tackle and appropriate clothing is provided by Orvis UK.
Fly fishing offers proven benefits for recovering breast cancer patients. The casting action provides the gentle exercise recommended by physiotherapists for joint and soft tissue mobility. Fly fishing also offers participants a chance to reflect and escape in tranquil surroundings. Casting for Recovery was founded in the United States in 1996 and has since helped almost 3,000 breast cancer survivors.
The UK and Ireland Programme Co-ordinator is Sue Hunter, who recovered from breast cancer to become an international gold medallist fly fisher.
Sue said: "The retreat in Devon was a huge success and we are immensely grateful to Anne Voss-Bark and her staff for their hospitality and enthusiasm for the programme.
The participants arrived on the Friday not knowing exactly what to expect and left on Sunday having made friends for life and having thoroughly enjoyed their time in the beautiful Devon countryside. The delight on some of the ladies' faces as the caught their first fish was magical and left no one in any doubt that Casting for Recovery is an immensely rewarding initiative that will continue to help many other ladies across the UK and Ireland. "