Over 130 anglers from across the country turned out to support a fundraising event in aid of Potteries match legend Jeff Moors, who has sadly been given just months to live in his battle with cancer.
The event organised by Dave Smith and held at Border Fisheries was fished over the four lakes of the bottom complex and despite some rain and strong winds proved to be a fantastic success.
Dave said: "When Jeff told me the news a few weeks back I was to say the least stunned. 'Moorsy' is a man I respect not only as an angler but also as a mentor for young anglers. He is a true ambassador for our sport.
"I phoned Neil Machin to let him know about Jeff and Neil said we should do something to show our respect for Jeff and a fundraising match seemed to be the best option. Little did I know just how many people would be in touch for places. The response was overwhelming at one point we had 139 pegs booked and 16 people on the reserve list, so I had top stop taking names."
The lakes on the complex were split onto 10 sections and produced the following results.
Three Islands:
Section 1 C Jones 15-0
Section 2 C Fletcher 25-0
Staceys Pool
Section 1 D Pickering 10-00
Section 2 S Turner 30-12
Meridian Canal
Section 1 C Hibbs 35-14 3rd
Section 2 N Plummer 47-6 1st Ball Green Boddingtons
Section 3 T Robinson 33-15 4th Maver Midlands
Section 4 D Willan 32-12 5th Fox
Robbies Pool
Section 1 K Dennis 38-8 2nd
Section 2 D Burrows 17-4
Match winner Neil Plummer drew peg 30 on the Meridian canal where he fished maggot at 14m into 18 inches of water on the far shelf, taking carp and barbel to 5lb.
Dave added: "Thanks must go out to the angling trade who donated prizes for the raffle, to the angling media who helped greatly to promote the event and to Bay Malton AC who provided not only the venue free of charge but also staff to assist on the day.
"The atmosphere on the day was tremendous with many of the section winners collecting their brown envelopes only to put them back into the pot. To a man we were all there for Jeff and I am not ashamed to say that my own and many other eyes filled with tears on many occasions as Jeff made his way around the pegs. However after a few moments smiles replaced the sadness and the fishing banter took over."
Following the match Jeff presented winner Neil Plummer with a commemorative plate and it was announced to the gathered anglers that the event had raised a fantastic £5,500.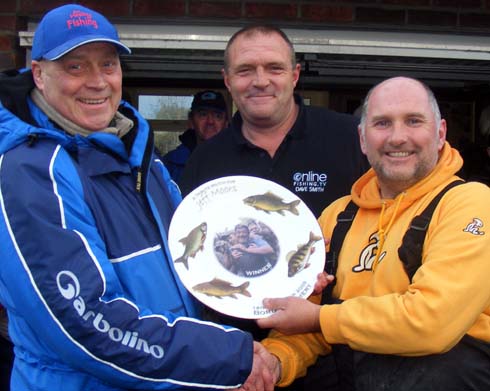 Left Jeff Moors, presents the trophy to match winner Neil Plummer, as organiser and good friend Dave Smith looks on. The event raised over £5,000 for Jeff.