Mick Bull from Warwickshire rampaged to victory in this weekend's PartyPoker.com Fish 'O' Mania qualifier at Willinghurst Fishery, booking his place in this year's final in emphatic style.
The match was fished under difficult conditions as heavy overnight rain caused water temperatures to drop, which combined with very calm conditions on the day meant the fish were very slow to respond for most anglers fishing.
There was one angler, however who had no such problems as Mick Bull fished a fantastic match destroying his fellow competitors, who were left trailing literally hundreds of pounds behind. The match started well with his first cast landing him a fish as he used method feeder to the far bank. As the match progressed his catch rate just continued to amaze his fellow anglers landing a fish at almost every opportunity.
Fishing from peg 24 on Top Lake, he had an empty swim next door as one of the fisheries most prolific pegs, number 23 was left vacant. With the extra space, Mick was able to land fish after fish and by alternating between pellets, corn and maggots, carp up to 12lbs continued to drop into his net.
As the match ended and the weigh in was concluded, Mick finished with an amazing 247lbs 2ozs, more than 150lbs ahead of his nearest rival. After finishing second at an earlier qualifier in this years competition, Mick was ecstatic to finally make it to the final, although he admitted that luck of the draw played a part in his victory. Fishing the method feeder is his forte and he is really looking forward to fishing the final.
Runner up was Fish 'O' Mania regular Ian Dixon who was fishing from peg 1 on Main Lake and caught 85lbs worth of fish. Fishing on the pellet waggler he was a long way off from the winner, however he did do well, catching carp up to 18lbs.
Another Fish 'O' Mania regular Clayton Hudson finished in third place ending the match with 77lbs 4ozs. Clayton caught his final weigh from peg 19 on Old Lake, fishing worm and caster on the pole catching carp up to 8lbs. In fourth place was Mike Sanders with 70lbs 11ozs and in fifth place was Wayne Mellings with a final weight of 62lbs 4ozs.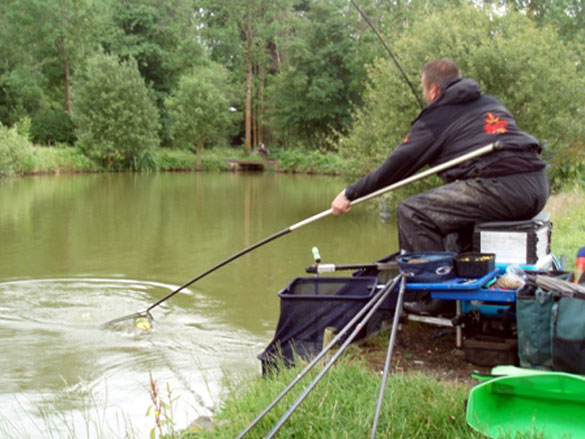 Winner Mick Bull