Rob Quinn is the new Fred Latham Memorial Cup champion after two consistent matches on the Birmingham Mainline Canal and Walsall Canal saw him beat over 40 other hopefuls.
The matches could not have been more different. The first on the Mainline was fished in gale force winds yet saw no fewer than nine weights over 10lb as the venue's magnificent head of quality roach and skimmers to over 1lb went on a feeding spree.
Winner of the day was the irrepressible Ian Moulton (Drennan NW) with an awesome 21lb catch, made up of three perch to 1lb, three small skimmers and over 200 roach. That was just enough to beat Ade Shepherd's 19-9-6 net of skimmers.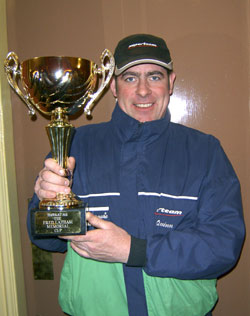 Rob Quinn with his Fred Latham Memorial trophy.
The fish were considerably smaller at the Walsall Canal on Day Two but they still fed well throughout. Simon Preece was like a son and a best mate to the dearly missed Fred Latham, so his level 8lb was a very fitting winning weight on the day. He caught over 200 roach plus a very welcome 1lb-plus perch from peg 258 on the 'grasses' section. Second on the day was in-form Shakespeare Superteam captain Mick Hatchard with 7-3-0 of small fish.
Rob Quinn secured the overall trophy with a section-winning 5-8-0 placing him on three points. Just one point behind was rising Fox Match Tipton star Mark Taylor.
Fred Latham Memorial Cup, Birmingham Mainline Canal and Walsall Canal
Day One (Birmingham Mainline)
Ian Moulton (Drennan NW) 21-0-0; Ade Shepherd (WB Clarke VDE) 19-9-6; Rob Quinn (Shakespeare Superteam) 13-11-14; Kevin Adderley (Sensas Dams & Lock) 13-1-7; Neil Martin (Drennan NW) 11-7-4; 'Big' Dave Williams (Sensas NW) 11-3-9
Day Two (Walsall Canal)
Simon Preece (WB Clarke VDE) 8-0-0; Mick Hatchard (Shakespeare Superteam) 7-3-0; Matt Forster (Sensas NW) 7-2-0; Mark Taylor (Fox Match Tipton VDE) 6-10-7; Scott Geens (Kamasan Starlets) 6-6-14; Ade Shepherd (WB Clarke VDE) 6-1-4
Overall
Rob Quinn (Shakespeare Superteam) 3 points; Mark Taylor (Fox Match Tipton VDE) 4; Ade Shepherd (WB Clarke VDE) 5; Matt Forster (Sensas NW) 5; Neil Martin (Drennan NW) 5; Darren Massey (Shakespeare Superteam) 5