Entries are invited for an international carp tournament on a New York river that has produced nearly 30,000lb of carp in a previous event.
The American Carp Society hosted a similar match last year on the Seneca River and catches were little short of incredible.
Thirty-four two-man (or woman) teams from 14 states and four countries vied for the $5,000 first prize, which was won by French anglers Frederic Labrousse and Numa Marengo.
The two anglers hauled an amazing 225 carp weighing 3,018lb – validating claims by the tournament organisers that the winners would be determined by three factors: technique, the luck of the draw and stamina. That's 60lb per hour, day and night, for 50 hours.
The unprecedented 28,544 pounds – or 14 TONS of carp – caught during the May 2007 event still stands as a world record. Thirteen of the 35 teams weighed in over 1000lb of carp.
A previous claim of a 7.5 tons during a 72-hour tournament on the St Lawrence River in 2006 was shattered at the half way mark of the American Carp Society's competition.
The team's victory proved to be the right combination after fighting 50 sleepless hours at their peg in Lions Community Park just outside the Village of Baldwinsville
Organisers say that there is no reason that this great results cannot be repeated or even exceeded.
Teams of two are invited to fish the 50-hour marathon in which pegs are randmonly drawn. The contest will be decided on total weight, plus there will be the traditional Biggest Fish award.
Prizes will be announced in the spring of 2008. The ACS Tournaments website will be updated with registration information.
The Venue
The Seneca River is a winding canal and waterway in Central New York which serves as a watershed from parts of the Finger Lakes through tributaries to Lake Ontario.
How To Enter
If you'd like to fish the event visit: http://www.acstournaments.com/acs_us_regionals_northeast_info.html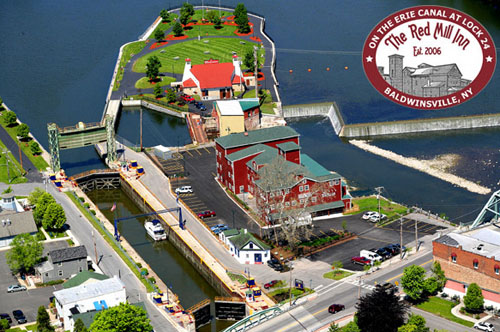 Aerial view of the Seneca River at the Red Mill Inn, Baldwinsville, New York, the headquarters location
(Photo credit: The Red Mill Inn)