Stafford Moor Fishery in North Devon is noted for some superb silver sport in winter. tcf editor Gareth Purnell finds out more.
I first met Andy Seery in Cyprus of all places. We were both fishing in one of the festivals on the reservoirs there and we shared plenty of laughs and beers.
It would be over a decade until our paths crossed again. But angling is a close-knit community and crossed they inevitably did, thanks to fishing pal Dennis Fisher, who had been telling me just how brilliant the winter silver fish sport was at his Stafford Moor angling complex in Devon.
Many readers will have come across Andy in a different guise – as the founder of Cornwall's White Acres Fishery, now the biggest angling holiday complex in the land.
Andy called it a day at White Acres when its popularity made it a bit too much for him, but his love of running and developing great fisheries still burned brightly and it wasn't long before the Stafford Moor dream was turning into a reality.
It was to be said that Stafford Moor is, er, shall we say off the beaten track. I found meandering through 30 miles of winding country lanes after leaving the M5, in the dark and in a rainstorm, to get to the complex set in a 67-acre estate near Dolton. But that's the whole point – to escape to an English retreat where even your mobile phone will struggle to bother you, and breathe in some tranquillity.
After the four-hour drive from the DHP headquarters, my Canadian pine lodge was for sure a sight for saw eyes. They are brilliantly equipped, and can comfortably sleep four, making them ideal for groups of anglers or for families. I chewed the fat with Dennis and his lad Jimmy but was soon happy to head for the bed and look forward to the following day's sport.
My first real sight of Stafford Moor came from the lodge balcony at daybreak the following morning.
There are four lakes here covering 22 acres and you can drive to within easy walking distance of your chosen peg on any of them.
We were fishing Tanners Lake, a five-acre water with a couple of islands which has a fine head of carp but an equally impressive stock of silver fish which come into their own in the cooler months.
The plan was for the three of us to fish differently to see if there was anything to be gleaned. I was happy to use Andy's 'secret' groundbait, clearly a mix of crushed pellet and something which binds it.
I was going to fish aggressively for the time of year, putting in a whole tin of corn with ten big balls at the start and then cupping in corn over the top.
Jimmy (like Dennis and unlike me) had fished here several times before and was happy to use his own preferred groundbait mix, which was (in equal portions) Van den Eynde Bream, Sensas Gardon and PA Megabait Red groundbait. He was being a lot less aggressive, cupping in four balls for accuracy holding a pinch of corn and a pinch of casters and then cupping in more corn over the top.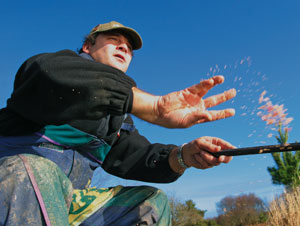 It was a bite a chuck down the inside, but it was hard to get through to any better stamp fish.
Andy listened in to the plan and advised that one of us should just cup in corn and then fish corn over the top in case the fish were backing off the groundbait, and Dennis was happy to oblige. His plan was to feed three big pots of corn at the start and then cup in more every 20 minutes.
I plumbed up to find significant drop-off at 12.5 metres of about a foot. Andy was watching on and advised that due to the bright, overhead conditions the fish would be looking to stay in the deeper water and would not want to come up the ledge. So that's where I balled it.
For the short line the plan was to feed maggots and fish maggot or caster just off the bottom. It's deep in the edge on Tanners – about four feet, and I opted to fish a top three to hand where there's about 4.5ft (see rig diagram) feeding a good pinch of maggots every put in. The rig was a halfway house. I fished a small hook but a B911, which is strong in the wire and would give me a chance should I hook a carp. For the same reason I decided not to fish any lighter than 0.10mm – ideally when I'm after roach I won't fish heavier than 0.08mm but not on a commercial holding carp!
It was quickly apparent there were loads of fish on this line, with roach in the 1-3oz bracket coming readily to hand. I tried upping the feed rate to improve the quality of fish, but the small roach kept coming. A switch to caster hook bait, hooked like a maggot, initially provided a run of better roach to 5oz, but then it was back to smaller fish.
Andy had expected better fish to come on this line, but after 40 minutes the stamp was the same. Even a switch to a 0.09mm hooklength and a finer wire size 18 Green Gama hook and double caster hook bait didn't really change things.
It was a bite every single put-in, but keeping quality fish coming was proving difficult. You'd get a run of two or three better fish and then the smaller roach would be back, even on double caster.
Eventually I concluded that it was best not to worry about picking off the better stamp and rather to enjoy keeping a fish coming every put-in. I did get a crucian on this line but eventually I was fishing with all the weight bulked down just above the hooklength to get the bait down as quickly as possible and make bites very positive.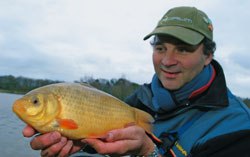 This 2lb crucian was welcome and came along as soon as Gareth added a section to fish a little past most of his feed!
It's obvious there are millions of roach in here and you can be very aggressive with the feed. We were told to bring six pints each and you can see why – if you fished like this for a few hours you'd need them.
Andy was surprised more bigger fish weren't showing on this short line for any of us, but I did remind him we were getting a bite a chuck in January and you can't complain at that, and it was great fun while we let the bigger fish line settle. Maybe fishing slightly further away from me would have brought better fish.
After about an hour of fishing this short line I had about 4lb in the net but it was time to have a look on the longer line.
I decided to fish quite aggressively – after all, I'd fed that way. My rig was a 1.5gr Preston Classic tied to 0.11mm mainline with a 0.10mm hooklength and size 16 Wide Gape power hook. This would be buried in a grain of corn. I'd opted for a white hydro elastic on this line. I needed to balance the possibility of hooking carp with the hope of not bumping many skimmers.
Later, when it was obvious no carp were showing to my feeding regime, I switched to a softer blue Hydro and this was ideal for the skimmers, although a good strong strike was required to get the hook in.
I really like the Wide Gape Power hook – the shape of it makes it an ideal pattern for bigger baits like pellets and corn, they are very sharp and the point retains sharpness really well. My one gripe with them is the colour. I only like bright silver hooks for roach fishing to be honest and would really like them to be a duller colour.
Of course you can get around this somewhat with corn and pellet by burying as much of the hook as possible in the hook bait. If you bury the whole of the hook in a grain of corn without the point showing at all though – be sure to strike hard!
First put in showed that this wasn't going to be as easy as I'd hoped. First of all I was looking right into the sun and it was impossible to see the float right where I'd fed.
When skimmer fishing I like to create quite large bed of feed. After all they are a shoal fish and the idea here is that the fish won't be on top of each other and you won't spook the shoal each time you hook one.
Because of that I hadn't been too bothered that my balling in had been a bit rusty and a couple of balls had gone a bit long.
I'd cupped in a cup of corn in the middle in line with the corner of the island and this is where I would fish and expected to catch. This was now right in line with the sun and it was another 30 minutes before I could fish effectively here. Rather than go back to the roach – I couldn't anyway because my photographer had picked up my top kit and wasn't letting it go – I started to fish a couple of metres to the left of my feed area.
It was very difficult to fish to be honest – a very strong right to left crosswind was making presentation very hard. The wind created a very strong left to right tow but there wasn't much point letting the float go through with the tow – in my experience skimmers want the bait stationary and will rarely chase a bait.
After struggling for probably too long to hold the rig back against the tow I decided a change was needed, so I shipped in and added three feet more of 0.11mm line above the float, and then a BB shot 10 inches below the connector (see Handling A Gale panel).
I also pushed the olivette down nearer to the hook and bulked No8 droppers in two groups, with the nearest only six inches or so from the hook in order to try and help slow the bait down and keep it static for as long as possible. This all had an immediate effect with much improved presentation, and I had four or five skimmers and a run of quality roach in a good half-hour spell before bites dried off again and I decided to feed another pot of corn.
By now both Dennis and Jimmy were catching with Dennis clearly taking more quality skimmers than any of us. Interestingly Dennis also had two carp during the day – Jimmy and I had none – and he'd not fed any groundbait.
Dennis was fishing even more positively than I was. His droppers were No6s in two groups – the nearest about eight inches from the hook. Dennis, who was fishing on top of the ledge at about eight metres, was simply feeding pots of corn and fishing over it with corn. He reported that the skimmers moved onto the feed after only 20 minutes and that the peg was telling him when to feed more, because he's start catching roach rather than skimmers. They would then be back almost immediately.
My own peg was going through a funny spell – I was getting bites on corn but from roach. They were better fish than on the inside in the 4-6oz bracket. There was no point fishing caster or maggot out there – it was immediately snaffled by a smaller roach. If you could get this better stamp of roach going on your short line and catch them to hand you could do a big weight of them here.
It was time for a rethink. I was getting concerned that those two balls I've fed long had actually been detrimental, so with the wind having now dropped enough to fish further out, on went another section just to see if there were fish beyond where I'd been potting in corn that were reluctant to come in over it.
| | |
| --- | --- |
| You don't always have to bury the hook inside the caster – try hooking it like a maggot when sport is brisk. | If you fish double maggot on a small hook, the second one should be hooked upside down. |
| Gareth's hook choice selection on the day. Switching to the lighter Gamas had no obvious benefits. | With no carp showing the blue Hydro proved to be best for preventing 'bumping off' the soft-mouthed skimmers. |
Guess what? First put-in the float slid away and out came the elastic. It wasn't a skimmer, but a lovely crucian about 1lb 8oz in weight and very welcome too.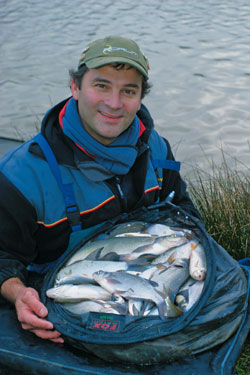 Cracking winter sliver fish sport by anyone's standards – over 20lb of skimmers and roach for Gareth.
Next put-in the same happened again and I landed my first big skimmer for ages. Then I bumped one and lost one on the way in, which was the signal for me to switch from white to blue Hydro.
I now had the shotting just right too – with the lower of my two bulks of No8s just off bottom. This was resulting in superb lift bites as the fish picked up the corn and the bulk in one movement.
The last hour of the session was tremendous. The fish in my swim had indeed been backing off where I'd been cupping in the bait and by fishing an extra metre beyond it I contacted a string of quality fish – skimmers and roach to around 1lb and finished with about 20lb.
Jimmy, who had also used groundbait but cupped it, had more skimmers and fewer roach than I'd had and Dennis had certainly won the day with a good net of quality skimmers plus a couple of carp.
For me it was a reminder how important accurate feeding is. You can be aggressive with the feed on a venue like Stafford Moor because of the head of fish in the water.
In the summer the number of carp in Tanners means that the silver fish don't get much of a look in – the carp are much more aggressive and barge them out of the swim. But in winter when far fewer carp are active you can have a fantastic net of skimmers – and you can feed plenty, as long as you do it more accurately than me!!
Given the benefit of hindsight I would certainly have used a pole cup rather than balled it, but then you only learn things if you do things differently. I also went a bit too heavy on the float – skimmers are shy biters and a 1g float would be the most I'd fish even in poor conditions, half a gramme if it's calm. And the lesson seems to be that if you are getting roach, feed more corn.
Overall my lasting impression of Stafford Moor is a tremendous fishery offering the kind of cold weather silver fish sport that will always set my pulse racing.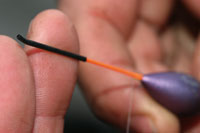 tcf Top Tip
On open water venues the surface of the water will often appear white, making it difficult to see orange and yellow bristles. Rather than colour the bristle black with a permanent marker pen, Gareth prefers to slide over some black pole float silicone, which can be removed at the end of the session.
tcf Top Tip
Don't be shy with the feed at Stafford Moor. The session showed that even in January the skimmers quickly hoover up the corn and move off. When you start getting roach bites, it's time to feed another pot of corn.
Handling A Gale!
If there's a very strong gusting cross wind ruining your presentation on the pole, the best advice is to fish shorter!! However, there are times, such as when you need to fish over a ledge, that this isn't an option.
In this situation don't try to fight the wind and hold the float back against the tow on a tight line. The float will never be still and the presentation will be hopeless.
Instead, add line above the float – you will need anything up to about four feet in a strong, gusting cross wind, and also try adding a large shot like a BB or AAA about halfway between the float and the connector.
This is your back shot and it soaks up the buffeting of the pole and stops your pole float bouncing around.
It really works, giving massively improved presentation, but be aware that you have to be careful shipping in or out as the shot can easily wrap around the tip of the pole.
Venue File

Stafford Moor Fishery, Dolton, Devon EX19 8PP
Tel: 01805 804360
Website: www.staffordmoor.co.uk

---