Stars from the match and specimen worlds united in the cause of angling unity, charity and sheer good fun during the second Lakemore Catfish Challenge Cup.
Mark Ashmore, owner of Cheshire's Lakemore Fishery, assembled a glittering array of talent including Mick Brown, Steve and Geoff Ringer, Neil Machin, Jan Porter, Mark Barrett, Jamie Masson and Kev Shore for the unique pairs event – now in its second year.
Contestants and spectators received goodie bags from Dynamite Baits, the event's main sponsors along with Catfish Pro, Catmaster Tours and Katmandu.
Meanwhile, a tackle raffle raised funds for the leukaemia unit of Manchester's University Hospital.
A 25lb 10oz catfish to Garbolino/Pickering's matchman Jeff Moors clinched the title, trophies and victory champagne for himself and partner Simon Clarke of the Catfish Conservation Group.
Jeff's capture during the 12-hour overnight catfish contest bolstered Simon's 13lb 4oz bag from the 2.5 hour afternoon match, in which the specimen angler from each of the 13 pairs fished with pole and feeder gear under guidance from their match expert partner.
"We drew together last year and finished second, so it's great to go one better and catch my heaviest ever fish in the process. Simon's the man when it comes to catfish – he even stripped down to his underpants and went in to net the fish when it snagged me under a tree," said Jeff.
Simon added: "I lobbied hard for a reverse match to be introduced this year and I think all the big fish guys really enjoyed it. I'd never fished a Method feeder before and learned loads from Jeff in the process."
Afternoon match winners with 16lb 3oz were Jan Porter and Keiron Rich, who also landed two carp to 28lb in the overnighter.
However, rules stipulated that the capture of a catfish of any size during the overnighter was essential to bring the match score into overall play. That meant the duo missed out on a podium place.
Venue latest: www.lakemorefisheries.co.uk or call Mark Ashmore on 07771 848801.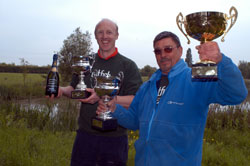 FULL RESULT
1. Jeff Moors/Simon Clarke: 25lb 10oz catfish + 13lb 10oz from match = 38lb 14oz
2. Geoff Ringer/Mark Satchwell: 9lb catfish + 4lb 13oz from match = 13lb 13oz
3. Dave Swain/Dave Smith: 2lb catfish + 7lb 14oz from match = 9lb 14oz
Others (no cats, match weight only)
4. Jan Porter/Kieron Rich: 16lb 3oz
5. Terry Lowe/Steve Ringer: 12lb 12oz
6. Dave Fisher/Pete Goodman 12lb 3oz
7. Darren Mulheir/Kev Shore 9lb 4oz
8. Matt Rand/Rob Perkins 7lb 9oz
9. Mark Barrett/Matt Hall 6lb 8oz
10. Gary Newman/Jamie Masson 5lb
11. Mick Brown/Derek Willan 4lb 4oz
12. Steve Broad/Neil Machin 2lb 3oz
13. Mathew Ashmore/Matt Yates DNW