Two potential world record musky have been and released in the St. Lawrence River, only two days apart.

Michael Forjohn, of Ambier, Pennsylvania, landed an enormous 130 cm muskellunge (Esox masquinongy) on December 2nd, while trolling a Swim Wizz lure in the St. Lawrence River, near Clayton, New York.
Once hooked up, Forjohn needed only six minutes to subdue his trophy, which he quickly measured, photographed and released alive. If approved, Forjohn's catch would beaat the All-Tackle Muskie length record by 2 cm, although it may not be on the books for long.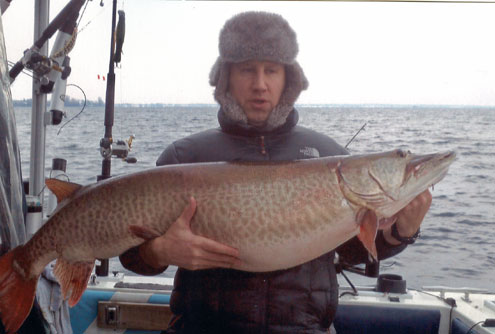 Two days later Mark Carlson of Rockford, Illinois, hooked into a massive 132 cm musky (estimated at 55lb) that put up a brutal 15-minute fight after it crushed the Legend Perch lure he was trolling on the St. Lawrence.
Carlson, who is the current IGFA All-Tackle Length record holder for musky, immediately realized his catch was of record quality and quickly measured, photographed, and released the fish alive.
The potential record catch was also equipped with a tag before it was released, as Carlson actively participates in a Quebec fisheries study.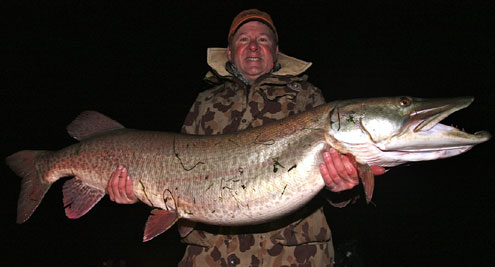 The difference between a muskie and a northern pike (known just as the pike in Europe) is that a muskie has dark markings on a light background while a northern pike has light markings on a dark marking. Northern pikes also have tail fins that are more rounded than those of the muskie.