Tancho Tackle has launched a revolutionary new pole cup that will deliver a generous quantity of bait to the feed area, accurately and without losing any on route.
Designed by life-long angler Tony Ives, the Cup Craft comprises a hollow plastic vessel containing a cup which rotates through 360 degrees. To operate, the user simply screws their cupping kit to the Cup Craft's threaded arm, fills the cup with the chosen bait, and then pushes it out over the selected feed area. Once in position, a twist of the pole turns the cup over through 180 degrees, allowing it drop its load through a hole in the vessel's hull.
The Cup Craft floats easily on the water, supporting the weight of the cup, bait and pole without the bouncing often associated with traditional cupping kits – bouncing which can result in bait being spilled en-route.
Designed for use by experienced and inexperienced pole fisherman alike, the Tancho Tackle Cup Craft is supplied complete with three different sized brass threads ensuring that it will fit the majority of screw-in pole pot top kits. It is available by mail for £19.99 plus postage and packing and generous discounts are available for resale or bulk purchases. The Cup Craft is available direct by telephone on 0114 2694083 or by post to Tancho Tackle, 13 Church Lane, Woodhouse, Sheffield S13 7LE.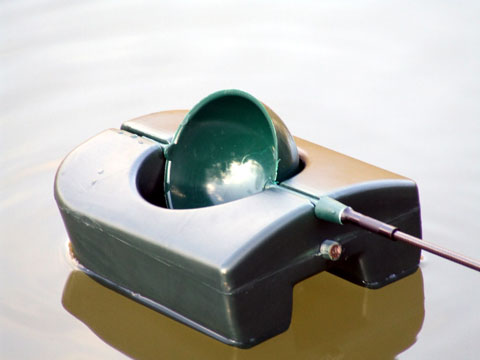 The Cup Craft