The 2008 National Championship for Anglers with Disabilities saw the North West battle to victory on well known match venue Heronbrook fishery in Staffordshire.
The venue proved to be a tough one, as warm and windy conditions made the fishing very difficult on the day.
It was the team from the North West who were supported by Warburton's and Fishing Tackle Hyde that took gold on the day, ending a number of tough years for the regional team who had struggled to enter as a full squad. The region had been doing a lot of practice in the run up to the competition, therefore as the pegs were drawn they had a full armoury of ideas on what methods and tactics would work best.
It goes to show that when such dedication is put in, the rewards can be great as the team finished with 48 points and a final weight of 67.280kg. They won the competition by only two points in front of a strong East Midlands side sponsored by Sensas Nathans team just missing out on winning the title, by taking second place with 46 points and 65.180kg.
John More the North West's Regional Officer for Anglers with Disabilities, commented, "It was very hard fishing on the day, however, we had been doing a lot of practice and we knew exactly how to fish any peg that we drew. The team all fished as you would expect on the pole with members catching carp and tench with extra gudgeon as well.
For six years I have been trying to get a strong team together, but this is the first time I have managed to get a full squad of anglers who had the ability to win gold. This has to be my best experience in angling to date, and we are already putting plans together to repeat our success in 2009 and win back to back gold's."
The team from the East Midlands region sponsored by Sensas Nathans were extremely disappointed not to have won gold, with two silver medals in two years, however, they were full of praise for the North West team. Team member Rod Parker commented, "We just missed out by two points this year, however I would like to congratulate the North West region, who have put a huge amount of time into this National and have come out worthy winners."
The individual classification was won by England International, Terry Naulls of the Yorkshire and Humberside region who finished with 31.980kg. Terry will be looking to add to this success as he travels to the World Championships for Anglers with Disabilities in Germany attempting to add another gold medal to his collection.
In the runner up spot was Mick Sharpless from the London and South East region who ended the match a long way behind the runaway leader Terry with 22.320kg. In third place was the North West's highest placed angler Dave Jackson who ended with 18.400kg. The North West also had a very strong placing for the only female angler who took part in the National with Hazel Taylor finishing in 11th place with 10.100kg.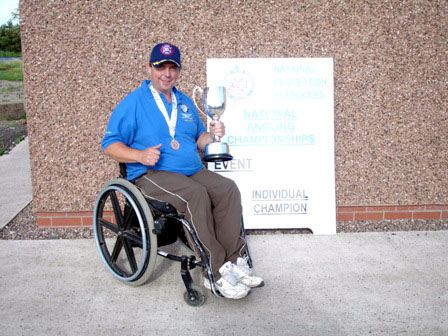 Individual Winner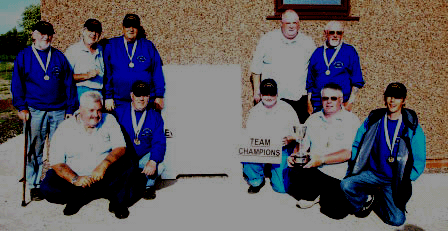 !st Team Winners