Web based angling television channel OnlineFishing.TV has been chosen as the first 'Angling Website of The Year' by the Angling Writers Association.
The channel, launched in December 2008, is the UK's only major producer of angling television programmes across all the angling disciplines, and has nearly 400 shows available for members to watch, many of them exclusive to OnlineFishing. Made-for-TV series include 'Ebro Maniacs', 'Chilly On Carp', 'Game Fisher's Diary', 'Total Coarse Fishing' and 'Boat Fishing With Barham'.
The channel also recently launched a Freeplayer, which broadcasts a FREE TO VIEW schedule of coarse, carp, sea and fly fishing programmes '24-7' and changes every couple of weeks. Plus OnlineFishing.tv produces the sport's only regular video news bulletin, in partnership with Angler's Mail.
Head of Channel Gareth Purnell, who collected the award from angling's 'Mr TV', John Wilson, at the awards ceremony in Norfolk said: "When you put so much into a new project it's really rewarding to receive recognition from your peers.
"As soon as I found out about a project to launch a new TV channel for angling I knew I wanted to be involved in it. The team has worked its socks off to get to this point and we are very lucky to have a visionary investor in Rae Borras who fully believes in what we are doing.
"The sport deserves so much more than it gets from television and our dream is to create angling's own, fully-fledged television channel," added Gareth, who can now boast a unique treble, having won the AWA titles of 'Angling Writer of the Year' (2001), 'Angling Magazine of the Year' (2002) and now 'Angling Website of the Year'.
"We are looking to make our programmes available through as many broadcast platforms as possible, such as 'smart' phones, satellite TV channels and Internet ready TVs. It's a brave new world out there!"
Gareth, who runs the popular Total-Fishing.com website as well, has also recently over-seen the launch of a new pay-per-view angling 'DVD vault' called www.FishingCinema.tv .
The Angling Writers' Association is an organisation for all angling writers, photographers, broadcasters, authors and those involved in film, and has Ian Botham as its president.
The awards saw www.fishandfly.com pick up a commendation in the angling website category, with John Wilson receiving a special lifetime award and Charles Rangeley Wilson winning the coveted Angling Writer of the Year category.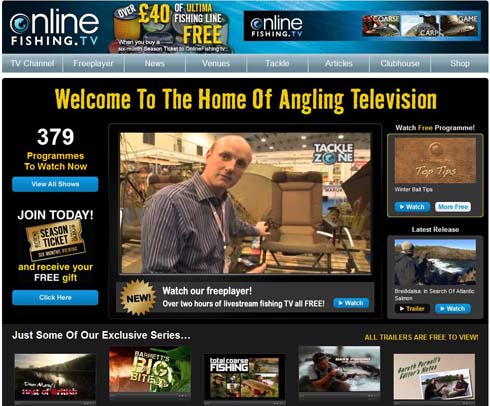 OnlineFishing.tv is the first Angling Writers' Association Angling Website of the Year…