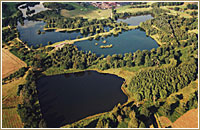 Many prolific lakes in beautiful surroundings.
Total-Fishing.com will be bringing you weekly form and match updates from Packington Fisheries, a lovely and very productive day ticket fishery located in mature landscapes on the Packington Estate in the Heart of England at Meriden. You will be able to link to the latest form from the home page of www.total-fishing.com or through the fishery listing itself which you will find by clicking 'Fisheries' in the top right of the navigation bar above.

Regarded as one of the best waters in the Midlands, the coarse fishery consists of seven pools, four stock ponds and a stretch of the River Blythe. The fishery is permanently manned and the ticket office is stocked with a small amount of tackle, bait and refreshments. There is easy access for disabled anglers. Tuition is available and there are regular matches held here year round.
Packington Coarse Fishing
The fishery consists of seven main pools and four small stock pools, totalling approximately 20 acres of water.
Gearys Level
A 40-peg lake that has a reputation as a Method feeder water but that can produce plenty of fish to pole or waggler as well. Match weights have been recorded to well over 100lb with carp, bream, rudd and tench the main species. Matches can be booked.
Siblings
No matches can be fished on this water, which is stocked with tench, roach, rudd and bream with the odd carp. The tench fishing can be excellent with bags of up to 40 fish to 6lb recorded in a single session. This is a very picturesque lake that holds around 35 anglers.
Anniversaries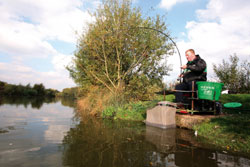 Carp action on Molands Pool
There are 30 pegs here for pleasure anglers on Anniversaries with larger carp up to 20lb present. Small carp, roach, tench and skimmers can also be caught on pole or waggler.
Molands Mere
A 61-peg pool with good access for disabled anglers. All pegs have level concrete platforms providing a comfortable position to fish from.
The pool is stocked with carp, tench, bream, roach and rudd; eels and perch are also sometimes caught.
The beauty of this lake is the variety in the fish and methods in which they are caught with pole, feeder and waggler all successful. Bags to well over 100lb are well within reach here.
Willow Pool
A small pool of nine pegs, all of concrete construction with small lakeside car park making this pool most suitable for disabled anglers.
Stocked with carp, tench, crucian carp, bream and roach, this pool is popular with junior anglers.
Other Pools
First Bay, Reedy Bay, Alder and Crescent pool are all small ponds stocked with tench, crucian carp, roach and carp, with limited pegs on each.
Gratuities
This is a16-peg water open to small clubs for matches and pleasure fishing. There is easy access for disabled anglers along one side. Gratuities is stocked with carp, tench, roach, perch and bream, with match weights to around 50lb possible.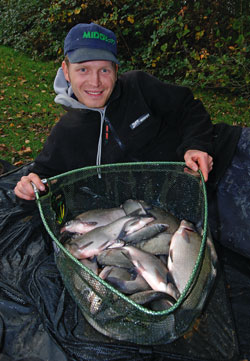 Rob Wootton with a typical bag of Geary's skimmers.
The River Blythe
This short (one mile), lovely stretch of the Blythe is one of the few day ticket stretches of this river available.
There are plenty of silver fish to go at including dace, chub and perch, plus there are some carp, bream and rudd and the odd tench, which show more in summer. Look for the deeper holes and fish them with stick float, small feeder or bomb. Bread is good in winter, with maggot and caster working in all conditions.
Broadwater
Until 2001 this was a trout lake, but it has now been opened as a specimen carp lake with fish stocked to 30lb plus. It's fished on a membership only basis with a maximum of 40 anglers permitted. Further information on carp fishing at Broadwater is available from the main fishery lodge.
Trout Fishing
The trout fishery comprises four main lakes – all with superb scenic appeal and all well stocked with fin-perfect rainbow and brown trout. Minimum stock size is 1lb 4oz.
The record rainbow is 17lb 12oz and our best brown trout 5lb 14oz.
Cocks Close
This is our day ticket water which accommodates 20 bank fishermen. Six boats are also available. Booking for day tickets is essential.
The lake is 10 acres in size with depths of up to 19ft. It is spring-fed and water quality is excellent. Best flies are Buzzers, GRHE, Pearly Pheasant Tail Nymph and Damsels.
Park Meadow
This lake offers five acres of shallow water, to a maximum of 6ft. It has good natural fly life with Pond Olvie, White Moth, Corixa and Damsels in abundance from early April. It's a members only water, with three boats available. This pool is extremely popular with all our membership.
Great Pool
A 30-acre lake with depths of up to 15ft. It's a members-only water with eight boats available and limited bank fishing. A superb water with good fly hatches from early spring through to November. Flies to try are Damsel, Grenadier, Shipmans Buzzer and Cul de Canard Emerger.
Hall Pool
A 16-acre water with depths up to 12ft in quite beautiful surroundings, this lake is an idyllic place to fish. Good spring and early summer water open to members only. Best flies are Appetizer, Pheasant Tail Nymph, GRHE and Viva.
Venue File
Packington Somers Fishery, Somers Road, Meriden, CV7 7PL
Contact: 01676 523833
Tickets (coarse fishing): From March 1st to October 31st it's £6.50 for adults and £4.50 concessions. Morning tickets cost £4 (£3.50), afternoon £5 (£4) and evening tickets £5 (£4). A ticket for just the river is £4.50 (£3.50). Season tickets are available at £120 for adults and £95 concessions. From November 1st to Feb 29th things are simple – it's £4.50 a day for adults with concessions £3.50.
Tickets (trout fishing): A day ticket is £35 for five fish including catch and release, £17 for two (afternoon ticket £13) with catch and release only £15. Concessions are available for OAPs and juniors. You are limited to catching another six catch and release fish after you've taken you limit.
Boat hire (trout): Full day £9, part day £7 (cheaper on week days)
Email: penny@packingtonfisheries11.wanadoo.co.uk
Website: www.packingtonestate.co.uk

Tuition: Available at the fishery and can be booked individually or as a group. Courses for junior anglers run through the summer.
Matches: Club bookings are welcome and available as follows: Molands, 60 pegs; Gearys, 40 pegs; Little Gearys, 25 pegs; Gratuities, 16 pegs. Peg fees £5.50 per peg from with reductions available to large bookings. For winter matches it's £4 per peg. Weekday evening matches available (maximum of four hours) at £3.50 per peg. Open matches are run regularly on Molands, Little Gearys and Gearys year round.
Weekly Reports: Click the link at the top of the listing, or CLICK HERE
Facilities: Stonebridge Golf & Conference Centre is adjacent to the fishery. These excellent clubhouse facilities are open from 8am to 11pm. The Spike & Lounge Bar offer full extensive bar snack menu and table d'hôte menu served in Fairways Restaurant.
Restrictions (coarse): Strictly No KEEPNETS allowed on to the fishery except on matches. Barbless hooks only.
How To Get There: Access is from the A452, onto the B4102, Hampton Lane and into Somers Road at the Stonebridge Golf Centre. The lodge is situated at the far end of the car park and overlooks the complex. There is ample secure parking at the lodge with disabled car parks around the lakes.

---