Septembers winning sunset shot revealed at www.nfadirect.com/pentax
The NFA and PENTAX U.K. will shortly be announcing the overall winner of the top-of-the-range K10D PENTAX Digital SLR Camera through our angling landscapes photography competition.
Not only does the overall winner win a Digital SLR camera, but each of the monthly winners over the past four months have been the lucky recipients of a PENTAX Optio E50 compact camera. With the final round of the competition now complete we are pleased to announce the final monthly winner courtesy of Division One National sponsors PENTAX U.K.
The winner of the final round was Mike Payne from St Neots in Cambridgeshire. Competition judge and professional wildlife photographer Tony Wharton commented, "The subject matter was quite varied, ranging from landscapes, the best ones being of moody sunrises or sunsets, to wildlife, including insects, flowers, fungi and, primarily, birds. I finally settled for Mike Payne's early morning (or late evening) landscape of a lake, framed at the sides by silhouetted tree foliage. This was an attractive image, perfectly exposed and with plenty of mood and atmosphere."
The monthly winners will now go head to head as their top angling landscape pictures will battle it out to land a top of the range PENTAX Digital SLR camera.
Those wishing to review the entries can visit the website at www.nfadirect.com/pentax where all the angling landscapes we have received are on display. The gallery will remain online, so that anglers can continue to get inspiration to pack their camera with their tackle and emulate some of the pictures we have received over the competition period.
Tom Goldspink, Marketing & Communications Manager at the NFA commented, "The number of entries that we have received, just goes to show how many anglers enjoy taking pictures when they are on the bank. Our thanks must go to Division One National sponsor, PENTAX and Tony Wharton, who have kindly donated the prizes and helped anglers with their top tips and advice".
The Managing Director of PENTAX U.K. Limited, David Moore added "Anglers have a unique opportunity to experience the natural beauty of the riverbank which is why we wanted to establish this photography competition to encourage them to capture and keep those experiences."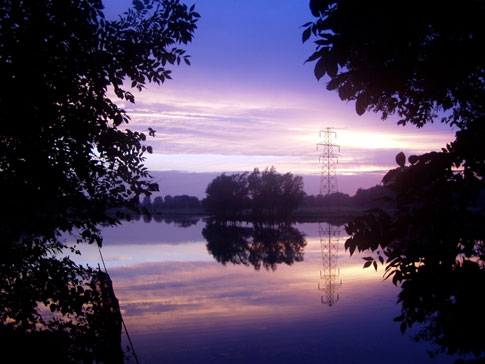 Mike Payne Winning Photo