Living Heritage's Game, Country & Angling Fair held at Burghley over the bank Holiday weekend produced a personal best catch for Bob Nudd. The angling competitions were part of a very successful show featuring local food & top chefs, falconry, gundogs, horse & dog scurries and clay shooting.
It is the second year that the event has been held at Burghley and organiser Mark Hulme from Living Heritage is enthusiastic about returning next year. Bob Nudd and other award winning anglers are appearing at Living Heritage's Test Valley Game, Country & Angling Fair over the weekend of 22nd & 23rd August at Braodlands in Hampshire.
A thrilled Bob Nudd said: "Burghley House is the most beautiful setting to fish and they hold terrific stocks of quality Tench and Bream. Catching fish to order is always difficult and to catch massive bream including my personal best ever, was just out of this world. I managed to catch a big fish in every one of my 6 presentations over the 3 days and the largest weighed 10lb 4oz."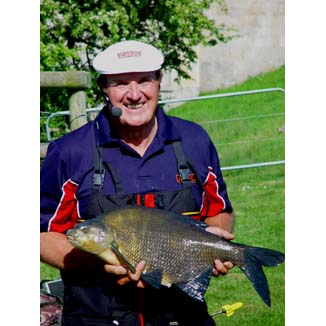 Bob with the 10lb 4oz fish he caught in bright daylighg in front of the crowds at the Burghley Fair.
The quality of the fish coming out meant live demonstrations held the audiences attention and without doubt will have encouraged many more people to take up the sport."
With the Broadlands event only weeks away, expectations are high for another successful event.
The theme at The Test Valley Game, Country & Angling Fair – is 'A taste of the Country'.
With many angling attractions and competitons– falconry (over 80 of the worlds best loved and rarest birds of prey) – Food Glorious Food (local and regional fine foods with chefs demonstrating on stage) – gundogs – clay pigeon shooting (competitons and beginners tuition) – archery – dog multi scurries and all-day, action-packed arena entertainment with endless opportunities to try, buy and sample everything country .
More Information:
http://www.livingheritagecountryshows.co.uk/show/test-valley-angling-show/32.php