By Robert MacDougall-Davis
Re-produced from an article originally published in Fly Fishing and Fly Tying
Rugged mountains pierce the heavens and here, in amongst the pine forests and wild flowers, cascading torrents and sapphire rivers flow.  The air, swollen with the sweet alpine scent of aromatic pine needles, wafts down the mountains in warm pockets that wash over you as they funnel through the mysterious gorges and valleys, ubiquitous in the Alpes Maritime.  Never mind Manchester United's Theatre of Dreams, this is the Alpine Theatre of Streams and it is paradise for the adventurous fly fisher.
The most south-easterly of all French Departments, the Alpes Maritimes stretches from the glitzy yatch studded French Riviera and up into the tranquillity of the high mountains that so absolutely divide France and Italy.  Here, the Alpine and Mediterranean climates fuse creating an awe inspiring land of breathtaking natural beauty and changing landscapes.  A far cry from the bustling Riviera, the high mountains, only a couple of hours drive from Nice, provide solitude in magnificent scenery and the chance of some feisty wild trout.
Sight fishing is a real possibility in these parts as clear water and piercing sunlight conspire to create the ideal conditions for trout spotting.  Stalking sighted fish in streams as clear as air, as Bob Wyatt might say, is a thrilling prospect for the avid trout hunter.  If the fishing planets align, you might even witness the 'miracle' as the ghostly grey shape of a sighted fish rises up through its watery underworld, before purposefully plucking your fly from the surface and heading back to whence it came.  The trout in the Alpes Maritime are rarely monsters and like all fishing it can be hit and miss, but this is light wild trout fishing at its best!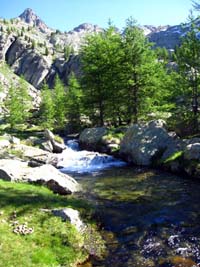 A favaourite pool in typical Maritimes country…
Life in the Alpine streams
As well as a haven for wild trout these mountains and valleys are absolutely heaving with insects.  The Mediterranean zone has one of the highest diversity of invertebrates on the planet accounting for its post 1992 Rio convention status as a 'biodiversity hot spot'.  Huge black and red bodied ants seem to be ever present, a bounty of cased caddis blanket many a stream bed and a profusion of butterflies flit their way along vast meadows of wild flowers and tall grass.  Stand under a blossoming tree or near a bank of lavender and you can't fail to notice the resonating hum that fills the air.  From June onwards, an army of cicadas chirrup incessantly and grasshoppers leap around your every step, sometimes falling into the fringes of the streams.  This glut of insect activity gives rise to some tantalising opportunities for the trout and indeed the fly fisher.
Tactics
Consistent with other fish dwelling in mountainous freestone rivers the trout in the Alpes Maritime are, for the most part, opportunists.  Most small dries and nymphs invariably go down well.  It is more a case of carefully presenting something of roughly the right size and shape, that looks 'buggy', where a trout expects to see it, rather than worrying too much about specific fly choice.  Smaller flies (14-20) do, however, account for most fish with the exception of grasshopper patterns that I like to tie life-size – Dave's Hopper being a top imitation.  My 'Usual Suspects', for the Alpes Maritimes, only consist of a few small dries and some basic, yet highly effective, all round nymphs.  I almost always fish two flies in tandem, New Zealand style, with a dry on the top and a small weighted nymph trailing two and a half feet behind.
My 'go to' dry is a size 16 'Elk/Dear Hair Sedge' that makes an excellent all round imitation.  I also favour an 'olive CDC emerger' that has become a real favourite of mine since it was introduced to me some years ago by my friend and local Alpine fisherman Malcolm Van Biervliet.  This fly has made the difference for me time and time again, from the spring creeks and dazzlingly clear mountain streams on New Zealand's South Island to an evening rise on the River Axe in Devon.  It seems to combine a great mix of vulnerability and predator cues that the trout find simply irresistible.  Another dry I wield a lot in the Alps is the infamous Parachute Adams (14-16) which makes a great indicator fly in fast water and low light levels due to its bright white sight post.  It is also worth carrying various beetle, ant and spider imitations all of which have, on a number of Alpine outings, been my get out of jail free card.
When choosing a nymph for any river, my main questions are: Will it reach my quarry at the right depth? And, Does it look sufficiently bug like to interest a fish?  Like so many other fly fishers, I have settled on the Hares Ear and Pheasant Tail Nymph.  For these fast flowing mountain streams I like to fish small (16-18) but heavily weighted nymphs, for I have noticed that feeding trout rarely reject a nymph because it is too deep, but will certainly not always rise up to take a fly just below the surface film.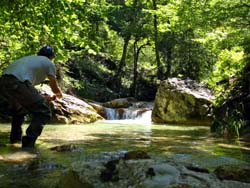 Stealthy fishing for small French trout that tick all the boxes.
Tackle
A friend and three times Pyrenean fly fishing champion, Yves Chaboussou, swears by fishing ultra-light for Pyrennian trout and the same applies when fishing the desperately clear rivers of the Alpes Maritimes.  While I am reluctant to admit it, the French are generally superb fly fishers because of their unrivalled attention to detail.  It is probably this alone that has fired the French fly fishing team to the top of the all time world championship leader board.  Yves uses an 8'6 #3 rod with a #2 line, although any #2-#4 rod between 7 and 8'6 will suffice for most situations.  Appended to his line, Yves fishes what the French call a 'rat tail' which is a combination of a braided and knotless tapered leader.  First class presentation is always essential, wherever you go in search of wild trout, but no more so than on these clear streams.  With this in mind it really pays to fish a light tippet.  I like to use 7X (0.10mm, 2.4lb) for dry and un-weighted nymph work and only switch over to 6X (0.13mm, 3.4lb) when deploying heavier, bottom scraping nymphs.  While not actually crucial, a degreased leader increases my confidence and certainly seems to give you the edge in fooling a flighty fish.
Approaching the water with care is a must in these parts as the fish here are the proverbial, 'eyes in the back of the head trout'.  Of course in reality they do not have eyes in the back of their heads at all and a stealthy, low profile, approach into their blind 'V' spot, combined with light tackle and a long degreased leader, is all that is required.  Sight-fishing is my favourite technique although fishing blind can be equally effective.  When searching for fish the wise words of my hawk-eyed Kiwi fishing companion, Simon Chu, spring to mind, "don't look at the water, look through the water and let your eyes feel their way along the river bed".  Once you've spotted a fish watch it for a moment and work out what it is up to – nymphing, patrolling, sipping dries, sporadically taking things off the surface or perhaps just lying doggo.  Only then make your precious one cast.
In between sighting fish, searching out likely lies is the way to go and blind fishing can be just as productive.  Even though the water is incredibly clear, making spotting fish relatively straightforward, it never ceases to amaze me how a fish will shoot out of thin water to take a fly.  Mini plunge pools below stepped tumbling rapids, in front and behind mid-stream boulders, at the edges of grassy banks and under overhanging trees are all favourite hang outs of the Alpine trout.  Above all, carefully fish the well oxygenated pocket water, especially when the streams are carrying a good flow, as picking pockets is the name of the game when chasing trout in the streams of the Alpes Maritimes.
Timing your trip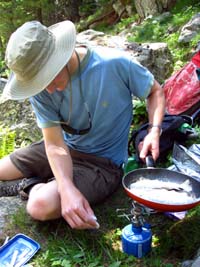 Pan sized trout, so why not put them in a pan?
The trout in these parts have a relatively short window of prime feeding opportunity from early spring until around early July.  During early spring (late March – April) streams tend to carry a good flow and fishing tends to be at its best during the warmer periods of the day.  Water temperatures may still be low (8-10 Celsius) during the early season, but the ravenous trout will readily come to the fly as long as the river runs clear.  Many of the rivers are sensitive to rain and it is worth bearing in mind that dirty, cold flood water can kill the fishing completely.  That said rivers clear as quick as they colour up, especially at high altitude, so do not despair if the heavens open.
From late June through until the end of August, the searing heat of the Mediterranean sun pushes water temperature sky high, sapping the dwindling Oxygen in the water and making fish lethargic throughout the hottest parts of the day.  In these high summer months, it is a case of the early bird catches the worm as the heat of the day squeezes the prime feeding times from first light until the sun hits the water in earnest around 10 O'clock.  A siesta, in preparation for the evening fishing, is definitely the best tactic during the middle of the day.  Casting a fly on a high summer evening can be magical and it is well worth fishing right up and into the fringes of darkness where some of the finest fishing is to be found.  In the last twenty minutes of light, things can sometimes get out of hand as every fish in the river seems to go bizurk in a frantic feeding frenzy.  Fumbling in the half light, threading flies and madly casting at rising fish can make for twenty minutes of alpine mayhem.
Surprises are never far away when fishing amongst these mountains.  On a recent dawn fishing raid with my friend Malcolm, progress to the river was halted by what can only be described as the Alpine rush hour.  Literally thousands of sheep, driven by a motley crew of shepherds and gigantic white Pyrenean mountain dogs, processed up the winding mountain road on their annual 'transhumance' from the parched coastal low lands up to the fresh high mountain pastures for summer grazing.   As the bells clinked and the sheep trundled on up the mountainside, we killed the engine and sat back to discuss fishing tactics, while soaking in the extraordinary and unforgettable sight.  Eventually, after a lot of trout orientated conversation, the sheep dispersed and we arrived at our trout-filled river to be greeted by the enchanting song of the nightingale.
Wildlife abounds in the Alpine realm and if fortune shines in your favour you might see chamois, wild boar, roe deer, ibex, argali sheep and a plethora of birds.  If you really hit the jackpot you could catch a rare glimpse of one of the elusive wolves that roam these mountains in ever increasing numbers.  If you are unlucky, or lucky depending on how you look at it, you might even find yourself sharing the river with the odd trout hunting water viper; a good reason to wear waders!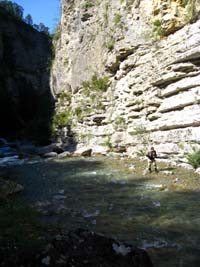 Dwarfed by a Maritime gorge….
Accessing and finding the water
One of the great joys of fishing in the Alps is exploring new water that, by British standards, is seldom fished.  While, all the streams that I have fished have been startlingly clear, there is a tremendous variety of water to discover.  You will find sedate streams punctuated by grassy flats as well as tumbling cascades, barely a rod length in width, and small swift rivers in deep cut gorges where 700M cliff faces dwarf everything beneath.  On some rivers, there is a strong sense of a lost world as forests gradually reclaim old farming terraces and Roman olive groves, medieval churches and ruined citadels take their place, etched in to the rich Mediterranean landscape.
There are literally hundreds of streams to discover and to provide a long list of rivers that I have found to be productive would narrow down your adventure, so my advice is to get hold of a map (Alpes Maritime 06) and aim for the smaller tributaries and streams in the upper reaches of large rivers, almost all of which hold reasonable numbers of fish.  In fact, most streams in the mountains, gorges and valleys of the department hold feisty wild trout so you can't go to far wrong. Many excellent streams can be reached within two hours drive from Nice.  In many of the streams the wild population of brown trout is supplemented by the French authorities with fingerlings derived from native wild stocks.  In one or two places, such as in the high mountain streams of the Mercantour national park, artic char have been stocked which fight hard and, with a slightly more creamy flavour than trout, are delicious when fried up in flour and butter.  On that culinary note, catch and release has been becoming more and more popular in France and my friends and I have recently adopted a 'return most of our catch' conservation policy in the hope of supporting future stocks.  On some streams, where trout are a little scarce, we return 100% of our catch.
Upon obtaining your licences from the local 'Tobac' or 'Café' it is well worth asking the proprietor for any tips for places to go.  My friends and I have discovered many a fine stream this way.  With that in mind it is worth going to a 'Tabac' in the mountain villages where local knowledge will be sharper than down on the coast.  When you purchase a licence you will be given a little booklet (Guide de al Peche dans les Alpes Maritimes) that has a pop-out map marking some good rivers in the department.  The upper reaches of the river Var, river Tinnee and river Vesubie all hold trout and, have a raft of excellent and exceptionally beautiful upper tributaries to discover.  In my experience, the best way to encounter good fishing here is to follow your nose and explore the area.  The beauty of the French licensing arrangement is that, with the exception of a few designated 'no kill zones', you have total freedom to fish any of the rivers you come across as none of them are privatised.  Head North out of Nice to the upper tributaries and streams in the mountains and you will find fish.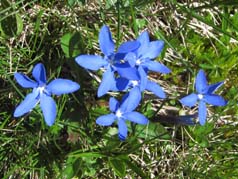 Alpine flowers can take your breath away…
Although, some streams require a bit of a walk, there are plenty of seductive and fishy little brooks easily accessible directly from the serpentine mountain roads.  That said, try not to be put off by difficult access as some of the finest fishing is to be found in the mysterious depths of gorges and it can sometimes be a bit of a scramble to get to the waters edge.  There are also a myriad of exceptionally beautiful high mountain lakes, such as the Lacs de Vence, that can, at times, provide superb sport.  Imagine coming across a necklace of trout inhabited lakes strung across the mountain tops.  Add to that the exceptional beauty of the cobalt coloured water and the braided network of clear trout streams connecting the lakes, and you have a recipe for seventh heaven.
For those who want to combine walking and camping with fishing, the opportunities are endless.  Many brooks, such as those in the Mercantour national park, can be reached directly from the multitude of hiking paths that quarter the national parks. You can see pictures of fishing in the Mercantour national park on my website www.wildaboutfishing.co.uk.  Early July is a particularly beautiful time to be in the Mercantour with its abundance of wildlife, blossoming azaleas and patches of streamside snow that refuse to succumb to the suns heat.  I might add that the snow is particularly useful for chilling a trout or even a bottle of Mouseaux – a wine that always tastes better at high altitude.  A combination of walking, camping and fishing topped off with a glass of wine and a pan fried trout for supper is very hard to beat!
While it is fair to say that those anglers in search of baskets of large trout would be better served elsewhere, those who enjoy challenging fly fishing and an adventure, while exploring a fishing arena of extreme natural beauty, will not be disappointed by the sparkling streams of the Alpes Maritimes.
Information
Author's website: www.wildaboutfishing.co.uk
Season: The trout fishing season runs from the second weekend of March to the third weekend of September.  In the high mountain (over 1800M) lakes and streams the season runs from first weekend of July until the third weekend of September
Licenses: Obtained from Tabacs (newsagents) or sometimes local Cafes, as well as the superstore 'Decathlon', and entitle the holder to fish in all the Departments in the southern half of France (with the exception of the Lozere). An annual licence costs around 90 euros but I usually opt for the two week holiday permit (Carte de Peche Vacances – 32 euros).
Air transport: Easyjet operate daily flights from London Luton to Nice (c. £120 return) as do BMI from Birmingham International.
Car hire: All the major car hire companies operate desks from Nice airport and easyjet offer passengers reduced fairs.
Accommodation: For affordable and comfortable accommodation see 'Gites de France' (http://www.gites-de-france.com/gites/uk/rural_gites).  There are also many well appointed and friendly 'refuges' in the national parks which are perfect for spending a few days searching for trout in the high mountains – contact any national park tourist office.
Maps: High quality maps of the Alpes Maritime (06) can be purchased from tourist information offices.
Internet: Googling 'fly fishing for trout in the Alpes Maritime (06)' will throw up further information (e.g. http://www.beyond.fr/sports/fishing.html) that will steer you to good water and get you started.
Favourite fly patterns for the Alpes Maritime (The Usual Suspects) and dressing details
Adams Parachute
Hook: Size 14-16 TMC 100
Thread: Black UNI thread 8/0
Parachute: Grizzle hackle
Sight post: White polypropylene yarn
Body: Grey muskrat or rabbit
Tail: Brown and grizzle hackle fibres
Olive CdC emerger
Hook: Size 14-16 TMC 2487
Thread: Olive UNI thread 8/0
Body: Olive UNI thread 8/0
Wing: Natural grey CdC plume
Tail: Tan cock hackle fibres
Dave's Hopper – scruffily tied (Grasshopper pattern)
Hook: Size 10-12 TMC 100
Thread: Brown UNI thread 8/0
Hackle: Brown saddle hackle
Head: Natural grey deer hair
Body: Yellow polypropylene yarn/yellow wool
Body cover, wing and tail: Dyed red bucktail
Wing: Turkey wing quill
Legs: Cock pheasant tail fibres
No-hackle Deer Hair Sedge (DHS)
Hook: Size 16 TMC 100
Thread: Brown UNI thread 8/0
Rib: Tag end of tying thread
Body: Seals fur or natural hares mask
Wing: Deer hair, bunched
Head (thorax): Butts of deer hair
Hares Ear Nymph (weighted)
Hook: Size 16-18 TMC 3761
Thread: Black or Brown 8/0
Under body (optional): Lead wire (tapered)
Body: Hares Mask
Tail: Cock hackle fibres
Ribbing: Fine copper wire
Pheasant Tail Nymph (weighted)
Hook: Size 16-18 TMC 3761
Thread: Black or Brown 8/0
Under body: Lead wire (tapered)
Body and tail: Cock pheasant tail fibres
Thorax cover: Cock pheasant tail fibres
Ribbing: Fine copper wire
Information correct December 2009