Ultima have raised the performance bar with mono yet again with the launch of their new flagship product Power Steel. If all early indications are correct this product will take the market by storm over the coming months.
Power Steel is the result of two years careful development work building on the huge success of Power Plus. But now Power Steel takes fishing line performance to level never before seen bringing together the best features of both mono and braid in one product.
Strength and Knot Strength
The primary consideration with any line is its strength. Power Steel is 30% stronger than any other line on the market and added to this is a phenomenal knot strength that is around 90% of its linear strength. It's that good that Power Steel with a knot in it is still stronger than any other line without a knot. We have tested every other line out there and this is fact.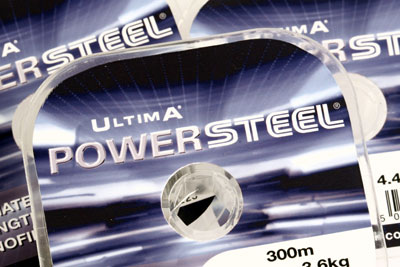 Ultima says Power Steel takes line technology to a new level.
Total Control

The other key development issue with Power Steel is stretch. Many anglers have used braid for fishing in many situations to improve bite detection because of its low stretch and thin diameter. However braid has many disadvantages, very poor knot strength and even worse abrasion resistance, it is highly visible and the low stretch is very unforgiving resulting in a high number of hook pulls.
Completely new polymer technology and the application of a lot of thought in the last couple of years have developed a new design concept for fishing line; 'Intelligent Stretch'
Normal monos have a stretch factor of 25 – 35%. Braid has a stretch factor usually between 4 – 8%. Research has shown us that around 15 – 18% is probably the ideal balance, but this has not been possible with mono before without seriously effecting knot strength. The new polymers in Power Steel change all that. We have aimed for an average overall stretch factor of 18% but more significantly this new material has a significantly different molecular construction so that there is less stretch at the beginning of the power curve meaning that the bite indication and the hooking capability is very close to that of braid but as stress increases when playing a fish it gives more maintaining control but ensuring that you don't crack off or pull through eliminating any need for a Shockleader.
We call this 'Intelligent Stretch' and it is a completely new concept in fishing line design.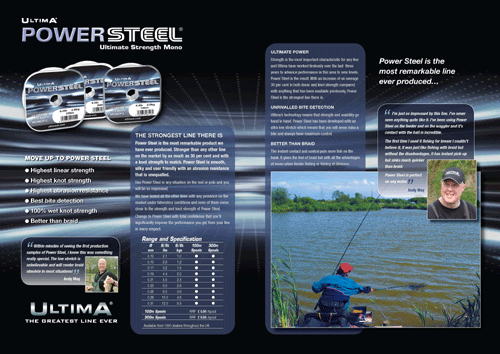 Abrasion Resistance
The abrasion resistance of Power Steel is phenomenal. 60 – 100 times higher than any braid and 6 – 8 times higher than mono, but Power steel is still soft, silky and totally user friendly because of the new type polymer.
The greatest line ever
Consumer and trade feedback has been unanimously positive since the launch last week and we have found no one who having seen this product and tried it has disagreed that this line is quite awesome. Sure it is strong, stronger than anything else but there is so much more to this line that it will revolutionize the way people look at mono in many situations. As Andy may said: 'I can't see the need to use braid ever again and in fact I can't see the need for any other main line.
Power Steel is available initially in 100m and 300m retailing at £5.95 and £9.95 respectively in nine popular sizes.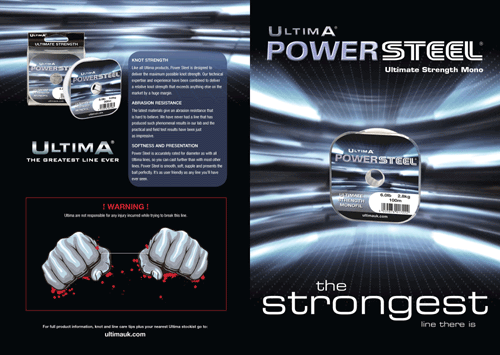 Range
Ømm B/st lbs B/st kgs
0.12 2.1 1.0
0.15 2.6 1.2
0.17 3.2 1.5
0.19 4.4 2.0
0.21 5.0 2.3
0.23 6.0 2.8
0.26 8.0 3.6
0.29 10.0 4.6
0.31 12.0 5.5
There are already 120 Power Steel stockists around the country since the trade launch a week ago and these is being added to every day.
---
Main Line With Steel
Gareth Purnell can see several applications for Ultima's new super-strong, low-stretch main line, Power Steel.
Not so long ago I paid a visit to Ultima's HQ in Ramsgate.
I learnt plenty about the line business, much of which went into the Good Gear Guide in our April issue.
I also got a sneak preview of their forthcoming main line launch, Power Steel, and I was instantly impressed.
Power Steel has much less stretch than your standard main line. I actually use Preston Powerline on my reels most of the time. This has a stretch of about 23 per cent I believe. I also use Ultima Power Plus. The stretch of this line is about the same.
The usual problem with reducing the amount of stretch in a line is that you weaken the knot strength. Without going into the science too much, Ultima is using a new material that they can take more stretch out of, and retain very high knot strength.
"There are other low-ish stretch monos out there, but they are working with a certain group of polymers," explained Ultima's Vanessa Lennard. "To reduce the stretch you need to draw it further and below 20 per cent stretch the knot strength suffers badly. With Power Steel we're using a totally different polymer that, to our knowledge, no other fishing line manufacturer uses and we can get down to 15 to 18 per cent stretch and retain 90 per cent knot strength. It's just an incredible fishing line."
All of which is very interesting, but how does it perform on the bank? To find out we talked Andy May into using it for a week at a recent festival. Here are his thoughts:
"Power Steel was exceptional when playing big fish. Big carp can stretch some lines, meaning that if you are fishing clipped up tight to an island, the extra stretch can see you casting into the undergrowth. With Power Steel you were right on the mark, every cast.
"It certainly improves bite detection too. With extremely shy-biting fish like skimmers, braid still gives you a bite-detection advantage. However, braid is a pain to use and you have to use a shockleader, which creates a weak point. I certainly won't be using braid in preference to Power Steel."
Andy, who incidentally finished second in the star-studded event to Steve Ringer, says that although the line is quite dense, its coating or 'sheen' when new makes it quite buoyant.
"That suited me down to the ground because I was fishing the pellet waggler a lot and wanted the line high in the water so I could pick up and hit bites instantly – the low stretch in the line also helped me connect with some bites I think I would otherwise have missed.
"Having said that, when I needed to use it on the feeder, it was a simple case of squirting on some washing up liquid or rubbing some mud onto the spool and it sunk beautifully. It's silky smooth off the reel on the cast and knots really well. I love the stuff and have put it on all my reels."
So it's not really a replacement for braid, which stretches perhaps only four to eight per cent, in terms of long-bite detection when feeder fishing for skimmers. But it has none of the disadvantages of braid, and for most commercial fishery situations it's absolutely ideal.
It's also incredibly abrasion resistant – Ultima claims Power Steel has 60 to 100 times the abrasion resistance of braid and six to nine times higher than standard mono. Yet it's still smooth and user friendly.
Are there any other uses? One group of fishermen who might be interested are predator anglers.
Many lure anglers prefer to use braid on the reel because they can feel every movement of the lure through the rod with braid because of its lack of stretch, and any delicate plucks at it.
It also allows them to set the hooks properly into the bony mouths of predators. Power Steel may just give them that middle ground of an easier-to-use reel line that allows them to feel takes and set the hook confidently.
Incidentally, if you want to know anything about lines go to Ultima's website at www.ultimauk.com – in my opinion it's one of the best manufacturer's websites in the angling business.
• Gareth Purnell
Fact File
Ultima Power Steel
RRP: 100m – £5.95, 300m – £9.95
Strength/diameters: 0.12mm (2.1lb), 0.15mm (2.6lb), 0.17mm (3.2lb), 0.19mm (4.4lb), 0.21mm (5lb), 0.23mm (6lb), 0.26mm (8lb), 0.29mm (10lb), 031mm (12lb)
Website: www.ultimauk.com