The organisers of National Fishing Week are hoping that this year's event will be the biggest yet. The steering group for NFW 2008 met at the recent Go Fish Show and announced the appointment of a new coordinator- Ed Parkinson. Steering group member Anne Moyle said, " We are delighted with Ed's appointment, we believe he has the skills needed to raise the profile of National Fishing week even further and to make it a real rallying point for our sport".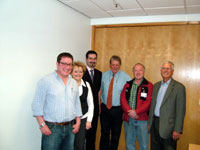 The steering group members (left to right) –
Ed Parkinson, Anne Moyle, Sean O'Driscoll, Bruno Broughton, Richard Wightman and David Moore
Ed, 45, is from Northumberland and lives close to the banks of the South Tyne. He has a background in education and journalism and has high hopes for NFW 2008.
He said, " Fishing is a marvellous mass participation sport. It is fun, healthy, stress busting and educational as well as being accessible to people of all cultures, ages and abilities. Unfortunately all these plusses are sometimes overlooked by non-anglers as fishing doesn't block city centres, cost the country millions of pounds or dominate prime time TV.
National Fishing Week is a huge opportunity to make sure that angling gets the exposure and respect that it deserves but that will only happen if all areas of the sport pull together. It would be fantastic to see every coarse, sea and game fishing club in the country inviting non-anglers to give fishing a try- the clubs and fisheries that have done it in the past are very enthusiastic about the benefits that new blood brings".