Top UK angling website Total-Fishing.com is delighted to announce all time record traffic figures.

Over the period July 17th to August 16th 2010, over 40,000 unique users visited the website, which carries news, tackle reviews, articles and has a very busy forum.
The 40,000 anglers came from 102,000 visits which in turn produced nearly 635,000 page views, with each user spending over five minutes on the site. The source of the information is the industry standard Google Analytics.
"Last summer we announced record figures and this summer we are some 20% up on those. It's ever more evidence of the growing use of the Internet by the angling community," said Total-Fishing.com's Gareth Purnell.
For information on how to advertise with Total-Fishing.com please email advertising@total-fishing.com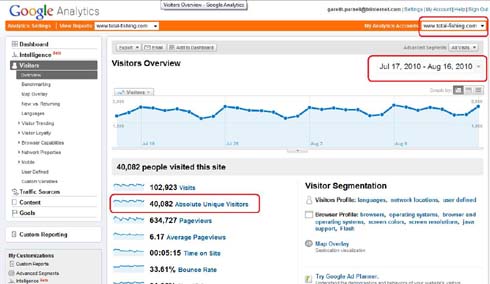 Total-Fishing.com set a new all time traffic record with over 40,000 unique users from July 17th to Augsut 16th 2010. Source: Google Analytics