The first two pegs below the bridge are very good for roach, but they also hold a lot of pike.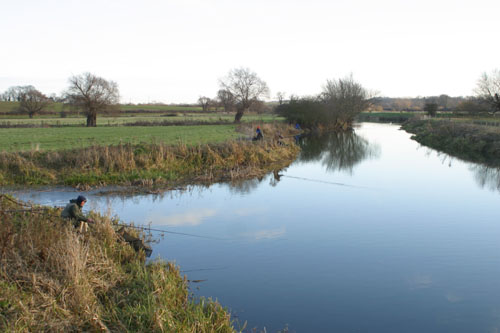 LIKE many offshoots of rivers, this cut can be absolutely stuffed with fish when the main River Nene is pushing through in flood conditions. However, it holds good number of silver fish all winter and as a result is a bit of a predator hotspot as well.
Oundle AS control 12 pegs spaced at 25-yard intervals. The top end away from the Nene is the shallowest at around three feet, while where the cut joins the main river is deep at around 10 feet.
In normal river conditions it's quite a peggy venue – on average it's around five feet deep and fish can be easily spooked. There is a footbridge going across the cut and the pegs around this are the best, with the two pegs downstream seemingly the best of all this winter.
It's the same depth under your feet as out in the middle and if you are on the fish, you can catch them short or long, on the whip or pole.
This is actually a backwater rather than a dead arm, and it has a constant flow. There is a nice pace under normal conditions when floats in the 0.2gr to 0.6gr range will suffice, with some shape in the body to allow you to slow the bait down or hold back if need be.
Things get shallower the further upstream from the bridge you go.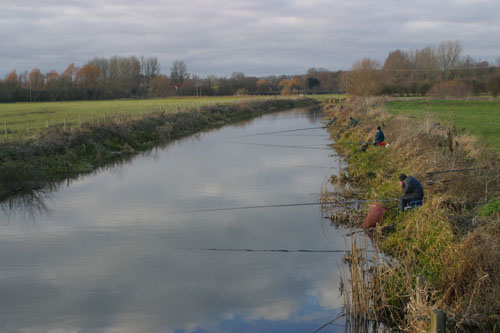 Kick things off with a small ball of dark groundbait – that's vital here because it's full of predators and the roach will not move over a light coloured area on the bottom. Just add a pinch of pinkies or squatts and loosefeed hemp over the top, running single or double fluoro pinkie over the top, and expect bites from roach up to about 6oz.
My experience of the Nene is that it pays to fish light, and I'd look to match up a No3 or No4 elastic with an 0.07mm hooklength and size 22 hook. Alternatively, fish a whip at around four metres. There is little or no flow here and you can loosefeed with pinkies or squatts.
There are plenty of quality roach in the stretch, and if you can get them going on them, caster will pick off the better roach and odd perch. In milder spells you should also be able to get the better roach on hemp.
The venue really comes into its own when the main river is flooded, and under these conditions all of Oundle AS's 12 pegs will produce.
Don't be put off if the water is coloured, but fish accordingly and be confident that there are quality fish there.
In flood conditions the cut can be absolutely tanking through. The trick in these conditions is to be able to present a static bait to the fish on the bottom. One answer is to fish a big flat float, and this works well despite the shallowish water. But Oundle AS bailiff Mark Cunnington advises fishing a long whip with a pole-feeder set up.
"The roach are very aggressive when the conditions are like this and they can even hook themselves against the tip," he says. "The great thing about fishing the whip with a feeder is that you are dropping the feed in the same place all the time and know it's on the bottom and therefore you're concentrating the fish.
"The amazing thing is that the river's quality roach show. You find yourself catching those fish to over 1lb that you never see under any other conditions. There have been several 20lb plus match weights of big roach from the cut in these conditions."
As I've said it's a good spot to target pike in the winter, as they are able to herd the silver fish up, especially into a little bay below the bridge where you will see them crashing through silver fish shoals. Lure fishing will see you pick up the smaller, more aggressive fish. There are some big double figure big pike in this area, and a deadbait approach gives you every chance.
In summer this used to be a carp hotspot, with anglers bagging up to 15 in one session. But the carp deaths on the Nene a few years ago have had a devastating effect on stocks, and carp fishing on the whole Oundle AS stretch has been badly hit.
That said, no other fish were affected, and there are plenty of tench and some bream in the cut year-round, both going to around 5lb. They can be targeted on chopped worm tactics although it's not easy to fish most of the stretch in summer as there are lilies everywhere. You can also expect to catch big perch on chopped worm.
Curiously the bream seem to show towards the top end, where the water is shallowest. There is also a different shoal at the deep end where the cut meets the main river year-round, and chub to 5lb also show at the end to pleasure anglers.
It's a little known fact that this area of the Nene holds good numbers of big perch. I've had several over 2lb there over the last three seasons, and on this very stretch have had a follow from a fish over 3lb while lure fishing. The Oundle AS lads have had perch to over 3lb in matches this season.
The club holds some club matches on the stretch when it's coloured and the last one on there, just before Christmas, was won with over 11lb, made up of one tench around 2lb and silver fish to 6oz. That fell to Martin Calver, who was two pegs down from the bridge and fished pole at around 10 metres and a short whip. In cold conditions he fished it like a canal with a light float and pinkie or squatt on the hook. There were two 7lb backing weights.
• Gareth Purnell
New Cut, River Nene, Oundle, Northants
Controlled by: Oundle AS
Tickets: Adults £3 on the bank, £2 OAPs, £1 juniors. Club book adults £12, £5 OAPs, £2 juniors
Contact: Roger Lee, tel; 01832 274010
Restrictions: None
Nearby tackle shop: Sheltons of Peterborough, 67a South St, Stanground Peterborough, 01733 565287; Wade's Fishing Tackle, 247 High St, Old Fletton, Peterborough, tel 01733 565159; Webbs Tackle, 196 Newark Ave, Peterborough, tel 01733 566466
How to get there: Turn into Oundle at the roundabout on the A605 and go over the stone bridge over the main river and up to a set of lights. Go straight on at the lights and at the top of the hill, as the road bends to the right, turn left down the hill. Go past the supermarket on the left and carry on for 200 yards. As the road bends to the right, turn left down the hill. Park at the bottom of here and go through the gate and down to the cut