This is a pacey section of the Severn where great float and feeding fishing can be enjoyed.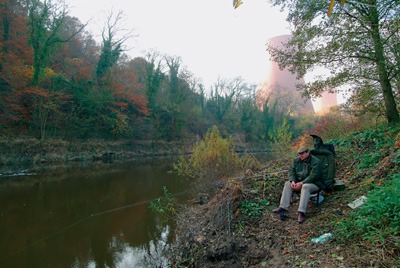 THERE is just something truly magical about the River Severn.  The scenery is wonderful and the fishing can be equally so. The river around Ironbridge Gorge is simply spectacular whatever the season of the year.
However day ticket sales have dropped down quite alarmingly over recent seasons.
Commercial fisheries are the culprits of course but fortunately, not all anglers have neglected the rivers, and the Severn is still cherished by enough folk who recognise the joy in pursuing fish in flowing water.
The Severn here is pacey and you need to be able to fish a variety of styles to get the best from it. Stick floats, wagglers, Bolognese rods and floats, plus the ubiquitous swimfeeder style will all work on the varied swims on this mighty river.
Avenue AC controls around 25 pegs and they hold barbel to 10lb, chub to 4lb, plus loads of dace and roach in particular during the wintertime. Roach catches to 30lb are taken in the winter when the river is 'spot on', carrying some colour.
The hit and miss nature of river fishing is its own worst enemy which probably explains the popularity of guaranteed sport on stocked waters.
But the real joy of fishing comes from the challenge doesn't it? And there is none greater than catching wild fish from rivers like the Severn in my view.
It would take a large volume to explain exactly how to fish the Severn effectively, but suffice to say you will need bronze maggots in the winter if you want roach, with four pints usually enough for float work.
The more leisurely option would be to try for the hard fighting and plentiful barbel and that is best achieved by using hair-rigged halibut pellets over fishmeal based groundbait, laced with smaller pellets and hempseed. Keep lines at a basic 6lb breaking strain though to be sure of landing all that you hook.
We won't guarantee you a top day's sport on the Severn, but what we will say is that once you have come to terms with the venue then you will undoubtedly fall in love with it.
A magnificent, majestic watercourse, rich with surprises, full of challenges and disappointments too, but ultimately it is what fishing should really be all about!
You won't bag up every time here. There's no café or toilet on the bank, (although the idyllic village is but a stroll away with all those facilities and more!). You can't park behind your peg either, but you will always have an enjoyable day if your mindset is right.
Venue Fact File
River Severn, Ironbridge, Shropshire
Contact: Bert Howell, Avenue AC, 9 Sanderville Close, Stirchley, Telford Shropshire, Tel: 01952 400014.
Day tickets: £3, £2 concessions on the bank. Yearly tickets £20 seniors, £12 concessions.
Matches: Can be club booked and occasionally opens held. Contact Bert for details.
Restrictions: None.
How to get there: Ironbridge is south of Telford and is thus easy to find by taking Junction 4, 5 or six off the M54. Avenue AC controls the section below the power station on the roadside bank.