Site editor Gareth Purnell (pictured below left), who fishes for the United States, reports from the World Championship on Slovakia's River Vah.
 I THINK many anglers get a gut feeling for a venue from the moment they first see it. I know I do.
I recall hating the sight of the River Seine in Paris a couple of years ago when I'd finally found a place to park about a mile away. It was a nightmare to get to and fish and to me the water there looked dark and empty.
With fishing positions some three metres above the waterline I was never looking forward to that match, although it was the scene of possibly England's greatest gold medal.

I was however itching to fish Slovakia's River Vah, the venue for my tenth World Championships.
I'd been able to do some research on a few web sites before going, and had seen a few pictures taken in recent matches.

Like the Seine, the water was usually deep and fast, but unlike that water the Vah was noted for excellent fish stocks, in particular barbel to around 6lb, bream and skimmers. There was also a fish called a zarthe to be caught, a roach-like creature with a soft belly which went to about 2lb (pictured below), plus catfish, bleak, perch, ruffe and roach. The venue had also been stocked with small carp in a bid to ensure good catches.

Initial impressions were that no such stocking was necessary. I'd managed to have a chat with a couple of the England lads before setting off on the long journey east and they had really whetted the old appetite.

The England squad of Bob Nudd, Alan Scotthorne, Sean Ashby, Stu Conroy, Will Raison and Steve Gardener always stay on the World Championships venue for two weeks prior to the big event and albeit not in match conditions, they had been enjoying brilliant sport.

Fishing just off the match length, they had bagged plenty of barbel and bream, while Will Raison and Sean Ashby had both landed double figure carp. I couldn't wait to get there.

I arrived in Slovakia at around 4am on the Saturday before the match following an 18-hour drive from Northamptonshire, through London and the Channel Tunnel and across Europe into Slovakia. It would have been nice to fly, but with the amount of tackle you have to take you are looking at a minimum of £700 in excess luggage charges and that's a non-starter, especially for the non-sponsored teams. For those who don't know I fish for the United States (I was born in Ohio).
First impressions
By 8am we were on the bank and looking down at the stretch to be used for the big event. I say looking down, because the Vah is a man-made channel with high, steep banks.
There were plenty of positives to take out of that first glimpse of the venue. With a road running all the way along the water peg access would be easy and the anglers could get right the water's edge. There were also plenty of big fish topping, and the only real negative was that the water was very clear and we were told it had been for some time following the blazing summer. That, said the locals, would hit the fishing as the bream in particular preferred colour in the water.

No-one was fishing on the match length to be used – fishing is banned for a fortnight on any venue being used for a World Championships.

However, we could see a few cars parked in the distance and headed that way. Sure enough there match anglers there and they turned out to be the England lads, plus a few of the Irish anglers, including former World Champion Bobby Smithers.
It didn't take a genius to work out that things were going pretty well, and at one point I can recall that four of the six English anglers were landing or playing good barbel at the same time. However, when you are fishing and feeding the same pegs for several days and no one else is on a venue you do get an unrealistic picture of how things will be in a match situation.

All the same it was great to witness first hand the quality of barbel to be had in the venue. They were in super condition and in the main were in the 2-5lb bracket and were a true test of both pole and pole angler.
Rules and regulations
Many people have asked me in the past why no-one feeder fishes in World Championships. It's certainly a method that would be at the top of your list on a fast flowing water, but the fact is that any kind of legering is banned by the world governing body of match fishing – CIPS.
There are plenty of other rules and regulations that you have to adapt to at World Championship level as well. For a start the matches are three hours long and not five. Anglers fish in zones, each manned by a steward, and if a hooked fish leaves that zone it can be disqualified, even in a fast-flowing river.

This is something a Russian angler discovered to his cost in Paris. He landed a bream on the second day that would not only have won him his section, but also the individual gold medal. Unfortunately for him it was deemed to have gone out of his zone by the head steward in the section and he had to return the fish without weighing it in. I believe he would have been the first Russian ever to win a World Championship medal.

Up until recently pole cups were banned but that changed this year and using them was to prove key to picking off big fish in the tougher areas. Bait droppers are however still banned and after the initial five minute baiting period, during which you can only bait up and you can't fish, you can only feed balls of groundbait made with one hand. If you were to make up a ball two handed and throw it in, you'd be disqualified.

There is also a limit on the length of pole you can use. In recent years this has been 14.5 metres, but next year the maximum length of pole you can use will be 13 metres and there is also talk of reducing team numbers from five anglers to four.

The reasons for these latter two changes are two-fold. Firstly CIPS are trying to even things out so that the major nations like France, Belgium, Italy and England, all of whom are heavily sponsored, do not have an advantage over the poorer nations simply because they can afford more or better tackle.

The idea is to attract more and more nations to compete, and it certainly seems to be working as this year a record 39 countries competed, including for the first time a nation from the Far East in China.

This does however create its own problems. With 39 teams of five you need a water that can comfortably hold around 200 anglers.

On the face of it that might sound simple, but CIPS rules dictate that the water must be straight and the pegs must be of equal depth to create a fair playing field, and that rules out many waters. How many UK waters can accommodate 200 anglers in a line in equal pegs? I can't think of any.

With teams of four, only 156 'equal' pegs would need to be found. However, word is that the stronger nations are very unhappy about cutting down to four anglers and that this might not be pushed through in time for the 2004 event.

We watched England for a while and I chatted with a few of the squad. While understandably not willing to discuss tactics, they did mention that they seemed to be catching bream one day and barbel the next and that with them fishing the same pegs every day the fishing had certainly improved as the week had gone on.

They also mentioned that they would not be fishing the pegs on the Sunday and that if we wanted to get used to playing the barbel we should get up early and secure the pegs.
Planning in Piestany
That evening we had the first of many meals in the company of a couple of the local match anglers and an interpreter.
We were based in Piestany, a spa town tucked into a basin between the nearby mountains and has an unusually warm microclimate. The town is famous for its natural springs which are home turtles and warm water fish species like guppies, and for the natural mineral water and mud treatments, which are noted for their curative powers.
It proved to be a wonderful place to stay and with the cost of living around a quarter of that in the UK we ate and drank like royalty as the mission of planning a World Championship attack developed.

Over the week the local match anglers, one of who was a river champion, talked us through their main lines of attack, their best rigs and groundbait mixes and how they expected things to go. In between, the owner of the restaurant, himself an avid angler, showed us pictures of fish he had caught, which included a river Vah catfish record of 135lb, which is stuffed and mounted on the wall of the restaurant, plus huge eels, pike, zander and taimen.

The area certainly proved to be much more than just about match fishing and would make a fantastic base for some pioneering big fish hunting. Indeed it was impossible not to notice that angling is huge in the region and in fact the tackle shop in Piestany is far more geared up to cater for big fish anglers than it is for match anglers.

We talked long into the night about how the venue would respond to seven days of consecutive days of feeding and fishing.
Practice lessons
Next morning we were up bright and early and were on the banks in time to secure the pegs England had been fishing. We hadn't got bloodworm or joker with us and our Sensas groundbait hadn't arrived yet, but we were determined to catch a few fish before the venue received a lot of hammer in the Monday to Friday practice period.
So began the week on the Vah. We had a great day that day, taking perhaps 60lb of barbel on bunches of maggots over sticky mag and stones between us, plus a strange-looking fish none of us had ever seen before. It looked like a cross between a ruffe, perch and a gudgeon and we named it the 'Purnell fish', as we thought I'd discovered a new species, although we did catch two or three more over the week.

Hooking the barbel on long pole gear was exciting stuff. Most of them would power out into the middle of the river and you needed strong gear to hold them. We started on 0.16mm hooklengths but by the end of the week were fishing 0.19mm and 0.21mm Preston Innovations Powerline to the hook.

Even then you would lose a few, either because the fish got you into the sharp zebra mussels on the bed of the river or because the line rubbed against the fish's sharp dorsal and snapped above the hook. This was happening to all the teams and if you included the foul hooked fish, a ratio of three landed to five hooked turned out to be pretty good.
It was even possible that the mussels were weakening the line themselves. They were snapping at the hook bait and often you would come back with a stone because one of the mussels attached to it had swallowed your bait and hook. Certainly it was vital to keep checking the line above the hook.

Chat at the restaurant that night was of how the locals thought the venue would change. This is one of the imponderables of World Championships. You are fishing venues that have never had seven consecutive days of feeding and no-one knows for sure whether they will get better or worse.

If there are a lot of carp, as there were on the Castrejon Canal in Spain in four years ago, they can improve as more feed goes in. But other species and bream in particular often get full up and nervous by a continuous bombardment of food and this is not helped by the fact that there are not one but two practise matches in four of the five days of official practice. One positive was that CIPS had banned the use of keepnets for the first two days of practice for the first time.
Full of bream
Our two experts were undecided on how this would affect the venue's fish populations. Both assured us that the water was lifting with bream and skimmers, and that the recently arrived barbel and stocked small carp presented a difficult conundrum, especially as many of the bream would refuse to feed in the clear water. Some teams had practised earlier in the spring when the venue carried colour and had caught a small skimmer a chuck, but these would be very hard to catch unless we had some rain, and that looked unlikely.
One of our aces thought the barbel would move right through the match length and become dominant by the weekend match days, while the other didn't think there were really enough barbel and expected bream still to be the most important species come match day. Of course only time would tell, but our Vah champion, Askold, was to tell us something that was to prove prophetic. We were talking about Hungary, a nation that has become stronger and stronger in recent years. Hungary borders Slovakia and the team was obviously fancied. Askold also told us that the Hungarian squad had practised over 60 times through the spring and summer.

That was interesting enough in itself, because they would obviously be a team to watch in practise. However, he also said that each time after the Hungarians had been there for a few days, the local anglers could only catch on bloodworm rather on the usual 'sticky stones' and bunches of maggots.
Let the games commence
The next morning the Sensas lorry arrived and we picked up our groundbait order – a mix of Terre de Rivierre and various groundbaits plus their gravel and some flavourings. Sensas are official backers of the event and are particularly generous with the smaller nations. Indeed Frederic Bonnet of Sensas told me at the after-match banquet that they sponsored 35 of the 39 competing countries this year. At least I think he did. I'd had one or two by then!
One pleasant surprise was also that a tackle shop had been set up on the bank, and this was also the centre from which bait could be ordered. Joker was being driven in from Hungary on a daily basis, while the bloodworm came from Poland or Russia. It's a major logistical operation to provide nearly 200 anglers with enough fresh bloodworm and joker for seven days of intensive fishing, but the same guys are there every year and they generally have things in hand. Joker was relatively reasonable at around £10 a litre, but the bloodworm was not at all cheap at £50 a kilo. We also needed around eight litres of maggots a day and had brought £220 of dendrabaenas with us.

You can see how it all adds up. The bait bill for the week was well over £1500 and just to enter the match is another 1200 Euros.

You can add to that a 600 Euro annual CIPS fee, plus petrol costs, ferry, plane or rail tickets and accommodation for ten nights. Then there is food for the duration, plus a medal fee, banquet fee and tackle you need for the match.
You can see how tough it is for the many unsponsored nations who are paying for everything themselves, and I really think it's something CIPS need to look at if they are to grow the event. I'm lucky in that on the tackle side I have had invaluable help from Daiwa, Sensas, Preston Innovations, Garbolino, Kamasan and Trabucco over the years.
But it's still a major cash commitment and it was no surprise to see the Chinese team having shall I say a heated discussion with the CIPS representatives about what a rip-off they felt it was, especially since there are no cash prizes and no medals for sections winners.
Building a plan
Back to the fishing and I can honestly say that while some teams struggled, our team consistently caught in practise.
Like England we were having three catchers and a couple of strugglers, but it was all leading to a plan. Word was that Will Raison was catching best of all the England guys but as we were all fishing we were having to rely on hearsay. Some of the teams were bleak fishing, including at times big teams like Italy, while those that already knew what they were going to do like Hungary were messing around.

This is all part of the game of a World Championship. Once you stumble across a method that works well, rather than fish it to perfect it, you simply stop doing it, or allow only one angler at a time to do it discreetly to keep checking it works as the venue changes. That's because the larger teams all have managers who not only deal with the meetings, draws etc but also stand behind the big teams to glean what they are doing. For the smaller teams it's a case of listening to the grapevine and doing what you can yourself with the help of local anglers.

I can recall like it was yesterday the World Championships on the River Mincio in Italy. The Italians fished and bagged all week on the Bolognese.

By the end of the week they had sold loads of Bolognese rods and floats as every member of every team had to have at least one each. Come the day of the match they fished the pole to a man, and absolutely destroyed the field. Still, they didn't have it all their own way. That was the year Alan Scotthorne won his first gold. It was also my best year, when I finished 16th overall.

The bottom line though is that you have to catch to formulate a team plan. We were getting three or four barbel a day between us and we also found you could buy one or two bites later in the match on chopped worm, although they were not always easy to hit.

In practice you fish a different zone each day and it was becoming clear that the sections varied a lot, both in depth and what was there. One day we would catch barbel, the next a few bream. In some sections there were loads of bleak, while in some there were hardly any. In some pegs a top five kit was needed while in others a top four was fine. Some pegs had loads of mussels on the bottom, some had none. 
Flat out
There were several methods to choose from in the flow, which varied through the week from quite strong to 'ripping it through', but the key line was to fish a flat float at 14 metres.
There were two or three ways to fish the flat float, but in a nutshell you were either edging it through, holding it and letting it go, or fishing plenty of line on the bottom and holding it dead still. In fact England were putting perhaps three feet of line and an AAA shot on the deck and simply holding it dead still, just as they did to catch the eels in France. This wouldn't have been allowed a few years ago, when the float had to be moving at all times and putting any lead on the bottom was a disqualification. However, this rule is another that has changed.

It was interesting that the bream were sometimes feeding differently on this venue to how you would expect. Rather than wanting a static bait, they sometimes preferred a bait which lifted off the bottom and the key was to push the olivette quite a long way from the hook and keep checking the float so the hook bait fluttered up.

Indeed word was some of the teams like Czecheslovakia were catching the bream off bottom on round floats as light as 4gr, but that did not work for us in practice or for the Czechs in the match. The other two rigs involved having the olivette much closer to the bottom to try and keep the bait still.
Elastic choice
We settled on Black Hydro elastic for the barbel, which we fished for generally with bunches of six or seven maggots on a big hook like a 10. You would foul hook a few and these were the fish that were most easily lost, but you could afford to fish heavy for them as it seemed to have no influence on how many bites you got.
The bites were amazing. The float would shoot under and frankly if the fish had the bait in the mouth I would guess that if you hadn't struck the elastic would have come shooting out. The next few seconds were critical, as you had to keep the fishes head up to stop it burrowing into the mussels and snapping your hook link. Even then some fish would come off half way in without any apparent reason.

The bream were not easy either. Black Hydro was too severe and was bumping them off too easily, and we settled on White Hydro or a normal No10 elastic for these. If you hooked a barbel on the No10 you didn't have the power to keep the fish off the bottom, but you had to have a couple of rigs set up to catch bream.

There was also a drop off at 4-7 metres where we cupped in Sensas Terre de Rivierre with a bit of grey leam added so it broke down very slowly, plus joker and some chopped worm on this line and caught a few perch, chub, ruffe and 'Purnell fish'. This was a back-up if things were hard. We didn't want to have to fish for bleak because there was no way of us competing with the big teams on this.
Getting tougher
The last couple of practises proved to be quite hard and it was clear that while the water may well hold huge number of fish, not too many were feeding. Sweetcorn in the groundbait was dismissed as a result and we built our plan around bloodworm, joker, casters and chopped worm.
Groundbait is limited in these matches to 17.5 litres and with things going tougher we settled on a 70:30 mix of terre to groundbait. The mix we used was a combination of Sensas Mein Fouture, Sensas Fond and riddled Sensas Gros Gardon to keep it dark.

Half of our joker limit went in at the start with six very hard balls, plus six made up a varying mix of groundbait to terre and a couple of softer balls.

A couple of balls of sticky stones went on top of this via a pole cup and after that all topping up had to be done using the pole cup.

We had hoped to feed chopped worm and casters in the initial mix, but our worms didn't survive until the match and the shop had run out.

The local casters were hopeless and when our source from England for the match of both worms and caster failed it was a big disappointment, although we did scrounge a few casters from Mark Downes.

The next disappointment was that the bloodworm hook bait for the match was the worst we'd had all week, with most of it dead, although at least the jokers were good.

However, the biggest disappointment of all came in the draw for the first day, with four of our five anglers in what we thought to be the wrong areas of their sections.
My match
I drew B27, which was well away from the fancied bridge area and frankly in the middle of nowhere. It got worse when I plumbed up. The one thing you didn't want on this river was a shallow peg and this was the shallowest I'd had all week. I was easily able to fish top fours. Things started well with a small perch over the near line on my second run through with single bloodworm, and that allowed me to go for a big fish quickly.
To cut a long story short it didn't happen and I was only able to muster one other small chub for under 150gr.

It was a bad area though. Wales Darren Frost was to my right and had only one bite for one big bream, while the Scottish guy to his right also had only one bite. The angler to my left fished for bleak all day. He beat me, but to me this was no sort of a plan as you obviously needed big fish to come anywhere in this match. I was disappointed with the result, which was well down, but felt there really was little I could have done.

Back at the ranch a glance at the overall standings showed that Belgium had enjoyed a great day and were topping the pile. Hungary sat ominously placed in second spot with Croatia third, France fourth, Germany fifth and England sixth, 33 points behind the leaders. It was a lot for the England boys to pick up, but they had a section winner in Alan Scotthorne and they were still in with a chance on a venue everyone agreed had been very peggy.

It was a point not lost on Will Raison, who had won every England practise session but who could only manage 21st place in E section. Will wasn't the lowest placed England man either. Bob Nudd struggled to 25th of 39 in D section and made way for Sean Ashby on day two.

Heavy duty
England had fished heavy on all their rigs. In the week they had caught mainly on 8-15gr flat floats edged through the swim, but from midweek onwards had enjoyed more success holding the bait still under a 25gr float with plenty of line on the bottom and that's how they fished 80 per cent of the time in the match.
Early word was that the Belgians had fished lighter, but I know this not to be true. Guido Nullens told me they fished 0.18mm hooklengths. The difference in their tactics had been that they dismissed the barbel from their team plan and fished only for bream and thus didn't feed any sticky mag, basing their attack around only fishing bunches of bloodworm on the hook over leam. It had certainly worked for them and they looked confident.

Our team had drawn badly and done badly, but we were determined to pull back some respectability on day two.
The first break was meeting Mark Addy at the tackle shop on the morning of the match. England always over order on bait in case one source lets them down, one of the luxuries of sponsorship. They had loads left over and even their cast-off bait was far better than anything we had had the previous day. In fact we now had stacks of worms and lots of excellent casters and bloodworm.

You are limited on bait in World Championships to a litre of bloodworm and joker and 2.5 litres of other bait, and I took as much bloodworm and worms as I could get away with, cutting down on the maggots.

I'd drawn B8. The area hadn't produced too much the day before, but it was better than B27 and I was pleased on plumbing up to find it was back to top fives, so the first job was the add the line I'd had to take off the day before.
As a team we had a feeling both Hungary and Belgium were feeding bloodworm at the start as well as joker. Thanks to Mark Addy I had enough bait to do exactly that this time around and did so, as well as feeding the near ledge drop-off, which was at seven metres in this peg.

My first ten runs through on the inside ledge produced nothing so I picked up the 20gr flat float rig, my barbel rig. Seven maggots went onto the size 10 Kamasan B560 hook (I wasn't messing around) and I shipped out.
I'd started the week with quite a long line from pole tip to float but ended up preferring fishing a very short line on the 'holding still' rig, which had two No6 shots and about two feet of line on the bottom. You couldn't run this rig through because as soon as you placed shot on the bottom and let it run, the float would drag under, so there was only one way to fish it. The shot on the deck helped to keep the bait absolutely still.

I had a dream start, netting two 1lb 8oz barbel in the first 25 minutes. The Daiwa Tournament
Pro pole I was using coupled with 0.19mm Preston Powerline and Black Hydro was the perfect combination of keeping the fish from burrowing into the mussels and keeping it in the section.

I knew I was winning the section and inside 40 minutes I had another line bite from a barbel which I failed to connect with. I kept cupping in the odd ball of sticky mag and the odd ball of terre with bloodworms and jokers, but sadly the fish didn't come back.

With an hour to go I knew that a few bream were being caught and went out and out for a bream, fishing a bit lighter both on the float and hooklength front with bunches of bloodworm on a size 16 B560. Again, it didn't work, sadly for me. However, I finished eighth in section and easily beat the anglers around me, which I was happy with. 
Alan's four timer
Once again Alan Scotthorne was in my section, right at the other end. I'd spoken to him in the morning and knew he was happy with his draw. He should also have been happy he was in the same section as me on the second day, as he has been when he won two of his previous three gold medals, in Italy and Croatia. The odd cheer from down the section told me he was catching, but so was in the Hungarian in my section.
At the weigh-in, Alan was just pipped to the section win, but his weight of 7kg 160gr and overall points total of three was enough to see him become only the second angles ever to secure a fourth individual gold medal. Incredibly, at the time of writing, husband and wife Sandra are world champions at the same time.

My team had a good second day. Californian Mark Green did brilliantly for a section fifth in E section and my eighth helped us to seventeenth overall on the day.

Belgium must be the most disappointed team of all. They fished exactly the same as they had done on day one, but much brighter conditions saw the bream refuse to feed in numbers in the clear water, and they fell to fourth overall. A bream lost in the last five minutes cost them a medal.

England finished third on day two, a good effort. But two bad pegs cost them and it was just too much to haul back. They finished fifth overall, Will Raison having a nightmare match being beaten off the next peg by a Macedonian one day. It was that kind of venue. If you didn't get a big fish, you were nowhere, but I am left in no doubt that Will will be world champion one day. He awesome and just drew badly.
Great memories
The presentation ceremony was the best I have been to in a decade of fishing this great event. As always lots of English 'faces 'turned up to cheer the team on, and Alan was as animated as I have ever seen him when he stepped up onto the podium to collect his individual gold, waving the Union Jack furiously and hollering with joy.
But there was an even greater eruption of emotion when the Hungarians stepped up to collect what is their first ever gold medal. Several hundred Hungarian match angling fans had travelled to support their men and a few of their anglers were close to tears as the Hungarian national anthem rang out.

Some of you may be surprised to see a nation like Hungary winning the world gold medal. You shouldn't be. This Sensas backed team has been getting better every year and sounded a warning with a very strong result in Portugal last year. The fact that they practised over 60 times shows how hungry they were, if you'll pardon the pun. You can imagine how much they have sacrificed in their home and work lives to make this happen and it's all been worthwhile.

To score only 55 points and beat the next best placed team, Poland, by nearly 40 points on such a difficult venue was simply outstanding and no-one should be in doubt that this was the best team on the bank by some distance on this venue.

Mark Downes predicted before the match that both Poland and Hungary were the teams to watch. Poland had told the England lads at the European Championships they would win a medal on the venue, so hats off to them.
The close battle for bronze was won by France, despite Diego da Silva, who is regarded as one of the best flat float anglers in the world, having one awful result of 32nd in section.

My lasting memories of this year's World Championships will be very happy ones. We enjoyed good food and drink in great company and fished on a challenging but rewarding venue. I hope I will be able to go back to Piestany one day.
Next year we move onto Belgium, when we can leave the flat floats at home. It will be a finesse match for skimmers, bream and roach and I for one can't wait. I just wish it wasn't all so expensive, and maybe that's something CIPS have got to take a close look at.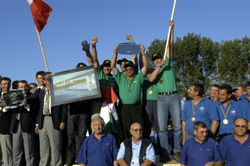 Result, top 15 teams:
1 Sensas Hungary, 55pts
2 Poland, 93.5
3 Sensas France, 102.5
4 Belgium, 109
5 Drennan Team England, 119
6 Slovakia, 128.5
7 Germany, 134
8 Italy, 138
9 Croatia, 138.5
10 Shimano Wales, 153
11 San Marino, 162.5
12 Finland, 164
13 Holland, 170.5
14 Austria, 172
15 Portugal, 173.5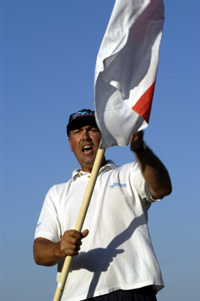 Top 10 individuals
1 Alan Scotthorne, Drennan England, 3pts, 13.140kg
2 Karoly Schater, Sensas Hungary, 5pts, 8.200kg
3 Robert Bednarksi, Poland, 7pts, 12.850kg
4 Tibor Ambrus, Sensas Hungary, 8pts, 9.800kg
5 Marian Hason, Slovakia, 8pts, 7.1110kg
6 Christophe Gazannois, Sensas France, 9pts, 10.270kg
7 Gyula Katus, Sensas Hungary, 9pts, 8.380kg
8 Stuart Conroy, Drennan Team England, 9pts, 8.210kg
9 Jounni Lillman, Finland, 9pts, 6.730kg
10 Luc Vercammen, Belgium, 10pts, 7.630kg
Fact file
River Vah, Piestany, Slovakia
Website: www.piestany.sk .
Travel arrangements: Channel Tunnel via www.directferry.com .
Accommodation: It's very cheap. We stayed in a four-bedroom apartment close to the town centre with kitchen and shower etc for only 11 Euros per person per night. The owner is finishing a second property based on the same prices. Contact Radoslav Repa by email on rado@list.sk .
Eating out: A great restaurant to visit is the Pension Benakty, which overlooks the Vah. The owner Peter Kocenda is an avid fisherman and the walls are decorated with many of his catches including a national catfish record of over 135lb, caught locally. The wall also holds his world record taimen. The restaurant serves many local delicacies including zander and the steaks are all fillet steaks. A meal including drinks costs under £10 per head. You can find out more about the hotel on www.benatky.sk .

The fishing: Piestiny has a good tackle shop that caters for match, predator and carp anglers. There are many thousands of anglers in the area. There are hundreds of great fishing spots in the region, much of it based around the River Vah, which holds barbel, eels, bream, catfish, large zander, zarthe and many smaller species. There are also many mountain lakes to visit, plus a stocked lake in the town.