Rutland Water's 20-year-old brown trout record has been smashed with this magnificent 17lb 6oz 4dr fish caught by Empingham angler Tom Cooper.
Tom was sharing a boat with his elder brother Richard and the pair ventured up the North Arm. The excitement built for Tom as the giant fish followed his top dropper to the boat, then turned and took his Humungus on the point, went on a 40 yard run, boiling on the surface as it went.
Some 15 minutes later the fish was beaten and in the net. Not only did Tom break the record, he also had two other fish, one 7lb brown that was returned and a 5lb 8oz rainbow – making it three fish for nearly 30lb!
The mighty fish beats the existing brown trout record for Rutland Water of 14lb 12oz, a fish caught in 1993 by Stephen Rose.
It was a truly memorable week for the Cooper family at Rutland, as Tom's father Gary caught the best rainbow trout of the week at 8lb 14½oz, a personal best and the heaviest rainbow trout recorded in the history of the Tuesday Night Boat League.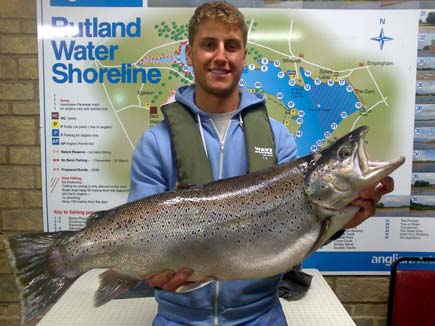 Tom Cooper with his Rutland Water brown trout record at 17lb 6oz 4dr.
……………
Rutland Water Form July 15th, 2013
Fish week 1,586 (season 27,863) Returns 428 (5,741) Rod average 3.7 (4.85)
The Brown Trout record at Rutland Water was well and truly smashed last Thursday night when Empingham's Tom Cooper landed a fantastic Brown of 17lb 6¼oz. The record stood for 20 years when, back in 1993, Stephen Rose caught a Brown of 14lb 12oz. The record toppled as Tom's namesake, the late Tommy Cooper, would have said 'Just like that!'
It was a memorable week for the Cooper family with Dad Gary managing the best Rainbow of the week at 8lb 14½oz whilst fishing in the Tuesday Night Boat League. This fine specimen was the biggest fish ever taken in the League and a personal best for Gary. Tom's brother, Richard, fished in the Anglian Water Airflo Northern final at Rutland Water on 8 July in Iain Barr's Team Costa. Richard was top individual on the day.
Competition news
Tuesday Night Boat League
Gary Cooper took the biggest Rainbow in the history of the Tuesday Night Boat League with a personal best 8lb 14½oz Rainbow taken on a sinking line and black humungus. Gary fished with Keith Jones of Peterborough who won with an incredible 7 fish for 28lb 15oz including a 6lb 1½oz Rainbow and a 3lb 2oz Brown. Toff Crowther took second place with 6 fish for 15lb 4½oz. Warren Landridge was third with four fish for 13lb 8½oz, Richard Cooper fourth with 5 fish for 12lb 13oz. Geoff Wanless took fifth place with 4 fish for 11lb 2oz.
Anglian Water Airflo International Northern Heat
Ten teams fished this match with the top three qualifying for the International final at Rutland Water in early October. The match fished to a rod average of 4.35. Mark Rooney (The Renegades) took the best fish at 4lb 11½oz and Richard Cooper (Iain Barr Fishing Team Costa) the best bag at 24lb 11¼oz.
1st Seighford Sharks 35 fish for 88lb 1/8oz
2nd The Renegades 27 fish for 69lb 9