With the British climate being less than predictable in the last few years, we can almost throw the spring fishing rule book out of the window. The early part of the year can include the water and weather conditions of just about a whole season, so it's, therefore, a good idea to be prepared for every eventuality on the riverbank. While you can rightly assume that by and large the water temperature will be low, it's not unheard of for anglers to fish full floating lines as early as February!
When fishing new water, speak to someone with local knowledge. Try the regular anglers, local tackle-shop staff and the ghillie if you will be fishing with one. These people will all know where fish lie and the preferred patterns or colours of flies to try. Suit your line and fly to the water height and temperature. A very rough (and by no means conclusive) guide is this:
– in higher water, fish a larger fly
– in colder water, a larger fly should be fished more slowly and at depth
– in coloured water, fish a brightly coloured fly
– in warmer, lower water, fish a smaller fly closer to the surface
– in clear water, try a more drably coloured pattern
When faced with 'classic' spring conditions on medium to large salmon rivers, you will be talking using flies and tubes of between one-and-a-half and two-and-a-half inches. These will be fished relatively close to the riverbed by using a sinking line of a suitable density. When fishing this style, keep your leader to no more than six feet long; it makes casting a whole lot easier when using large flies.
Fish at a narrower angle than usual or keep mending the line to make the fly swing slowly. You may need to slowly figure-of-eight the line in slower currents to keep tension on the line as it swings.
Patterns
Normal Water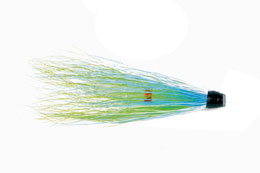 Ice Maiden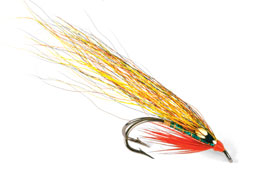 Green-Bodied Willie Gunn


Ice Maiden
As tied in last month's 'The Flies To Catch Fish', this fly originated on the River Tweed where it has become very popular in cold, even icy, conditions. Tied with an unusual colour combination of white, blue and chartreuse, it's a 'cold-looking' pattern that has now become a firm favourite across Scotland.
Green-Bodied Willie Gunn
This is a variation on one of the world's favourite salmon flies. The wing is a blend of yellow, orange and black and you can therefore tie different versions to suit coloured or clear water. This fly will work all year round, but is especially successful early and late in the season.
High Water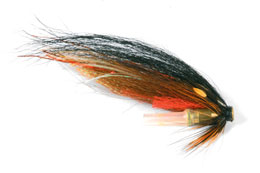 Tempeldog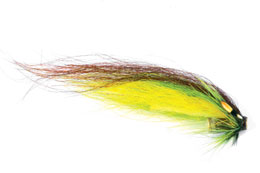 Green Highlander Tube

Tempeldog
This is a version of the original Tempeldog pattern, tied on a bottle tube. With this added weight and mobile fox hair wing, it suits stronger currents where it really comes to life. The more subtle coloration of this fly makes it more suitable to clear water conditions, and it's another that will score year round, especially in higher water.
Green Highlander Tube
Tied with a fox wing, this variation on a classic salmon fly is a firm spring favourite. There is something about green or blue in flies that seems to attract fresh spring fish and in powerful, clear water you can rely on this tube version to catch the salmon's attention. These colours can also be incorporated to tie smaller patterns to suit all water heights and currents.
Low Water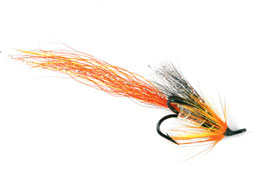 Ally's Cascade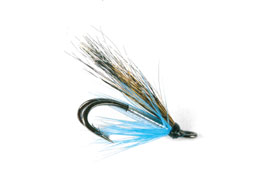 Squirrel And Blue
Ally's Cascade
Alastair Gowans' Cascade should be, and probably is, in everyone's fly box. It can be dressed on tubes, double hooks, trebles or singles to suit all conditions, but it especially suits 'streamy' water. You could say that this is the only fly you'll need, but if everyone fished them the angler (and the salmon) would become bored very quickly!
Squirrel And Blue
Here's one to use should you be faced with mild conditions and low water. It's also a cracking fly for sea trout and summer grilse but, incorporating blue and silver, is great for spring fish when fishing a full floating line. Carry this in sizes 8 to (seriously!) 16 and, along with the other flies mentioned, you'll be ready for anything.
---