A great turnout of 96 young and enthusiastic anglers fished this year's Angling Trust Junior & Youth National Championships at the prolific Tunnel Barn Farm fishery in Shrewley.
With changes made to the age groups to align our youngsters with FIPSed rulings, competition was fierce and both matches were very close affairs.
The junior match was fished on Extension, House and Canal Pools and with warm windy conditions the lakes resident F1s and carp fed well.
Making the most of this on the day was Jake Pope (Junior Match Aid) who drew Extension peg 7 and caught F1s and carp at 13m on banded pellet for a total weight of 32.180kg.
Incredibly close behind was 14 year old Callum Jennings (Evesham Youth AC) on House peg 4 who amassed an agonising 31kg exactly.  Third on the day went to 14 year old Tom Clark (Sensas A4) on House peg 30 with 30.200kg.
On the team front an impressive Sensas A4 retained the Junior National Championship title for the third year running with a huge 43pts total. Evesham Youth AC were second with 38pts, followed by Junior Match Aid with 33pts.
In comparison the youth match was fished on High and Jennys Pool and won by Will McCranor (Tri-cast Weston Red) who drew peg 14 on Jennys.
Will expertly fished caster shallow across for an impressive 64.600kg. In another agonising finish Zak Worby (Tri-cast Weston Black) put 60.550kg on the scales from peg 6 on Jennys. Finishing off an all Tri-cast affair was Jordan Holloway (Tri-cast Weston Red) from High pool peg 15 with 46.000kg.
Congratulations to Tri-cast Weston Red (main picture) who secured the Youth National Championship with a 41pts tally. This was enough to edge the ever consistent Sensas A4 into second place with 37pts and in third was Junior Match Aid with 32pts.  In addition to the team honours the six section winners on the day also won the prestigious opportunity to fish in the Junior Fish 'O' Mania Final held in early July.
FISH 'O' MANIA QUALIFIERS:  
Sam Collett Sensas A4
Jordan Holloway Tri-cast Weston Red
Danny Slack Junior Match Aid
Kristian Jones Tri-cast Weston Red
Will McCranor Tri-cast Weston Red
Yeston Septon Junior Match Aid
The Angling Trust would like to thank Preston Innovations for their generous sponsorship of the event and for supporting the future of fishing. Further thanks must also go to Mike, Sarah and their staff at Tunnel Barn Farm for hosting the day and for all their help. Finally huge thanks to all the young anglers and parents/guardians who helped to get everyone to the competition.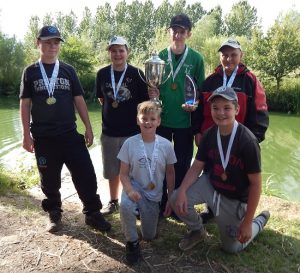 Results:  JUNIOR TEAMS:  
1st Sensas A4 – 43pts (pictured left)
2nd Evesham Youth AC – 38pts
3rd Junior Match Aid – 33pts
4th Sensas Mark One Legacy -28pts
5th Dawley AS Red – 25pts
JUNIOR INDIVIDUALS:  
1st Jake Pope, Junior Match Aid – 32.180kg
2nd Callum Jennings, Evesham Youth AC – 31.000kg
3rd Tom Clark, Sensas A4 – 30.200kg
4th Joshua Paling, Sensas Mark One Legacy – 27.080kg
5th Billy Pitman, Junior Match Aid – 26.300kg
6th Jay Gill, Worksop DAA Cadets – 24.750kg