Match Fishing Team Championship Qualifier
Evesham Town & Ferry Waters
60 Fished.
Twelve teams of five booked on the first of this season's team qualifying matches for the Match Fishing Team Championship Final. In a break from past tradition, this year not one but three teams from each of the qualifying matches progress through to join the eight invited teams in the final.
Finishing top on the day were local experts Shakespeare, who fielded a squad made up of Spig Pawlowski, Tony Bench, Steve Williams, Brian Rigby and Tony Davis. All regulars on the river, the five men made use of a variety of tactics, to return a score of 49 points.
Another local team, Daiwa Gordon League were runners up on the day with 44 points, while Drennan Leicester took the final qualifying place.
The individual winner on the day was Team RAF's Graham Welton, who caught a good sized bream, and a host of smaller fish on groundbait and maggot tactics, from peg 69 at Hampton Ferry.
Result:
1 Shakespeare 49
2 Daiwa Gordon League 44
3 Drennan Leicester 36
---
4 Matrix Dynamite Trentmen 34
5 Garbolino RAF 33 (weight countback)
6 Alcester Sports 33
7 The Noddy Boys 33
8 Browning West Midlands 31
9 Drennan Borden 29
10 Cardiff Nomads 26
11 MAS 24
12 Tubertini Ludlow 19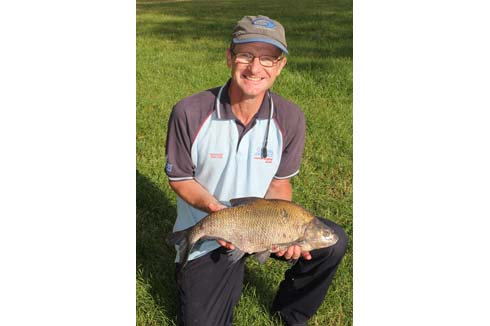 Individuals
1 Graham Welton (Team RAF) 6-6-0 (peg 69) – pictured above
2 Matt Barnett (Drennan Bordon) 5-14-0 (peg 65)
3 George Avery (Daiwa Gordon League) 5-3-8 (peg 47)
4 Ken Robertson (Browning Central) 4-13-8 (peg 2)