The 2009 World Championships took place in Almere, Netherlands on 5th & 6th September 2009. Joint Managers, Mark Downes and Mark Addy said "this was probably one of the best run Championships to date, but for the England team the most frustrating one we have witnessed in our reign as managers". The England team were: Will Raison, Alan Scotthorne, Steve Gardner, Sean Ashby, Stuart Conroy and Des Shipp, Joint Managers, Mark Downes and Mark Addy.
Mark Downes, Joint Manager, stated "our fifth placed finish a mere 3.5 points behind eventual winners Slovakia was in itself close but when the results are scrutinised you realise just how close. Hindsight is a great thing but with just a few small tactical changes we all agreed the title was there for the taking. Bream were our main quarry and on day 1 four of our 5 anglers caught them but on day 2 we only managed to get two with bream and as a result we thought we were well out of the race. Yet because of the increased difficulty in assessing other teams' placings, due to the new 3 section system we failed to spot exactly how close we were.
Will Raison's silver medal win with an almost perfect score once again showed the world just how good he is. His superb section win on day 2 nearly tripling the weight of his nearest section rival had the 1000 or so spectators camped behind him awestruck; it will only be a matter of time before he gets his next title.
Mark Downes continued: "Mark Addy and myself realise we cannot rest on our laurels as even the slightest lapse will be penalised. I feel more and more teams can now win this title especially under the new points system, which I feel has to be reassessed, before next year's Championships in Spain".
Dick Clegg, OBE, International Events Manager stated: "the FIPSed technical commission had rejected two waters offered by the Dutch Federation before accepting the Lage Vaart canal as the venue for the 2009 World Championships in Holland. Reservations because of lack of fish were totally unfounded as the results show. This was one of the fairest match waters that I have seen in my 26 years of World Championship involvement and congratulations must go to the organisers.
"This year was the first Nations World Championships fished to the new split section ruling, and as a result the final team placing changed. Under the old system it would have read 1st -Belgium 108 points, 2nd – England 111 points, 3rd – France 113 points. Drennan team England caught up really well to the first match day and had formulated a plan that we all expected to work well. It was almost perfect and indeed only one bream extra in any one of 3 sections would have won us the gold. It was good to see Slovakia and Russia on the podium and to see Will Raison win yet another medal. Although the team are disappointed, they did put together an exceptional performance and they can't wait to get to Spain next year.
"The Dutch Federation can be proud of their efforts as the organisation was exceptional and the venue was superb.
"Finally, I would like to thank Peter Drennan and his company for their continued financial support of the Team".
Full results and exclusive pictures of the World Match Fishing Championship 2009:
/forum.aspx?g=posts&t=23397
World Championship TV Shows:
Jamie Masson's 2007 World Championships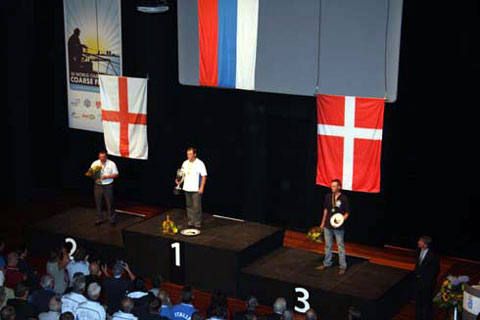 The top three individuals – with a very proud Russian World Champion.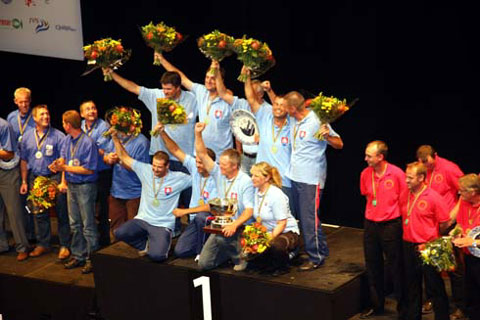 Shock winners Slovakia bordered by France and Belgium. England missed out on the medals.
Click on www.total-fishingclub.com – the UK's No1 online match fishing club – to win a trip to the world match fishing championships, and save money off tackle