Norman Agutters – experience the thrill of fishing with split cane
IF the thrilling and rewarding experience of fishing with world class authentic split cane rods appeals to you, there is no better place to visit on the World Wide Web than Norman Agutters online store (www.norman-agutters.com).
The company was formed when two experts in the field of split cane rod building, Brian Norman and Alastair Agutters, decided to join forces.
They have been building and repairing split cane rods since the 1960s. No-one knows this field better than them and they set themselves the goal of producing the best split cane rods there are.
The Kent-based company is now recognised the world over and prides itself on producing British-made rods of the highest quality, made to individual requirements if needed. Gentry, celebrities and even royalty use rods made by Norman-Agutters.
The quality of the rods made by norman-agutters is appreciated the world over.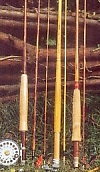 Coarse, Game And Sea Rods
Every product is made from the finest bamboo, grown in the small province of
The 11ft Split Cane Carp Specialist MKVI has a gorgeous through action.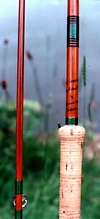 Kwangi in the China.
The range caters not only for trout and salmon anglers but also for those who like to fish for carp and barbel or even bass, pike and zander.
The fly range includes the exclusive Valhalla rods, which are described as the 'most exclusive handmade game fly rods in the world', made to individual clients' requirements. They are a fly fisher's dream and a tribute to British excellence.
The coarse rods include the Norman Agutters 10ft MKIV Carp Rod IMP, a gorgeous two-piecer with a full-cork handle and universal sliding fittings, displaying tapered aluminium butt end, hardchrome open bridge rod guides throughout and agate tip and butt rings with bronze reinforced ferule joints. Every second hand MKIV fetches a premium. Even with today's modern laminates and hype you still cannot compare built cane carp rods for quality, feel and performance.
Also well worth highlighting is the 11ft split cane 1.75lb test curve Carp Specialist MKVI, a stunning two-piece rod with a 30-inch full cork handle. This beauty has a lovely through action, giving great accuracy in casting and allowing you to play out specimen carp on lines lighter than 10lb, thus giving you the chance to really revel in the fight of a big fish. It's ideal for float fishing and stalking work.
There are many more rods in the range of varying lengths, just visit the website at www.norman-agutters.com to find out more.
Traditional And Modern Accessories

The fine range of rods is complemented by accessories such as priests, wading staffs, landing nets and salmon tailers, all once again incorporating the finest Oriental bamboo.
The shop also sells some hand picked modern and traditional fishing accessories to complement the traditional rods, including velvet or canvas reel bags; canvas tackle bags; hard leather reel case; floating, slow sink and saltwater fly lines; aluminium fly boxes and even willow wicker Izaak Walton creels.
Rod Building Kits
Also available are rod building kits, which come complete with a built cane rod blank, cork handles,
Rod building kits and fittings are available for those who like to do it themselves.

shoulder collars, reel fittings, rods rings, keepers, ferules, whipping cottons and rod bag. The kits are available for lightweight Avon rods from as short as 6ft to as long as 13ft, for the Norman Agutters built cane Avon MKIV Carp Rod, Avon Shrimper, Salmon Baitcaster and Avon Leger/Spinner rod.
Blanks and Fittings
For those who like to do it themselves, there are special sections on the website where you can buy the various blanks and fittings that go to make the Norman Agutters range.
The trout rod fly blanks start at around £60 and the salmon rod blanks at around £90, while you can also buy the Valhalla blanks from about £130, Pike/Leger blanks from £90 and two or three piece Avon Carp blanks from £110. Fittings available individually include cork handles and shives; nickel silver and bronze ferule joints and aluminium, brass and nickel silver reel seats.

………………………………………………………………………