Spoons And Spinners
Here's tcf's guide to the various pieces of metalwork on the market designed to catch more fish.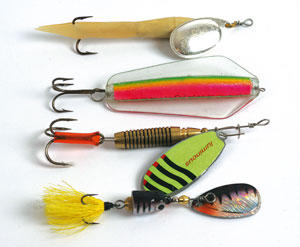 Blade Spinners
These have a metal blade that revolves around a central shaft, creating a flash of colour and a fish-attracting vibration that can be felt right through the rod as it is retrieved. The shaft holds a barrel which acts as casting weight. The shape of the blade governs how far from the shaft the blade spins – a 30-degree blade spinner will fish deeper than a 60-degree one. There are more of these than you can shake a stick at, some carrying feathers on the treble.
Mepps Aglia (top): Made American magazine Field and Stream's list of the top 50 lures of all time. There are several patterns, some including rubber tails or fish and others holding feathers.
Tasmanian Devil (second from top): A bit different, these have a double plastic blade that spins around a long central shaft. Has a good casting weight and can be retrieved, trolled or jigged.
Cora Z Vamp (third from top): Has a bright blade and decent casting weight. One good feature is easily interchangeable blades.
Vibrax Shallow (bottom): A wide, 60-degree blade means this one fishes shallow. Vibrax blade spinners are designed to create extra underwater vibrations due to a knurling of the barrel.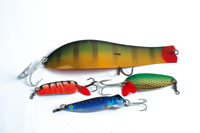 Spoons
Metal lures with a rear treble designed to be fished deep on a slow retrieve with the spoon wobbling like an injured fish. Spoons, as the name suggests, derived from actual kitchen spoons when an angler would cut the spoon from the handle, drill a hole at either end, attach a split ring at one end and a hook at the other. Obviously they have got more sophisticated these days.
Kuusamo Professor (top): Large double-hooked spoon which has been used to great effect on trout reservoirs when fished close to the bottom.
Abu Atom (left centre): Very popular single treble pattern for many predatory fish. Comes in a mass of colours.
Blue Fox Esox (right centre): Classic spoon pattern with a red flag on the rear VMC treble, it has a wide swimming action designed for a slow retrieve. Comes in six patterns.
Toby (bottom): Non-symmetrical body form makes the lure flutter on retrieve, while a life-like fish design and 3D eyes give added attraction.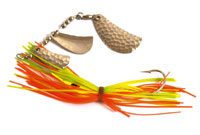 Spinnerbait
Classic single hook lures carrying a weighed head with the hook covered by a multi-coloured plastic skirt, and an offset wire carrying one or more fish-attracting blades. A single hook means it can be retrieved slowly along the bottom without snagging, which makes it ideal when predators are deep and sluggish.

Pirk
A heavy metal lure, usually chrome-plated, with a swivel at one end and a strong treble at the other. A specialised lure in freshwater, although commonly used at sea, it's worked in a jigging fashion in deep water close to the bottom and is something you might use on trout reservoirs that allow pike fishing, loughs or lochs.

---