Starlets AS were the team that shone most at the Pentax NFA Division One National, using all of their star quality to secure victory on the River Huntspill and Kings Sedgemoor Drain in Somerset on Saturday (6th September).
With heavy rain the day before, the 630 anglers who made up 63 of the highest calibre angling teams in the country expected to face damp conditions, although on the day the rain held off for the most part, anglers were greeted by a slight wind and overcast conditions.
The previous evening's weather did play a part in the match as the heavy rain, seemed to have lowered the water temperature for the first few hours and anglers could only really catch mainly skimmers before the water warmed up and the bigger fish began to feed.
The all star team of Starlets AS from Birmingham adapted best to the weather, finishing with an unassailable lead of 488 points and 28.150kg, more than 40 points clear of their nearest rivals Garbolino Harrisons Lincs County who finished with 448 points and 22.580kg. In third place was Shakespeare Redditch who finished with 416 points and a combined weight of 16.280kg.
Starlets owe their victory to four top six section placings including a section win by Dan Ashington. Well known angler Rich Hull was their highest placed individual angler finishing the match with 8.540kg in 10th place.
Team manager Mark Downes was away with Drennan Team England for the match but was delighted to hear his domestic team had won the Pentax NFA Division One National commenting, "In the run up to the national, the lads have worked exceptionally hard and deserve this fantastic achievement. Our eyes will now be focusing on next year's World Club Championships in Slovakia on the River Vah, a venue we know quite well and one I feel this squad will do extremely well."
Individually, it was Richard Lattimer who was fishing for Milton Keynes AA who won gold with a superb performance to finish with 31.820kg from peg K63, on the King Sedgemoor Drain. Richard, who is well known among the angling fraternity for his specialised floats, ironically caught most of his fish on the tip. Richard started the match well catching four or five fish early on before running dry until two hours into the match when he noticed a bream roll and went to work.
Talking to Richard after the match he commented, "I am not really that well practised at feeder fishing as I am mainly a canal angler and I must thank everyone who has helped me get up to speed with the method. I knew I had a good weight but I didn't want to smile until I knew I had won. It was a truly amazing feeling when I found out, but it didn't really sink in until people were calling me and saying congratulations that really put into perspective what I have achieved."
It was the bream that gave victory to Richard catching 18 in total and at one stage he had caught 20lbs worth of fish in just 20 minutes. It wasn't only Richard who was seeing the benefit of the bream as second placed angler Duncan Ray fished the peg K62 next door to Richard and had his fair share of bream.
The Fox Match Stanjay angler caught well and finished with 20.900kg with most of his keep net made up of the bream. The third placed individual was Richard Crispin who fished for Walton AC and finished the match with 20kg.
Chairman of the NFA, Terry Fell commented, "This weekend has been a fantastic showcase for the sport with over 600 anglers providing us with one of the best nationals ever in the Pentax Division One. And with Drennan Team England returning from the World Championships on Sunday with two gold medals and a bronze, angling as a whole should be extremely proud of these achievements as we continue to raise the bar on a national and international level."
John Dickins attended the event on behalf of Pentax and commented, "The Pentax NFA Division One National Championships was another fantastic event despite challenging water levels at times. The weather held off for us and as a result there were some great catches on the day. I was particularly impressed by the great team spirit shown by everyone involved. Pentax is again proud to be sponsor of this event and wants to take this opportunity to congratulate all winners."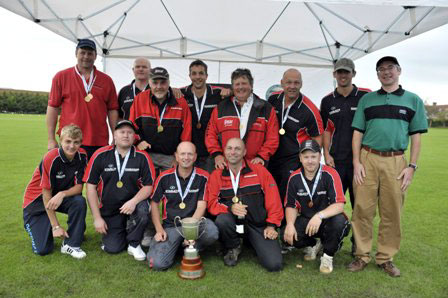 Winners Starlets AS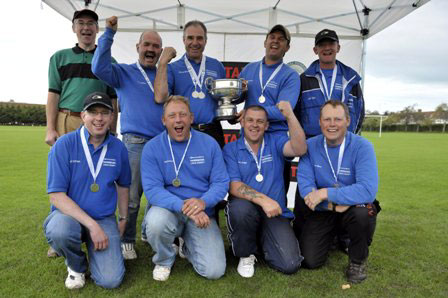 Runners up Garbolino Harrisons Lincs County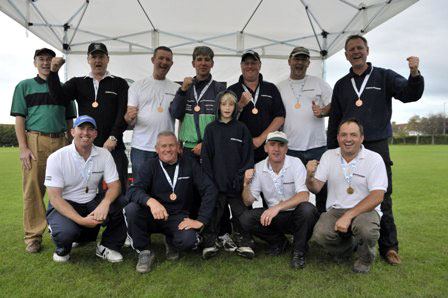 Third Shakespeare Redditch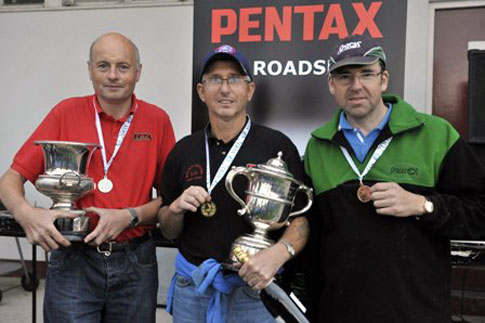 Runner up Left, Winner centre, Third place right