Officers from the Environment Agency will come to the rescue of fish from a site at Staveley near Chesterfield which would otherwise become stranded when the current owners of the site leave.
Rhodia have now ceased operation and cleared their 160 acre site off Hall Lane, Staveley, which used to manufacture sulphuric acid and chlorine for a wide range of industrial uses. A 900m long millstream runs through the site.
Water used to be taken from the millstream for use by the chemical factory, but now that the site has been cleared, the millstream will no longer be maintained.
Fish currently live in the millstream, which provides good habitat for a range of wildlife is now likely to silt up over time. If no action is taken, then the fish would eventually die.
As part of Rhodia's decommissioning programme the Environment Agency was contacted and requested to assist in arranging the fish removal and relocation in the River Rother.
On the 14th and 15th of November, using a combination of netting and electrofishing, a team of six Environment Agency officers will catch the fish. Electrofishing involves using an electric current to stun the fish which are then collected in nets. The fish will be moved to a specialised transporter trailer, in which they recover in oxygenated water before being moved to their release site.
The fish in the millstream all descend from fish washed in from the River Rother, either during floods or during the day-to-day operation of the site. Fish present include roach, rudd, tench and bream; all popular species with anglers. However, being on a private site, it has not been possible to fish for them. Once removed from the millstream, the fish will be released into the nearby river, joining the fish that are already there.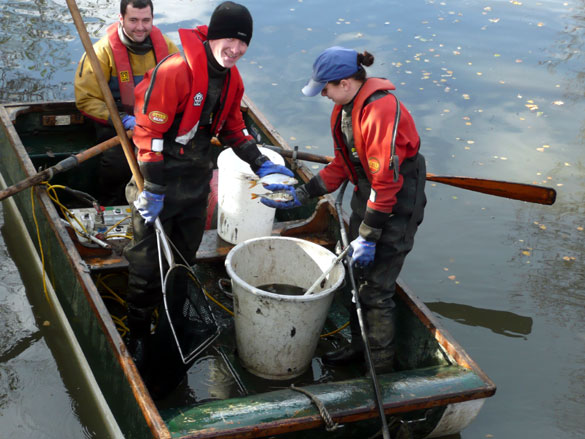 Jerome Masters, Environment Agency fisheries officer said: "If we don't take action when Rhodia leave the site then the fish will eventually die when the watercourse silts up. Over two days, Environment Agency officers will catch the fish and move them into the River Rother. We know that the Rother supports good numbers of fish and is popular with anglers. It shouldn't take them long to settle in their new home."