Matt Maginnis, checks out the Stourbridge Town Arm for Total-Fishing.com, a stretch of canal where Midlanders have enjoyed brilliant sport.
Expect plenty of net fish on this venue.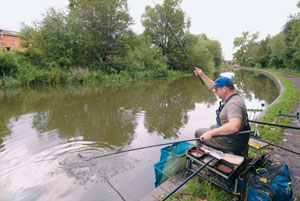 WHEN I first started fishing canals it was a case of snatching as many small gudgeon as you could and, if you were really lucky, catching a rare bonus roach, skimmer or chub.
Nowadays we are spoiled in the Midlands, with miles and miles of canals offering excellent sport all year round.
For a few months now I've been hearing about a stretch of canal with a growing reputation for its head of quality fish, amazing pleasure catches and tremendous match results. So I had to go and try the Stourbridge Town Arm.
For many years the Stourbridge Town Arm, like most of our canal network, was underfished and going to waste.
However, a couple of years ago, the Halesowen Royal British Legion (HRBL) club took over management of the fishery. Since then the stretch has been permanently pegged and opened up to day ticket anglers. Open matches are now organised quite regularly and club bookings are taken too.
"The canal has an amazing head of fish," explained HRBL's fishery manager John Billingham, as I genned up about the venue before my autumnal visit.
"Since we've been involved it has produced bream to 6lb, tench to 6lb, roach to 2lb, perch to 3lb, rudd to 1lb, chub to 5lb and carp to 30lb. The best match weight so far is 28lb and pleasure anglers regularly catch in excess of that.
Bream shoals
It all sounded too good to miss, so my next call was to venue expert Gary Mason, who advised fishing the 18m wide bay area.
"Earlier in the summer, two shoals of bream were seen there during a match, each containing more than 100lb of fish," he revealed.
"Casters at 13 metres on the pole should sort the bream out and it's also worth trying for the venue's quality roach on hemp or bread punch closer in."
The canal was built to serve the local glassmaking industry and comes to an abrupt end at what is now a boat yard next to the Bonded Warehouse, just a stone's throw from Stourbridge town centre.
Turning off the main ring road into the imaginatively named 'Canal Street', I was immediately impressed with the way that the warehouse buildings and cobbled approach road have been carefully restored.
Parking up and unloading the gear, I was even more impressed to see an urban, but attractive, tree-lined canal snaking into the distance.
As I walked along the towpath to my peg, the canal looked even more inviting. Fish were topping everywhere and, next to the beds of lily pads, lines of tiny bubbles were breaking the surface of the nicely coloured water.
Stake Out
I soon got to the bay and dropped my gear on the grass strip behind the towpath on permanent Peg 15.
I was itching to get stuck in, so I quickly set up my platform, box and keepnet, making sure that everything was tidy, well clear of the towpath and close to hand, so I wouldn't need to keep getting up while I was fishing.
Matt unhooks a trypical Stourbridge arm skimmer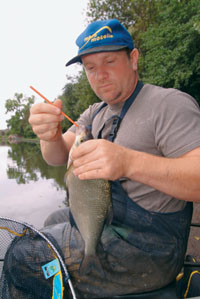 It's usually best to stake the bottom end of your keepnet so that it doesn't get swept through your peg when the tow picks up or a boat comes through.
On this occasion, though, I didn't bother, because I didn't intend to fish very close in and I was told that there would be virtually no boats or tow.
Fortunately, I had enough room behind me to set up my large roller, although I was still going to need to break the pole down twice when fishing at 13 metres.
I also set up another roller (although my carryall would have done the same job) between the towpath and the canal, about eight feet away, onto which I could move any shipped-back pole sections to allow people using the towpath to get past.
I know some anglers curse them, but I think it's fantastic that our canals are so well used by walkers, runners, cyclists and boaters. If they weren't, I can assure you that they wouldn't be maintained just for our benefit.
As anglers, we need to recognise that our waterways are there for everyone to enjoy and accept the minor inconvenience that results from sharing such a narrow space with other people.
Plumbing up
With my gear set up, the first job was to thoroughly plumb the depth. Unless you are only planning to fish shallow, it is vital to plumb up whenever you are going to float fish either with a pole or a running line.
It's paramount that you have a reference to tell you how far overdepth, or off bottom, your bait is, so that you can work out how the fish want the bait presented on any given day.
On canals, it is particularly important to accurately plumb the depth right across your peg, so you can find the bottom of the ledges and fish there very accurately if you choose to.
On this session it was doubly important because I soon found that, unlike on most canals, there were no pronounced ledges at all.
Instead, the bottom sloped quite quickly away to about four feet deep at five metres and then gradually down to about five feet at 13 metres, before it began to slowly shallow up again towards the far bank.
It was by no means a case of feeding and fishing at the top and bottom of the slopes and down the track and at this point I was especially glad I'd made the call to Gary before fishing.
He had suggested the 13m line as the obvious place to target the canal's bream. It made sense, as on canals the big-fish line is very often in the deepest water, unless you are on a venue holding carp, where they tend to hug far-bank features such as overhanging bushes and trees. In line with tradition, and Gary's advice, chopped worms and casters formed my attack for the Town Arm slabs.
Roach line
In the past, my roach line on canals has nearly always been a little way up the far shelf, beyond the deepest channel. But given the width and unusual profile of the canal and with four feet of water at five metres, I settled on this for my silver-fish attack.
I decided to start the session on this 5m line with punched bread a couple of metres to my left. As an alternative, for later in the session, I opted to feed hemp on a little-and-often basis on the same line, a couple of metres to my right.
Before fishing the punch I kick started the bream line by feeding half a medium Drennan pot of chopped worms and casters, after which I regularly fed a pinch of casters over the top via a catapult.
I made sure that this initial feed was spread over a couple of square feet, as I hoped that a number of decent fish would settle on it sooner or later. In the winter, or on canals where bigger fish are few and far between, I would feed less and in a tighter area.
Getting punchy
The punch is typically a method that works straightaway but doesn't often last for the whole of your day and this session was a good example of this.
It's a fairly simple method that usually works by feeding once at the start of the session and then fishing until the bites stop. Contrary to what I've heard in the past, though, I find that feeding again can often bring another run of bites, but this can rarely  be successfully repeated.
It's worth having a punch line as well as a chopped worm and caster line.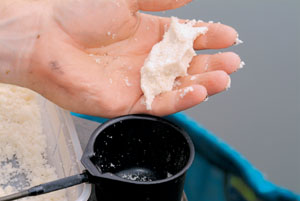 Having checked the shotting on my float in the canal, I knew that there was no tow at all, so I fed an egg-sized, lightly squeezed ball of liquidised punch crumb via the pole pot.
The key when feeding punch is to squeeze it so that it sinks a foot or so and then breaks up into a cloud, which then attracts the roach without overfeeding them. The biggest piece of bread in the cloud is on the hook and they grab it before another fish does.
I like to use the medium-sliced, seven-day-fresh bread for punch fishing because it's very soft and doughy.
To prepare it for feeding, just cut off the crusts, put it into a liquidiser until it's finely chopped and then keep it in an airtight container until you need to use it.
The stronger the tow, the harder the punch should be squeezed, otherwise it will spread both a cloud and your fish all over the canal.
Alternatively, if there is no tow and the water is shallow, it can be best to feed loose crumb without squeezing it at all.
I slid a 3mm piece of punch onto the hook, shipped out and dropped the rig, which was set just short of full depth, gently over the feed.
Skimmer on
The 4×12 Drennan Squatt float cocked, settled and then carried on going, so I struck by gently lifting the pole. I was delighted to see three feet of No3 elastic pull out of the pole and, after a short but impressive fight, a 1lb skimmer bream came to the surface and slid into my waiting net.
So much for this being my roach line! Oh well, never mind eh?
Remembering to first flick a pinch of hemp out to my right and catapult a pinch of casters over my bream line, I dropped the punch rig back out and almost instantly hooked what felt like another decent skimmer.
Frustratingly, this one managed to get completely jammed in some weed and, even more frustratingly, the hook pulled out, sending the rig into one of the worst bird's nests I've ever seen, around the pole tip.
Fortunately I had another identical rig made up on a winder and the depth was already marked with Tipp-Ex on the pole, so I was soon back out, this time with a larger, 4mm punch.
With regard to rigs and floats, it's my view that you should never get bogged down by the hundreds of different float patterns and materials that are available.
Instead, try to choose just one or two patterns of float that you feel are right for you and concentrate on setting them up correctly and in a simple and balanced way. Also, make the effort to prepare at least one duplicate of each rig
Another nice skimmer soon followed, after which bites became hard to come by.
I felt sure that an increase in towpath activity had spooked the fish, so I topped-up with another ball of punch, added a couple of inches onto the rig and tried an even bigger 5mm piece of punch.
I did this because I was hooking bream rather than roach. Bream are usually happier to take a bait fished hard on the bottom and switching to a bigger punch size can sometimes tempt a bigger fish. A static bait is also usually required for this species and fishing with line on the bottom helps achieve this.
Pleasingly this worked and produced two more skimmers, which were slightly larger than the others.
Two small roach followed soon afterwards, signalling the departure of the skimmers, and then nothing.
Time for the chop
After maybe 15 minutes of inaction on the close-in line, I decided it was time to try over the chopped worms and casters.
I slipped the hook through the broken end of a dendrabaena head on my bream rig, set at dead depth, and shipped out over my feed at 13 metres.
There was no immediate sign, so I began to work the bait by gently lifting it and nudging it along the bottom.
This worked nicely and a positive bite resulted in a hooked fish, which took several feet of my softly set No6 elastic.
A tremendous canal catch for Matt, on an under-fished venue.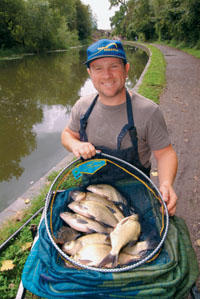 I presumed that the fish was a bream, but was surprised at how hard it fought. Even when it eventually slipped into the net I was surprised how chunky it was, until it became clear that it was a perfect 2lb hybrid. Two nice skimmers followed before the nightmare weed struck again and I was untangling my rig.
But I was soon back in action and, by switching between worms and double caster on the hook and adding a couple of inches onto the depth, bites came regularly from similarly sized skimmers.
Unfortunately, six of the better fish found a line of weed at about 11 metres before I sussed that, before shipping back, I needed to bully the fish to the surface so I could drag them over the weed.
Usually this canal has little boat traffic, but during my session six or seven went right through my bream line on their way out from the basin for the weekend.
Initially the fish came straight back after each boat; if they didn't, another small pot of chop and casters soon tempted them. However, eventually a small perch signalled the end of the bites from the quality fish.
Shy roach
Satisfied with the return from my bream line, I tried to tempt some of the venue's large roach on the hemp line, which I had fed steadily from the off.
My rig for this was simply my punch rig with the bulk of No10 shot spread out equally between the float and hooklength.
After more than two hours of feeding I expected to catch straightaway, but, starting with the bait just off the bottom, I only had a few tiny indications, suggesting that there were some fish there but that they were very unsettled.
Adding just an inch onto the depth brought two positive bites and two perfect 8oz roach, but just when I thought that I'd cracked it the indications dried up completely.
Adding a little more depth, removing depth, stepping up the feed, reducing the feed and fishing on the edge of the feed area all failed to kick-start things. I concluded that the towpath disturbance had stopped the fish settling in my peg and decided to call it a day.
Fighting fit
Although I didn't want to leave, I'd had a really enjoyable session with loads of bites and I'd finished up with more than 15lb of fin-perfect, fighting-fit bream, hybrids and roach in a little over three hours. I would have caught well over 20lb but for those bream that slipped the hook, but you live and learn!
Since the session, John and Gary have told me that the boats probably pushed the bream across the canal and that if I'd chucked a waggler or straight lead over there, I would have almost certainly caught more and bigger fish. I will definitely try that next time!
The Stourbridge Arm is no ordinary canal. It really is full of fish and at £1.50 for a day ticket it represents superb value for money.
Incidentally, if you are worried about going to a venue without carp in it – don't be. I can testify to their presence after a huge one launched itself out of the water as I was packing up.
If you plan to target them, though, make sure that you put about 50 yards of red Hydro elastic in your pole – you'll need it!
Midland Angler Top Tip
For punch hook bait cut a slice of bread into four pieces and store them in an airtight bag. Remove them one at a time so that the others stay really fresh. If I'm struggling for bites, I like to try pieces of bread that behave differently in the water and swell up at different rates. I flatten one of the pieces of bread and microwave another for a few seconds before I bag them up.
Midland Angler Top Tip
Matt has found Easyshot dispensers to be absolutely brilliant for applying tiny No12 and No13 shot onto the line. I understand that they are no longer available, but apparently Dinsmores has just brought out a version that's even better.
Midland Angler Top Tip
When fishing chopped worms and casters, chop your worms to the same size as you are going to fish on the hook. I have found that pieces a quarter to half an inch long are about right. If you chop them too fine, you can get pestered with small fish. Keep your casters in water to stop them turning into floaters and add the same quantity of casters as you have worms. I will usually chop up enough for perhaps an hour's feeding at a time, keeping the lot in a little water in a bait tub until it's all fed.
Canal Bait Tips

Contrary to popular opinion, Matt has found that you can get away with re-feeding only once when the punch line has died. Experience has taught him not to feed a third time.


Matt fed hemp on the same line as the punch but a few metres to one side, with a view to trying to catch quality roach on seed later on.


Hook bait for the big-fish line is a small piece of worm, nipped through the middle and hooked in the broken end. This prevents the worm wrapping around the hook shank.
After the initial pot of chopped worms and casters down the track, Matt loose fed casters over the top. If you're doing this, double caster is a great change hook bait.
Matt's Town Arm Set-Ups
Punch/Hemp Rig
Elastic: No3 Middy
Float: 4×12 Drennan Squatt. For punch it was shotted with a bulk of No10s and two No12 droppers. For hemp it was shotted with evenly spread No10s, plus droppers
Main line: 0.10mm Preston Powerline
Hook: Size 20 Mustad Wide Gape Canal Seed to 0.07mm hooklength
Chop Rig
Elastic: No6 Preston
Float: 4×12 Drennan Choppa, shotted with bulk of No8s and a No10 dropper
Main line: 0.11mm Preston Powerline straight through
Hook: Size 16 Kamasan B611 (Mustad Wide Gape Power would be a good alternative)
Fishing With Breadpunch
1 Matt's punch set-up – 0.07mm hooklength and size 20 or 22 Mustad Wide Gape Canal Seed hooks.
2 He used a 4×12 Drennan Squatt float  to 0.10mm line with a bulk of No10s and two droppers.
3 Carry a selection of punches so that you can vary your hook bait to suit the size of fish you start catching.
4 The swim should be plumbed carefully and the float set so that the bait sits just off the bottom.
5 The punch should sink but break up about a foot below the surface. The stronger the tow, the harder you squeeze.
6 If there is no tow at all, it's often much more effective to just feed the punch neat, not squeezing it at all.
7 The hook-bait punch is prepared the night before (see Top Tip). Select the punch size and twist it into the slice.
8 Now, simply place the hook point into the slit, slide it into the punch and turn the hook into the bait.
9 After being in the water for a short time, the punch swells and virtually covers the hook.
10 This 1lb skimmer took the bait first put-in – punch is an 'instant' method.
Top Tip
One of the keys to fishing canals successfully is to give yourself at least a couple of lines of attack. You should choose a line and method on which to catch small fish, such as squatts or punch just up the near or far ledge. You should also have a line on which to set a trap and try for bonus fish every now and then. This could be casters or worms down the track or up the far shelf, especially if there is cover there.
Canal Tackle Tips
A thickish carbon stem makes for a robust float and the thick bristle is easily visible at distance.
Matt fished No3 Middy elastic on his punch line and No6 Preston on the chopped-worm line.
The bream rig was tied using 0.11mm Powerline to a size 16 or 18 B611 or Wide Gape Power hook.
This type of plummet is ideal if you wish to set your bait half an inch or so off bottom.
Venue Fact File
Stourbridge Town Arm, Stourbridge, West Midlands
Contact: 0121 602 6893
Pegs: 90
Species: Bream, tench, roach, hybrids, rudd, perch, chub, carp, pike
Day tickets: £1.50, available on the bank. Club bookings taken
For hundreds more articles like this one, join www.total-fishingclub.com