Farnborough is the place for anglers to be at the end of February as The Big One brings a host of top angling names and companies to town.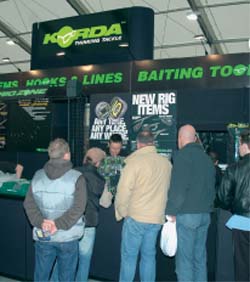 Top names, top brands, top bargains
and top tips at The Big One.
With the moving of 'Go Fishing' to Cudmore Fishery in 2009, The Big One can now claim to be the biggest indoor angling show in the calendar.
Last year the event attracted over 10,000 visitors and organisers are confident of more again this time around. Major firms taking stand space include Korda, Korum, Milo, Ultima, DAM, Preston Innovations, Maver, Nash and Cemex Angling. Plus there are many retailers on board, with the promise of the bargains show regulars have become accustomed to.
The event, which takes place over the weekend of February 28th and March 1st, also has the backing of some of the key players in the media, with the likes of Angler's Mail, David Hall Publishing, Pike and Predator and Coarse Angling Today all on board.
Match Fishing and Advanced Pole Fishing magazines are sponsoring a Pole Alley section, while the seminar area is being fronted by DHP's two carp titles, Advanced Carp Fishing and the market
The Big One can now claim
to be the biggest indoor angling
show in the calendar…
Total-Fishing.com
leader, Total Carp.
The new angling television channel, www.onlinefishing.tv, will also be there to show off its wares.
Aside from the bargains and big names, one of the great attractions of The Big One has always been that it's so user-friendly, unlike the NEC that for so long hosted 'Go Fishing'. Once again parking is free, and as always it will be easy to get your latest purchase back to your car and then get back into the show again.
Of course it's not all about big names in this game and in fact often it's the more nimble players that come up with the best innovations. We're sure that in an arena the size of two football pitches there will be plenty of interest to anglers from the likes of Wraysbury Bait Rolling, EZ Feeder, Sam The Man Baits, Ocean Fresh, Spro, Atomic Tackle, Carp R Us, Catfish Pro and many more.
And if it's a holiday or fishing break you're looking for, you may be tempted with offerings from Blue Fin Charters, Melview Lodge, Carp Dream Fishing, Kings Angling Holidays or Tourism Ireland.
As you can see, this really is the show for all anglers and all seasons. Whatever you're into – coarse, carp, sea, match or overseas fishing, there's loads to go at.
Just make a date in the dairy for Saturday February 28th or Sunday March the 1st and call the ticket hotline on 0845 8731 900 to book your place, or pay on the door.
Website: www.fishfacepromotions.co.uk