Sea anglers now have their own TV series thanks to angling television channel OnlineFishing.tv. The first episode of 'Sea Watch UK' is a fascinating spotlight on the European Open, fished along the Bridlington coastline earlier this year.
Presented by Andy Ford, it's a match of two halves, and with conditions against them most anglers find the going tough on day one. However, the wind picks up and more big fish show on the second day of the 1300-angler event sponsored by the East Yorkshire Events Bureau, which boasts a massive £25,000 prize fund.
And with the biggest fish caught winning the top prize, this really is a match anyone can win, right up to the last moment.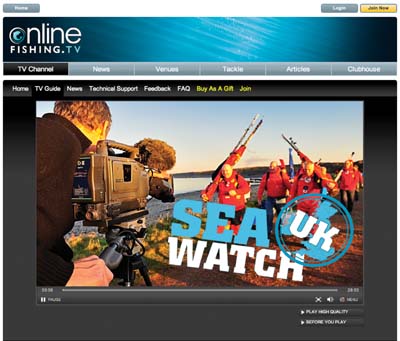 Sea Watch UK Episode 1 is a spotlight on the European Beach Open.
On his travels along the daunting 40-miles of coastline used for the European Open, Andy interviews many of the competitors and really captures the flavour of this huge event, which is one of the biggest matches of any kind anywhere in Europe.
Andy shares a few laughs with Plymouth's '24-7' club and also spends time with Total Sea Fishing magazine editor Barney Wright, who shows how he ties his clipped-down Portsmouth rig. There are plenty of cod and whiting on show plus the odd surprise, including a lumpsucker fish! And the cameras are there to capture the champion Dave Richardson weighing in his winning 14.75lb cod. A stunner!
Anyone can watch the free trailer for episode one of Sea Watch UK by going to: http://www.onlinefishing.tv/channel/preview/european-open-beach-championship-2009/low/
The full 25-minute programme is available to subscribers to the channel paying £4.95 per month. OnlineFishing.tv already has over 110 shows broadcasting 24 hours a day, many of them exclusive to the channel, and promises to add at least 12 new shows a month.
The European Open goes from strength to strength and East Yorkshire Events Bureau recently announced that it will be extended to three days in 2010, from February 26th-28th. For more details click on this link: http://www.onlinefishing.tv/news/europes-biggest-three-day-beach-festival/
The next episode of 'Sea Watch UK' – the only TV show made exclusively for the UK's sea angling community – will cover the Scottish Sea Angling Conservation Network's 'Sharkatag' event at Luce Bay in Scotland (http://www.ssacn.org/sharkatag ).