THE River Seven at Shrewsbury is, quite simply, a magnificent place. The venue has been attracting match and pleasure anglers alike from all over the country for many years. Each season, between October and March, there are open matches organised every Saturday, which regularly attract from 50 to 70 anglers. The stretch that is used in the matches runs through the picturesque town of Shrewsbury, offering the angler good access to more than 100 pegs. I have been fishing matches here for the past seven years and one of the reasons I keep coming back is the variety that the stretch offers, not just in terms of species, but the nature of the pegs encountered.
The pegs used in the competitions vary in depth from as little as three feet to 20 feet deep, with the average depths of around 11 feet. This means that a variety of methods have to be used in order to consistently catch the resident roach, dace and chub that make up the majority of match weights. It's that challenge and variety of fishing that makes the venue so appealing to me.
I love the Shrewsbury section of the Severn, partly because it has been so kind to me over the years. In fact, having gone back through my match-result diaries since I started coming here, I have actually framed in 33 matches, predominantly with weights of roach and dace. However, I have also won matches with weights of barbel, bleak and perch. This clearly illustrates what I mean when I say the river offers the angler real variety. The majority of the matches here are dominated by float fishing tactics and, because the venue is pegged sensibly, giving each angler plenty of room; it really is a float angler's paradise.
Because the average depth is quite deep, long rods are required and I generally carry one 18ft match rod for bolo fishing, two15ft match rods for waggler and stick work on the average-depth pegs and two 13ft match rods for the shallower pegs. I also carry a powerful feeder rod that I can use to target big roach and chub with a bread feeder set up for barbel with a pellet-feeder approach but, most of the time, the feeder rarely comes into the equation. The kit I take will vary slightly depending on river levels. For example, if the river is very low I will carry a pole, and if it is carrying extra water I will take a selection of whips, in case I have to target bleak. All my float reels are spooled with 0.14mm or 0.12mm Shimano Exage line. My feeder reels are spooled with 8lb Maxima for barbel or 4lb Maxima for other fish. Hooklengths for float fishing range from 0.12mm to 0.08mm and I favour Shimano Silk Shock. Hooks are either Kamasan 711s in size 15 or 17 when I am catching well or Colmic 957s in sizes 18 or 20 if it is more difficult. For barbel, hooklengths are 5lb or 6lb Maxima and for the roach and chub on the bread feeder I use 0.14mm or 0.16mm Silk Shock.
Bait requirements are fairly straightforward and for a five-hour match I generally take three pints of hemp, four pints of bronze maggots dusted with turmeric, one pint of casters, a few halibut pellets for barbel and some liquidised bread for the bread feeder. I also carry some slices of bread to punch for hook baits.
TERMINAL GEAR
| | |
| --- | --- |
| Ian favours these two hook patterns at Shrewsbury. | Shimano Silk Shock is used for hooklengths. |
| The reel line is Shimano Exage. | Double-cut shot is Ian's choice for locking shot. |
I would point out that good-quality maggots are essential here, as I want the biggest maggots I can find for the hook because the bigger the maggot, the bigger the hook I can get away with, which obviously reduces fish loss. I get all of my bait from Colin Hett at Deeside Tackle, because the bait is always excellent. If the river is very low and clear I will sometimes carry some worms as there are some very big perch to be caught close in on some of the swims. I actually won a match from Peg 59 last year, with a weight of perch caught on the pole at nine metres with chopped worms and the biggest perch weighed 3lb 7oz. So, if you do target these fish then gear up accordingly!
Let's take an in-depth look at the methods I consider to be the core of my match approach at Shrewsbury. As I have already said, this section of the river is dominated by float fishing methods, and we can break these down into four categories: waggler, stick float, bolo and pole. The float methods I employ in any match are determined by the peg that I draw and by the river level. However, the average depth on 70 per cent of the match length is about 10 or 11 feet and, when I am faced with a peg of this depth, the first thing that I put up is the bolo. This is not necessarily because I think this is what I will catch most of my fish on but because it is very easy to accurately plumb up with.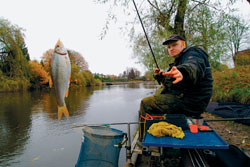 Catch it right and the Shrewsbury length of the River Severn produces brilliant roach sport.
Plumbing the depth accurately on a big river like the Severn is actually very easy, as long as you follow a few basic rules. Always plumb up with a heavy plummet and a float that is attached top-and-bottom style and always plumb down the peg and not just in front of you. I often plumb up in front of me and then get off my box and walk five yards down the swim and check the depth again, and then go another five yards and repeat the process. By the time I have plumbed up in this way I will have a good idea of the contours of the entire swim. This does take a little time but I feel it is very important to understand what the riverbed is doing. For example, if the swim is shallowing up as I go downstream, I would generally feed more and attack it as, in my experience on rivers, these types of swims generally hold more fish as they are natural food traps. On the other hand, if I find the swim is deepening, I would generally be more cautious.
For my bolo fishing I use Woody's bolo floats, because they cast well and have a very buoyant tip that allows me to drag line on the bottom without the float dragging under. I try to keep all my bolo fishing very simple and shot all my floats with an olivette, about three feet from the hook, with three or four No8 shot evenly strung out between the olivette and the hook. I normally fish the bolo down the middle of the river, or as far as I can loose feed accurately.
The next thing I would set up on an average-depth peg, would be a waggler. I use four different types of wagglers on the venue. I use straight peacock wagglers for presenting baits up to a foot overdepth, insert peacock wagglers if the river is very low and small speci wagglers for the shallow 3ft to 5ft pegs. The other wagglers I use are home-made tapered balsa designs with a domed top. These floats are brilliant when I want to drag a lot of line on the bottom, or when the fish are feeding freely, as I shot them very positively with No4, No6 and No8 shots strung out over the bottom half of the rig. I fish the waggler on exactly the same line as the bolo but I would use the bolo if I was catching quickly at the top of the swim. However, I always favour the waggler if I have to search the swim more.
THE BAIT FOR SHREWSBURY
| | |
| --- | --- |
| Hempseed is good for holding the fish in the swim. | Roach and dace love bronze maggots flavoured with turmeric. |
The next thing I would set up would be a stick float, to fish up to a third of the way out. I tend to use alloy-stemmed sticks because I think they sit well in the water and cast well. The depth of the swim determines float size and I use the general rule of one No4 shot per foot of water. So, in 10 feet I opt for a 10 No4 stick. I shot my sticks with strung-out No4s, No6s and No8s, shirt-button style.
As mentioned earlier, if the river is very low I will carry a pole with a selection of pole-float rigs from 1g to 2g. I would then simply fish the pole instead of the stick float at about 12 metres.
That covers the float methods that I employ but, as I said before, the peg I draw and the level of the river will really determine what I set up. As a general guide, these are the rigs I'd use:
1. Shallow pegs (three feet to five feet) – speci wagglers.
2. Average pegs (10 feet to 12 feet) – bolo floats and wagglers to fish mid-river and the stick or pole on the inside.
3. Deep pegs (12 feet plus) – bolo and big stick.
| | |
| --- | --- |
| These are the main floats Ian uses at Shrewsbury. | Silicone spray is a must to keep the line floating. |
| Ian's home made balsa 'specials'. | Ian favours double maggot as hook bait on the Severn. |
Whenever I am float fishing on running waters, I always spray my reel lines with a good-quality floating-line spray to aid float control. I also always cast the rig slightly downstream from my sitting position, so that I can get the line coming off the reel smoothly behind the float.
I would say that 95 per cent of the fish I catch at Shrewsbury are caught on float methods. However, I occasionally set up an open-ended feeder to fish across the river with liquidised bread and punch on hook. This can be particularly effective when the weather is very cold, as it often results in two or three big roach or, if you are lucky, a bonus chub or two. The halibut-pellet feeder is also worth carrying with you, as there are a couple of pegs in the early 50s that hold some very big barbel, which sometimes feed when temperatures are mild.
Feeding the swim is probably the most important aspect of my match and trying to put into words just how I feed is quite difficult, as it will vary hugely depending on the peg and the target weight I feel I will need to either frame or win a section. Here are some general guidelines. I only feed one line on the shallow swims, generally mid-river with bronze maggots, and, as I am targeting dace in these pegs, I will feed very frequently, as much as three or four times per cast with say 10 maggots per pouch to start with. I will increase or decrease this depending on fish response. If the fish are feeding well I will start to feed shorter and bring the fish closer to me, so I can catch them quicker. On the average-depth pegs I will feed two lines – mid-river with hemp and maggots and the shorter line will be fed with casters, as I generally use this closer line later in the match to target quality roach. I start most matches by feeding 10 to 12 big pouches of hemp to mid-river and then feed a smaller pouch of hemp and two pouches of maggots every run through. Again, I will increase and decrease the amount dependent on fish response. The inside is fed initially with two or three big pouches of casters and then six to eight casters every two or three minutes.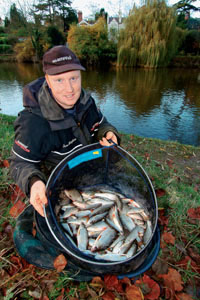 18lb of roach and dace on a cold winter day.
On the deeper pegs, I will again feed two lines – mid-river with hemp and maggots and the inside with casters. The only thing that I do differently is feed high up the swim, to ensure I can get the bait to the bottom within the confines of the peg length. Whatever the depth is, I always try to get a steady stream of feed constantly going through the swim to encourage the fish to feed freely.
Today I've fished Peg 49, where I've won  Saturday open with over 21lb, consisting of 15lb of roach and dace from 1oz to 8oz and a bonus 6lb barbel. All my fish were caught on the tapered balsa waggler fished to mid-river, feeding hemp and maggots. The peg is an average-depth swim, with about 11 feet down the middle. I set up two wagglers today, as I intended to concentrate at mid-river, as the stick line was largely unproductive on Saturday. So was the bolo and as I already knew the depth I decided on an out-and-out waggler attack. I set up a straight peacock waggler, taking 4AAA shot around the float and strung-out No6 and No8 shot down the line. I also set up a home-made 5AAA tapered balsa waggler with No6s and No8s strung over the bottom half of the rig.
I kicked off with the usual 10 pouches of hemp and then fed twice a chuck with maggots and once with hemp and started on the balsa waggler. I started catching small dace and roach straightaway by fishing about 10 inches overdepth. As the session progressed I found that I could catch more and bigger roach by increasing the feed and fishing more overdepth. The session went pretty much to plan and the balsa waggler was more productive than the peacock version. This was because the fish were feeding freely and the balsa waggler was much quicker, as it was shotted more positively. After another very active day I finished with about 18lb of mainly roach and I had a bite almost every chuck. That's great fishing by any standards and it's the reason why I consider this place to be the best river venue in the country. Who said rivers were dead?