The British Record (rod-caught) Fish Committee would like to announce the provisional award of three new record claims.
The BRFC was scheduled to meet on 27th June but because there was, at the time, only one record claim awaiting ratification it was agreed that in the interests of the BRFC members' time and costs, there being no other issues requiring immediate attention, the June meeting should be cancelled.
The one outstanding claim, by Cameron Atkinson, for his 18lb shore-caught spurdog, having been
positively adjudicated by the BRFC sea-fish specialist group, has been provisionally awarded pending final ratification when the committee next meets.
Since the decision (at the end of May) to cancel the June meeting, three further record claims have been made, of which two have been completed and provisionally awarded – again pending final ratification.
The three new records provisionally accepted following scrutiny by the respective specialist members of the BRFC are:
Cameron Atkinson – Spurdog (Squalus acanthias) – Shore-caught – Watermouth, North Devon, on 24th January 2018.
Cameron's fish weighed 18lb, overtaking Gary Hillon's 2017 shore-caught record of 17lb 8oz 8dr.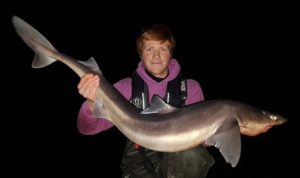 Jason Touzel – White Sea Bream (Diplodus sargus) – Shore-caught – West coast of Jersey, on 11th May 2018.
Jason's fish weighed 3lb 3oz 2dr and was witnessed by Roger Bryant, who held the previous record of 2lb 12oz 8dr.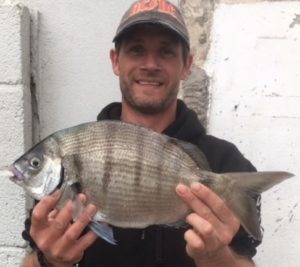 Lawrence King – Golden Orfe (Leuciscus idus (L) – Caught at Newdigate Farms Fishery, Surrey, on 20th May 2018.
Lawrence's capture, at 8lb 5oz, equals the current record set in 2000 by Michael Wilkinson from Lymm Vale, Cheshire.