Total-FishingClub.com members once again showed their great generosity by raising over £1600 for the ACA in their annual two-day festival at the Glebe.
The event could not happen without the good will from fishery owner Roy Marlow, who donates the entire peg fee to the charity, so many thanks Roy.
Understandably Roy has decided he doesn't want to give up every weekend in his close season at the brilliant Leicestershire fishery, and members' work commitments meant this year's Thursday/Friday event saw a lower turnout than in previous years of 34.
That certainly didn't have any effect on the crack at the Longshoot or on the number of hangovers on the last day, and it also meant that anglers were well spread out across Glebe 1, 4, 5 and Uglies, plus on Foundation.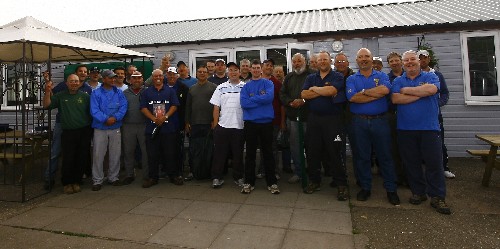 The 2008 crew, who raised another £1610 for the Aca.
This was the first time the venue had been fished for eight weeks and although fish were showing on day one, many refused to feed. However, there were still a couple of ton-up weights with Steve May weighing in 107-10 from the end peg on Lake One and Roy Marlow fishing feeder and maggot on Foundation very tidily for 106-14. The other day one winners were Andy Day with 66-6-0 from the Lake 4 and 5 section and Chris Martin with 69-4-0 on Uglies, where Tonkin rescued himself from a dreaded blank with a fish in the last minute.
However, with plenty of grub going in they certainly knew what it was on the second day which fished much better and included an excellent festival-best 244-8 bag to Phil Stone (Pebisit). Phil drew Foundation and found the fish in the edge when he arrived at his peg, where they fed all day. Pebs fed plenty as you will see if you read this thought provoking thread: /forum.aspx?g=posts&t=8426 .
The other section winners were Pete Bailey, 177-6-0, Lake One; Sconey, 119-4-0, Lakes 4 and 5; and Skip 'Gordon's Alive' McCabe, 155-8-0, Uglies.
In previous years it's always taken a perfect two-section-point score to win the festival, but with much bigger sections and a difficult Day One this year, that was never going to be the case.
In the event five anglers tied on four points with Skip taking it on weight from Kev Holmes (KevH); Jason Adlam (Jadstar); Neil Powell (Hillbilly) and Andy Day (see below).
Meanwhile Tonkin stayed on with a few others at the Longshoot to fish the first day of the Ivan Marks Memorial and had about 140lb on Foundation for third overall – well done mate! Any chance of that weight in the National in July?
Skip's Account:
I decided only at the Twelfth Hour to fish, and was really looking forward as always, to meeting up with my great buddy Chris Martin, as well as the usual TF crowd who make this event what it is.
It all started on the Wednesday night with myself Chris, Andy Day, Steve R, Broom Broom and Micky No Bites, hitting the beer at around 7.30 in readiness for Chelsea to give the Mancs a sound beating in the Champions League . That was not to be (unlucky Grant!), so we all just got slaughtered instead. Great night and in the sack for 2am.
Myself and Chris made it to the draw for around 8.30, where we met up with our (lightweight in the drinking department) TF mates, all looking fresh and ready for action, and to be given the news by Billy No Mates that we had no casters, as his 'great buddy' and owner of a maggot farm had told him to 'do one', and never darken his doorstep again! Oh!
Lol, never mind, thought me and Chris. We would go with pellet and corn.
Finally we drew our pegs at around 9.15, with myself drawing peg 12 on pool 1. I was happy to draw the pool but not the peg, as I thought both ends would be hard to compete with. Even though we had loads of room, the fact that we had last year's champ, and all round good egg Steve May comfortable perched on peg 1, and Jason 'The Paste' Adlam on the other end made our case no easier.
Immediately four pegs to my left, I had another past winner, in the shape of Micky Davies, and to my right Kevin 'Local Knowledge' Russelli to my right.
Anyway the all in was called, and out went a big pot full of hemp along with a few grains of corn and the usual big handful on hemp and corn down the edge.
Well, after a hour of doing this and that, and with about 3lb in the net, I shouted down Micky Davies that we was all hemmed in too tight and needed more room!!
His reply was maybe next year we should put just one angler on each lake for maximum bagging (take note Geeps!).
Anyway to cut a long story short I managed 3rd in section with 87lb, Steve May winning the section with 107lb and Jason Adlam beating me by a pound with 88lb.
Micky D ran me close with some real clonkers down the edge, weighing in with 86lb – very tight. A really enjoyable day's fishing, with myself out of the frame to win the festival (or so I thought).
Chris Martin won his section on peg 44 on Uglies with 66lb, which in itself was amazing as he seemed to be on walkabout all day, sky-lining everyone he could in the process!! Which isn't hard when you are as tall as him!
I was chuffed for him, because with him drawing peg 7 on Pool One for the following day, I really thought he would be the champ, as I rate him highly when it comes to long pole fishing (ole canal angler you know).
Day 2, and after another good night in the Longshoot with the TF stalwarts Hillbilly, Pebs, Scone, USDH, Broom Broom, Mrs Broom Broom (corrrr………!) and Geeps etc, and another skinful, finally hitting the bed once again at 2am.
With the morning upon us and a real sore head I was off to peg 46 on Uglies, where the day before Mainly Bits had weighed in with just under 50lb and a section third.
I fancied the peg, and fancied it even more on arrival. It was solid. There were carp cruising all over the peg, but would they feed? This was how the lake had looked the day before.
To my right was Steve May, and to my left was Kev Russelli, with on the other side MickyD, Jason 'The Paste' Adlam along with proper legend Roy 'The Bream' Marlow. Well, once again it was a slow start, with me potting in my usual big pot of hemp at 14 metres and handfuls of hemp and corn going down the edge.
I started off on the straight lead, pinging over a few 6mm pellets, hoping I would empty it on the waggler later.
I managed one fish on the lead, and one fish first chuck on the waggler, and that was it.
It was time to have a look on the 14 metre line, and it was solid, with fish after fish for an hour, all on double corn and feeding corn and hemp through a Kinder cup.
It did go quiet in spells, but I was well clear of those around me, and three big lumps down the edge finished off a great day.
I weighed in with 155lb, beating Jason who had 110lb.
I must say I really enjoyed the two days, and winning was just a bonus.
To meet up with everyone especially on the Thursday night was great.
Thanks go to Scone, Geeps, Russelli, Roy, Pebs, SteveR, and RickyB for all their hard work behind the scenes, and hard luck to Jason, Kev Holmes, Hillbilly and Andy Day who all finished on the same points as me.
See you all next year, as myself and Chris are looking forward to doing all again.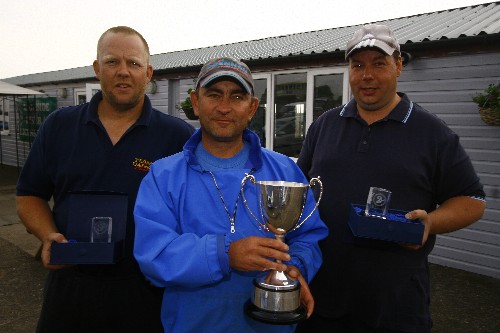 Left Kev, centre Skip and right Jason.
Kev's Account:
The first day didn't start well when I discovered I had no casters. No shallow fishing today then!
The draw put me on Pool 4, peg 66, an end peg (yippee!). When I got there I noticed the wind blowing into the opposite corner (boooo!).
With no casters to fish shallow it was going to be a 5m line fed with meat and hemp and two margin lines at 13m and 14.5m. On the 5m line I fished a Wilkie Cane made up on 0.18mm Silk Shock to a PR28 size 14.
The margin rigs were Wilkie Margins on 0.22 Silk Shock with a PR27 size 14. Both with Black Hydro.
In the first three hours of the match I didn't have a single bite. Then I noticed the wind change and start blowing into my corner.
In the next two hours I had 10 carp up to 10lb on my 14.5m margin line. At the weigh in I had 65lb to finish 1lb behind Andy Day for two points.
On Day 2 I pulled 31 on Foundation out the hat. It's a peg I've fished before.
When I got there I was happy to see cruising fish around. I set up shallow rigs as I now had casters thanks to Slim Shady.
The rigs were made up on 0.16mm Silk Shock to a Scone float and a B911 size 14 hook. I also set up a margin rig.
I had 40+ fish shallow and five in the margins. I ended up with 151lb to finish second on the lake to Pebs, who had bagged down the edge.
Jadstar's Account:
I am pretty glad they wouldn't serve us any more at 2pm in the Longshoot! I was rough enough as it was.
Any way, this was my first "Glebe" and I thoroughly enjoyed it. The main objective is to fish with a good bunch of lads, raise a bit of cash and catch a few. Anything else like framing is a bonus.
The only thing I would say is that it was really interesting all the advice flying around the week before. You must have six kilos of corn, 10 kilos of hemp, a gallon of caster etc etc.
When this was all being discussed my first reaction was I should just take paste and pellet (I am more or less an out-and-out paste angler from April-October). But I got lulled into thinking that if I didn't do as the 'venue experts' said I would bomb out.
One lad who is a member there categorically told me I wouldn't frame using paste. I would get "bitted out"!
A big lesson learnt there! One that will have improved the way I approach matches and new venues in the future!
Day 1, Peg 30 on Pool 1.
I was told to fish feeder across and fill it in at 8m with more bait than you could shake a stick at.
Needlesstosay, after 90 fruitless minutes on the feeder (was told they WOULD come even after three hours, but I knew Steve May was on peg 1 and catching), I gave up and tried the 8m line corn over corn and hemp.
I had lashed around four pints in on that line and with just another 30 minutes gone and two skimmers and a small carp to show I decided to make a total change.
I mixed up some paste, fed hemp and pellet and put a weight together in three hours on a top three, taking 30 odd pound of crucians and the rest in carp.
That was second in section with around 89lb. Steve had 107lb, so those first two fruitless hours really cost me!
I decided that wherever I drew next day, I would do what I know works for me.
Day 2, Peg 60 on Uglies.
Again I started on the feeder for the first hour: no bites, no fish. But I had to watch Roy Marlow take six fish in the first hour on the tip. I just kept thinking "they will come!" They didn't.
I fed a paste line at 11m and 6m with 3mm pellet and hemp (I put three pots of pellet and hemp in at first). And I had to feed a pot with some paste after each fish.
They were fizzing well but I only took eight carp in three hours, and had another eight in the last hour for 16 fish off these lines…. just one more hour! LOL.
I spent a while on the margin lines but they didn't come in close. I only took three fish off the 6m line, the rest were on the 11m line.
That was second in section with 115lb – Skip won with 150lb, so I was happy with four points and thought I had done all I could on day two anyway.
Results:
Total-FishingClub.com Glebe/ACA Festival 2008
1 Skip McCabe, 4pts, 242-10-0
2 Kev Holmes, 4pts, 217-4-0
3 Jason Adlam, 4pts(Jadstar), 207-10-0
4 Neil Powell, Hillybilly, 4pts, 178-7-0
5 Andy Day, 4pts, 174-6-0.
Many thanks to Roy once again for use of his great fishery, to Steve R and Ricky Baxter for sorting out the raffle so well and to Pebs, Russelli and Scone for doing the draw, pools and results.