Solihull day ticket water Barston Lakes has stocked two micro-chipped 30lb carp. The mirror carp weighed in at 37.2lb and 30lb.

Venue owner Nigel Harrhy commented: "Our anglers are constantly asking 'what is the biggest fish you have'? It doesn't matter how many doubles the lake produces; I get the same question almost every day.
"Many 30s have been reported, but none have been confirmed, and frankly I found the reports of 30s hard to believe. We have seven 48-hour carp matches here a year and every fish is individually weighed. The biggest recorded has been 23lb 8oz."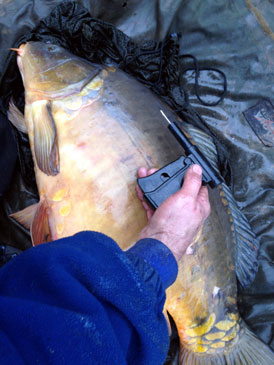 Both the new fish have been micro-chipped, as have all the doubles in Barston, a day ticket water that also allows night fishing.
Nigel set out to create the main lake as a carp, match and pleasure lake. There are actually four pools at the venue at West Midlands Golf Club. The biggest, Barston Lake, has 124 pegs and holds many big events every year. The smallest, Jake's Lake, named after Nigel's son, has 10.