Fishing may not be everyone's first thought for holiday destinations, but for those who adore waking up at the crack of dawn after dreaming of catching something extraordinary, there are destinations all over Europe that are perfect for the hobby.
From saltwater to freshwater, the variety that the best fishing in Europe offers is almost endless. As every angler knows, even on the greatest of fishing venues, you can still go hours without a take, but not only do these fishing spots listed below provide you with ample opportunities to catch the most epic of fish… we have made our selection carefully – special places which not only give you the chance of that fish of a lifetime, but which are also home to some spectacular views to keep you in awe while waiting for that all-important bite! Pack your rod, renew EHIC card and decide which of these European fishing spots have stolen your heart!
Lofoten, Norway – The World's Greatest Cod Fishing
When it comes down to fishing variety, Norway makes the ideal location with its abundance of oceans and rivers and the stunning islands of Lofoten really are the perfect spot for fishing. The islands are Lofoten have long been renowned as offering some of the world's greatest cod fishing (see main picture, Dave Barham holding a beautiful 30lb pluser), with enormous fish weighing over 50lb caught every season. The waters are rich in nutrients, and each year millions of cod make the journey from the Barents Sea to spawn along the North Norwegian coastline, and especially around the Lofoten archipelago. Hop aboard a local fishing boat and head out into the Vestfjord, surrounded by magnificent views of the mountains and sea, to experience the excitement and joy of cod fishing.
Madeira – Big Game Fishing for Marlin, Tuna and Wahoo

Big blue marlin can be caught off Madeira along with tuna and wahoo.
The Portuguese island Madeira in the Atlantic Ocean to the south west of Lisbon is a prime country for both big game fishing and family fishing, and thus we couldn't find a single spot at this country that's better for fishing than any of the others! This European country is renowned for its incredible supply of fish, both big and small, with the some of the largest Blue Marlin being caught here on an annual basis, plus wahoo, big tuna and snapper. There are many operations offering state of the art equipment and great guiding, and if you enjoy fishing for the thrill of the catch in a great climate with plenty of 'after fishing' on offer, Madeira is the ideal fishing spot for big game fishing.
Soca River, Slovenia – World Class Clear Water Fly Fishing And The Marble Trout
Perhaps fly fishing is more your forte? If this is true, then the Soca River in Slovenia is perfect for you. This 'green pearl of the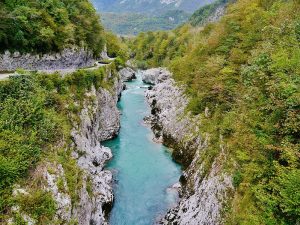 Alpine region' is known for its incredible fly fishing opportunity, in its upper reaches spitting and spluttering through gorges between boulders and shingle banks, where beautiful trout lurk. The waters here are clean, pure and green crystal clear, often offering the opportunity to sight fish for that mighty rainbow, grayling or chub. The river gradually begins to catch its breath lower in its reaches with intermittent deep pools and white sands. In these reaches you will also find abundant grayling, chub and barbel, before the river slows widens and eventually turns into a mighty reservoir whose depths play home to the marvellous and famous Soca marble trout which can grow to well over 10lb and has been documented to twice that size.
Jämtland, Sweden – Wilderness Fishing for Big Grayling, Trout and Whitefish
Similar to Norway, Sweden is home to hundreds of prime fishing spots, but we feel that Jämtland really pips the others to the post in terms of wilderness fishing for wild fish in quite spectacular surroundings. When travelling to this gorgeous location, you'll be greeted by a huge range of river, stream and lake locations on offer, and even the bubbling mountain streams are full to the brim of exciting species of game and coarse fish species. The area is particularly noted for its world class grayling and brown trout sport, and also offers great sport for whitefish, char pike and perch, whether your preferred method is with fly or lure.
Scotland – The Home of Salmon Fishing

Scotland is still regarded as the home of Atlantic salmon fishing and has so much more to offer on top.
We couldn't end our list without a mention from the famous rivers and loughs of Scotland. Waters such as the Dee, Spey and Tay are still considered by some to offer some of the best Atlantic Salmon fishing in the world by fishers, so you can catch yourself some succulent salmon and enjoy a wee dram with the gillie to celebrate. The fishing experience doesn't end there though, as Scotland has some stunning, panoramic views on offer, so you can immerse yourself in the native, natural surroundings while waiting for the catch of the day. Wild brown trout can be found in most Scottish lochs, with wet fly fishing the method. If pike fishing floats your boat, Loch Lomond is the most famous but Loch Awe, Loch Tay, Loch Rutten and Loch Ken are also well worth looking into. The mighty lake dwelling and fully predatory Ferox trout is also a worthy adversary, with the British record of over 31lb coming from Loch Awe.
Fishing is all about variation, and if you want to find yourself catching an entire array of different species of fish, these are the places to go to. We promise you won't be disappointed!
Pics: Wiki, Wiki Commons, Dave Barham Fishing