Valley Comprehensive School from Worksop has won the 2008 NFA Schools National Championship sponsored by the Environment Agency and tackle giant Shakespeare at the Glebe Fishery in Leicestershire on Friday 12th September.
The Championship was fished by 90 young anglers that made up 18 teams who had travelled to Roy Marlow's Glebe Fishery from schools nationwide. The youngsters were greeted by good fishing conditions with an overcast sky and very light wind, although the morning was on the cold side, indicating a possible slow start to the match.
The national had an air of excitement right from the hooter as the youngsters showed a huge amount of enthusiasm with regard to their fishing and set about their day's task with determination and a real sense of enjoyment. Anglers started confidently catching straight away from their first casts creating an air of optimism around the fishery.
It was experience however rather than exuberance that proved the key to winning the team classification as Valley Comprehensive who have fished the national a number of times won the match with 74 points in total. Their highest placed individual angler was Ryan Bolton who finished the match with 17kg in 5th place.
The second placed team hailed from Pontefract in West Yorkshire as Minsthorpe College A team were 8 points behind Valley Comprehensive finishing with 66 points in total. Another Yorkshire team followed in third place, as Dinningtom Comprehensive A finished with 64 points.
The day wasn't just about the northern teams, as local team Melton Learning Hub had a fantastic day finishing in 5th place with 60 points just three behind Worksop side Portland (63 points) in 4th. There were also a number of first timers like Melton who also performed extremely well with Chipping Sodbury School from Bristol finishing in 6th place with 54 points and Thomas Adams School from Shropshire ending with 51 points back in 9th.
Individually, there were a number of superb performances with some anglers catching their largest ever fish, and some who showed all the tactical ability that could make them one of our stars for the future. However, when it came to the medals there could only be one winner and it was northern angler Dale Wood from Minsthorpe College A, who claimed the gold medal and the coveted Shakespeare Shield with 22.500kg.
Dale won the match with a commanding lead over his fellow anglers as runner up Scott Clarkson of Ridgewood School from Doncaster weighed in with 19.550kg. In third place was Matt Davies of Newent Community A from Gloucestershire who ended with 17.850kg.
Everyone involved in the event was exceptionally pleased with the day and even a heavy downpour at the end of the match could not dampen the youngster's excitement about the competition and in particular, their enthusiasm towards angling. As Joshua from St Michaels Catholic and Church of England High School in Barnsley who caught a 15lbs carp, his biggest ever fish said, "I want to come back next year and catch an even bigger fish."
The NFA must thank the Environment Agency who without their support the Championship would not have been possible and also to Shakespeare who kindly continued their sponsorship of the competition, extending the championships claim to the longest running sponsorship in angling.
Andy Williams of Shakespeare commented, "We at Shakespeare want to congratulate the winners and their fantastic achievement. We fully support the way you give the opportunity for the youth to take up fishing and will continue to support as we believe it is imperative to get as many youngsters into this great sport as possible."
Martin Stark, from the Environment Agency added, "Its very positive to see such enthusiasm around angling and we must congratulate Valley Comprehensive on winning the national. We hope that with such a positive experience it will be possible to encourage even more schools to compete next year and help the competition grow and grow."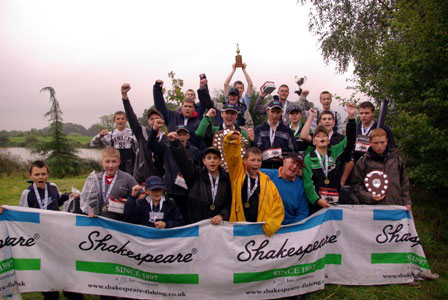 All Winners and Roy Marlow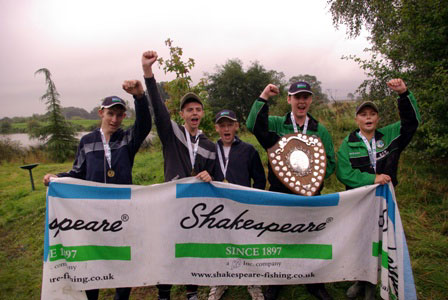 Winning Team Valley Comprehensive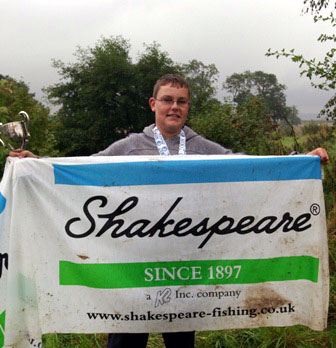 Winning individual Dale Wood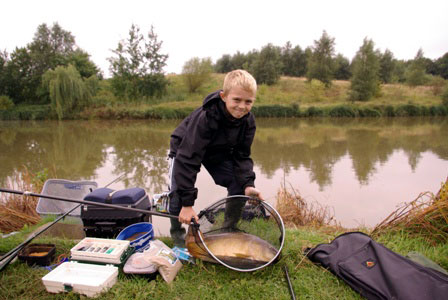 Joshua Waterhouse