The Angling Trust Daiwa Schools National Championship 2010 was held on Wednesday 21st July 2010 at Hallcroft Fishery, Retford, Nottinghamshire with 30 teams of 5 anglers per team taking part.

Valley School from Worksop once again won the winning title for the third year running with a total of 141 points in the team classification.
The team consisted of; Liam Ainsworth A21, Robbie Moore B12, Dean Northage C18, Oliver Hipkiss D26 and Lewis Robinson E25. In silver medal position was Penistone Grammar School who were a late entrant into the event with 118 points.
Their team were; Ryan Burkinshaw A18, Ben Howlett B30, Kyle Lockwood C8, Kiefer Dixon D21 and Sam Morfitt E2. In third position with 116 points was Smithdon High School Red from Norfolk. The team consisted of; Toby Pepper A17, Tim Pepper B4, Michael Hall C6, Tom Carlton D10, and Callum Leverett E1. In fourth place was Holgate Schools and Sports College with 115 points. Their team were; Dan Bryning A22, Sam Hunter B7, Josh Tallant C12, Jamie Hartley D13, and Niall Dunn E30.
John Hamon, teacher of the team from Valley School said "I was really pleased with the whole day as more teams were involved this year which was brilliant, as last year there were fewer and now the event is building up again and it's all down to the work from Angling Trust and Daiwa. Everyone in the team fished pole and a lot fished chopped worm and pellet. We have an excellent team and they are all in Year 10 and came through to gel as a unit, so next year the same boys can fish again. Unfortunately this year we lost two good anglers, and one of them Reece Nicolson is fishing for the U18s England team. We also get lots of support and help from the parents, and we won the regional match on Monday fishing against 6-7 Bassetlaw schools, so have had a busy week."
Valley School were back in the medal position with Lewis Robinson on peg E25 collecting the gold medal for the first individual position with an outstanding weight of 16.400kg. In runner up position was Tim Pepper of Smithdon High School Red on peg B4 with 15.100kg. In third position was Jamie Cook from Tudor Grange Academy Worcester Green on peg E19 with 12.950kg.
Fishing took place in hot glorious sunshine for 4 hours from 10.30am-2.30pm. The pools used on the day were Moat Outer (sections A & B), Bridge Outer (section C), Bridge Island and Croft (section D), and Reed and Canal (section E).
Fish caught on the day were carp, skimmers, perch and a few roach. The venue fished really hard with carp too far out for some lengths of poles, and for anyone who struggled catching small perch. There were some good weights on the day that were made up of large single fish. More schools this year got involved from further afield as Suffolk and Ipswich, and all who took part had a fun day.
Angling Trust would like to thank Daiwa for their continued support of the Schools National Championship and for their generous sponsorship of prizes for the youngsters in this event. Daiwa also provided their consultants on the day who presented all the prizes to the competitors, and provided assistance throughout the day, Will Raison (Drennan Team England), Sandra Scotthorne, and Kieron Rich. Appreciation and thanks must also go to Terry Sears and all his staff at Daiwa Hallcroft Fisheries for their use of the water and their support and help on the day, as they did a fantastic job and were very professional.
The Angling Trust Daiwa Schools National Championship 2010 Team results
1st Valley School 141 points
2nd Penistone Grammar School 118 points
3rd Smithdon High School Red 116 points
4th Holgate Schools and Sports College 115 points
The Angling Trust Daiwa Schools National Championship 2010 Individual Results
1st Lewis Robinson, Valley School 16.400kg
2nd Tim Pepper, Smithdon High School Red 15.100kg
3rd Jamie Cook, Tudor Grange Academy Worcester Green 12.950kg
4th Luke Woodcock, Retford Oaks High School B Team 12.450kg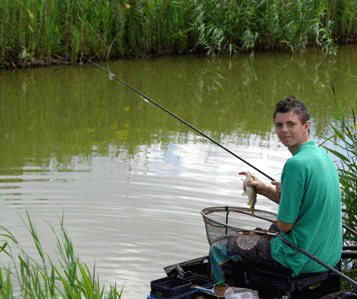 Lewis Robinson