The day was threatening to be miserable with misty drizzle rolling in off the sea. Luckily by 10am the mist cleared and the sun came out! The wind was blowing about 3-4 mph from the SW which veered NW by mid day and back SW from 2pm onwards blowing no more than 5mph all day.
This was the first day's casting West Wales had seen in many years, Glyn Baldwin who was one of the pioneers of casting down West helped organise the day along with Gareth Davies and Mike Dixon of the FWA / WFSA. All the guys named have cast at International level and are more than keen to pass on invaluable Instruction to the new casters of whom have travelled from as far away as Telford, Chepstow, Bridgend and Cardiff, not forgetting locally Cardigan, Aberystwyth and Crymych.
We had two of the Welsh National Ladies Shore team members grace us with their presence, namely Helen Pearce (Captain) and Pamela Worrall, both are accomplished anglers who can pull fish out of a tea pot if needed!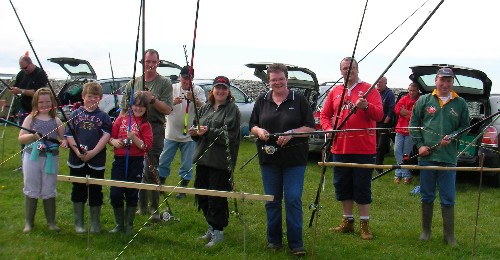 They both got into the swing using off the ground and pendulum style casts with Helen getting a superb cast of 122 yards (PB). Both Ladies have learned an advanced style of casting for range fishing in the future Internationals if and when needed they can cover all tidal zones which can be the difference between Gold and Silver.
Several junior members of Cardigan Sea Angling Club came along with their Dad they are Kieran Melvin Edwards 11, Annalise Jane Edwards 12 and Sophie Kimberly Edwards 10, all three managed very good distances with Dad Chris Melvin Edwards hitting 166 yards (PB) at his first Coaching casting day.
NAMES DISTANCE in yards
Kieran Melvin Edwards age 11, 81 off the ground, Personal Best
Annalise Jane Edwards age 12, 74 OTG (PB)
Sophie Kimberley Edwards age 10, 40 OTG (PB)
Chris Melvin Edwards, 166 Pendulum (PB)
Clive Pearce Did not record
Helen Pearce, 122 Pendulum PB
Stephen Griffiths, 101 OTG PB
Pamela Warrell, 101 OTG PB
David 'Carl' Warrell, 182 Pendulum PB
Lloyd Butler, 100 OTG PB
Brolly, 140 OTG PB
Allen Smilie, 130 OTG PB
Allan Giggs, 115 OTG PB
Martin James, 202 Pendulum PB
Glyn Baldwin, DNR
Gareth Davies, 255 Pen
Mike Dixon, 187 Pen
Roger Banks, 216 Pen
The next series of Coaching -casting days will start promptly at 10am and run until 4pm, all are welcome although the day is about having fun and learning to cast safely and proficiently a definite learning aid for sub 200-yard casters.
The dates are Sunday 8th June, Sunday 6th July and Sunday 3rd August 08.
For further information please check out:
http://www.wfsa.org.uk/coach%20devolopment.htm
Or ring Gareth Davies on 07855 528845 day time or 01656 724550 evenings, email Davies251@aol.com