Willy Worms specialises in worms for anglers at great prices, and now is also bringing other baits like pellets, groundbait and additives to the angling market – all available to purchase online and delivered straight to your door.
The famous WillyWorms dendrabaenas are available in small, medium, large and even extra large, plus you can buy fresh lobworms and a brand new worm offering called BrightBait (see below)…
But there's much more to the Willy Worms website than just worms, and in fact there are over 130 angling baits to choose from including for the first time for UK anglers, the StarFish range from Poland.
Willy Worms is a family-run business that has been breeding, growing and distributing worms since 1997. The company produces itself on extremely high quality bait, and great service.
The Selby, North Yorkshire business started out breeding worms for composting and for a small number of local tackle shops.
However they soon cottoned on to the amount of worms anglers get through, and since then they have become one of the very top UK breeders of dendrobaena worms for fishing.
Now with many years of expertise in producing tough, long lasting, quality dendrabaenas, Willy Worms now supply to over 120 angling outlets in the UK and can produce over 1.5 tonnes of worms a week!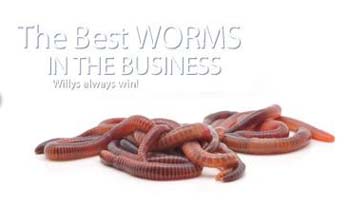 Willy Worms have perfected the production of top quality dendrobaena worms over many years.
Delivery
One of the great things about buying your fishing worms direct from the Willy Worms website is that anglers know that they can order just before they go fishing and know their worms will arrive in great condition – guaranteed.
Place your order before 1pm Monday to Thursday and have your bait delivered to next day. There is an additional charge for Saturday delivery.
How To Keep Your Worms Fresh
Worms do need looking after and there's some great advice on the Willy Worms website on how to keep worms fresh.
The delivered worms are packaged in a breathable bag and with sufficient food to keep them fresh for at least two weeks.
During warm weather you need to keep the bags of worms cool in a fridge, but NOT in the freezer compartment! Worms should be kept in the fridge at 4-6 degrees centigrade.

BrightBaits
Through their knowledge of breeding worms, Willy Worms have also developed what they believe to be a completely new offering to anglers who use a lot of worms – bright green dendrabaenas. These Brightbaits are available in tubs of 40 and are also available on the website. If you feel the fish at your venue have cottoned on to standard chopped worm fishing, these might just give you the edge over other anglers.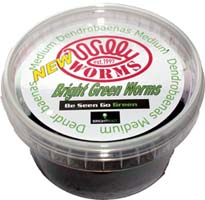 Willy Worms have developed these new BrightBaits – only available through them.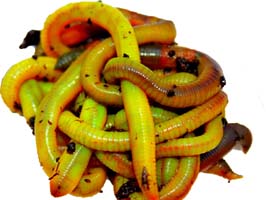 The worms have a bright green tinge and could just give you that extra edge…
Starfish Baits
WillyWorms has also 'hooked up' with Polish bait company Starfish to bring UK anglers the opportunity to try out its range of nearly ONE HUNDRED groundbaits in 1kg and 3kg bags, clays, pellets and additives for coarse and carp fishing.
It's a really interesting range of baits in 11 flavours and includes some great ingredients like roasted hemp, peanut cake and Belgian Bread Fluoro Mix. And it's only available through Willy Worms…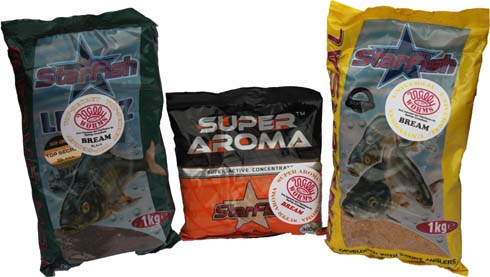 Willy Worms are the exclusive suppliers to the UK market of the extensive Starfish range from Poland.
Other Baits
To complete the picture, Willy Worms is also now producing its own range pellets which they say have had 'a fantastic response' and can also be purchased on the website. The Willy Worms bait range is fast expanding…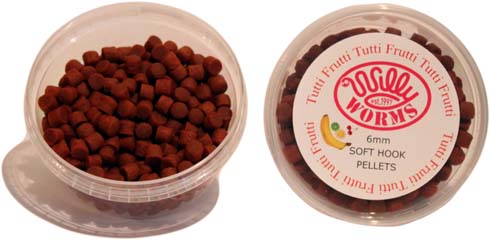 Willy Worms own hook pellets are going down a storm and can be bought through the website….
---