Power Steel
Ultima has raised the performance bar with mono yet again with the launch of their new flagship product Power Steel. If all early indications are correct this product will take the market by storm over the coming months.
Power Steel is the result of two years' careful development work, building on the huge success of Power Plus. But now Power Steel takes fishing line performance to level never before seen bringing together the best features of both mono and braid in one product.
Strength And Knot Strength
The primary consideration with any line is its strength. Power Steel is 30% stronger than any other line on the market and added to this is a phenomenal knot strength. It's that good that Power Steel with a knot in it is still stronger than any other line without a knot. We have tested every other line out there, and this is fact.
The other key development issue with Power Steel is stretch. Many anglers have used braid for fishing in many situations to improve bite detection because of its low stretch and thin diameter. However braid has many disadvantages, very poor knot strength and even worse abrasion resistance, it is highly visible and the low stretch is very unforgiving resulting in a high number of hook pulls.
Completely new polymer technology and the application of a lot of thought in the last couple of years have developed a new design concept for fishing line; 'Intelligent Stretch' – CLICK HERE for more details.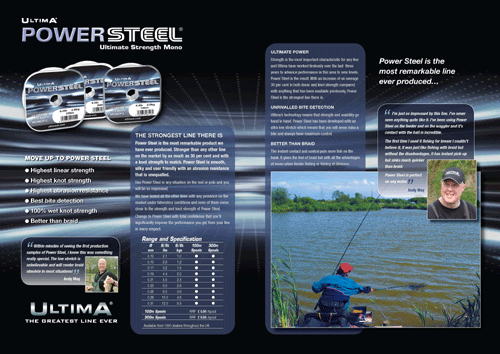 'Intelligent Stretch sees Power Steel stretch least in the first part of the power curve, giving you improved bite detection and fantastic directness for connecting with bites.
Abrasion Resistance
The abrasion resistance of Power Steel is phenomenal. It's 60–100 times higher than any braid and 6–8 times higher than mono, but Power steel is still soft, silky and totally user-friendly, because of the new type polymer.
CLICK HERE for details:
Power Steel is available initially in 100m and 300m spools, retailing at £5.95 and £9.95 respectively in nine popular sizes.
There are already 120 Power Steel stockists around the country and these are being added to every day.
What You Can Win
Every fortnight, two Total-Fishing.com site users will win 300m spools of 4lb, 5lb, 6lb and 8lb Power Steel – a prize worth over £40.
How To Win
Just go to our COMPETITIONS pages. Each fortnight we will pick two correct entries at random to win the prize.
To find the answer to the question below, check out Ultima's excellent website at http://www.ultimauk.com/power-steel.htm