England squad member Shaun Ashby reports on the 2003 World Championships, held on Slovakia's River Vah.
The Venue
The 2003 World Championship was to be held on the River Vah in Slovakia. The usual phone calls were made and we had a rough idea of what type of rigs were likely to be required. Everything, including the kitchen sink, was packed and off we set on the two-day drive.
The river was approximately three metres deep but as it powered a hydroelectric station the level could rise by as much as a metre within 30 minutes or so.
It was fast flowing and float sizes ranged from 4g round-bodied floats to massive 50g flat floats.
The main target species were bream and skimmers with barbel, chub, ide and carp also present. Various countries who had visited the venue earlier in the year had taken weights up to 20 kilos.
We arrived on Sunday, August 31st and after an early night headed to the venue full of anticipation.
Although we were not allowed on the match course until the following Monday, we found an area to fish approximately half a mile downstream that appeared to be very similar.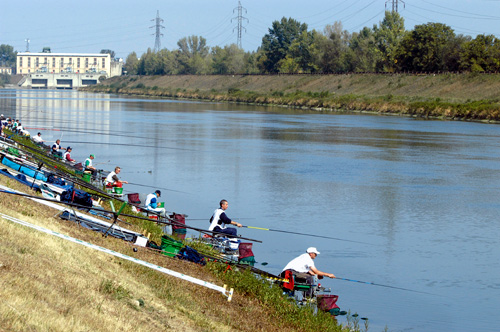 The River Vah, home to bream, barbel and bleak…
First Impressions
After a slow start we all caught plenty of fish. However, the predominant species was barbel. Fish up to 6lb were taken and the average stamp was over 3lb. Other fish taken during the first week included chub up to 5lb, bream to 4lb, skimmers, ide, carp, carrasio, perch and bleak. Will and myself also caught a grass carp each. Mine was approximately 18lb and Will's was 12lb plus! This trend continued throughout the week with catches up to 60lb.
One particular problem we encountered was the high percentage of barbel hooked and lost. We concluded that the line was being severed by the dorsal fin of the fish although the water did hold lots of zebra mussels, which may have damaged the line before a fish was hooked.
With this in mind we found the only way to play the barbel was to use black Hydrolastic and just pull as hard as possible to force the fish to turn, thus keeping the line off the fish's back.
Although we caught well in the first week's practice, we weren't naive enough to think that the match itself would be anywhere near as good. But we did expect to catch plenty of fish and thought that 10 kilos plus would be required for a top-five finish in each section.
How wrong could we be?
Tackle And Rigs
Bream: We used round-bodied floats from 4g to 10g and flat floats between 8g and 15g. These were set up on 0.19mm main line to a 0.17mm hooklength. The floats were shotted up with large shot from Sensas (available up to 15g). Hooks used were Kamasan B711s in a size 13 or 15 and favoured elastic was white Hydro. The round floats were used to run through at the pace of the river and the flat floats were inched through the swim at quarter-pace or less. The main target species were skimmers and bream although some barbel were caught on these.
Barbel: The other main rigs used were large flat floats up to 40g. The most popular types were Sensas Stach and Milo types. Both featured 3mm plastic bristles, which we found best. These were attached to main line up to 0.25mm with hooklengths of 0.21mm. Hooks were predominantly Kamasan Animals in size 12, although Alan favoured a Mustad Bream Feeder.
These again were shotted using large shot as a bulk with an AAA placed on the bottom up to two feet from the hook.
Bleak: The only other rigs used were for bleak. These were made up on two and three-metre whips. The floats were classic pencil-shaped floats from Milo and Sensas in sizes from 4×12 to 4×14. Hooks were fine wire in sizes 20 and 22.
Official Practice
As in all major championships, the teams were allocated their practice zones. We started on E section – the shallowest.
The depth started at around four feet deep but soon began to rise as we tackled up. Kind-hearted Will advised the team above us to move back as they were setting up right on the water line. Within an hour they would have floated past us as the river rose by over three feet!
We all caught fish – mainly skimmers with a few bream and barbel. The best rig was a 12g flattie inched along the deck. Top weight went to Alan with 35 fish for over 30lb. Things were looking good. Rumour had spread along the bank that England had bagged so in the afternoon session we had an audience of nearly 100 people.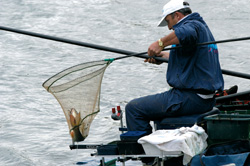 Stu Conroy latches into a Vah barbel.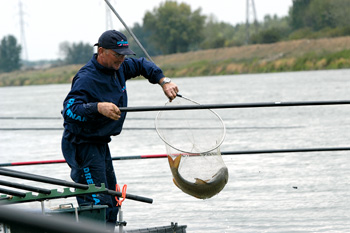 But Steve Gardener's is bigger!
After that day the venue started to go downhill. So much so in fact that there were several dry nets plus single fish weights in our practice sessions. The only man catching regularly was Will who always seemed to hook barbel on the big flat float. We thought the only reason for this was that he was using his Stickymag allocation every day, which took some doing via a pole pot.
Bait Limits
In the World Champs there are strict bait limits. Total groundbait allowed was 17 litres. The total livebait allowed was 3.5 litres, which included bloodworm and joker. The problem we had was that to fish for the barbel we wanted to feed lots of sticky maggots. The decision was: do we cut back on joker in favour of maggots?
Add into this sweetcorn, caster, chopped worm and feed bloodworm, and it became a major headache to teams that wanted to fish for both barbel and bream.
Groundbait
With the river so pacey we had experimented with various groundbait mixtures. Some of the team preferred to fish without leam, some wanted to use leam plus some groundbait. After lengthy discussions we finally settled on two bags of Sensas Fine Carp, two bags of Sensas Riviere and two bags of Sensas Terre de Riviere. We had around 11 litres of this mix plus five litres of Sensas Friture and Liant Allonger for the bleak. We also had to allow for a litre of gravel to mix with our sticky maggots to give it weight.
The Plan
It was now apparent that the fishing was going to be very difficult. However, we felt that we had to fish positively for big fish if we were to win the event.
We would start by balling in ten balls of groundbait with sweetcorn and caster plus 200ml of joker at 14 metres. We would also cup in two balls of groundbait containing a little chopped worm to enable us to place our hook bait right on the spot that the fish would approach. Added to this we were going to introduce approximately half a pint of maggots in gravel on the same line.
We'd start on a medium flat float such as a 12g and run through very slowly around 12 inches overdepth. Hopefully we'd pick up an early fish this way. After this the best approach seemed to be anchoring the bait with a 30g flattie. We would at various times pick up other size floats to run through with to see if the fish wanted a moving bait, but the majority of our fishing was to be on a big flat float.
Top-up feed wise we decided to cup everything in. We felt you had to keep feeding to encourage fish to stay in the area. We fed two or three balls of groundbait with joker plus two balls of sticky mag every 20 minutes.
If it were obvious that there weren't any big fish in the area we would drop back to fishing for bleak at two or three metres.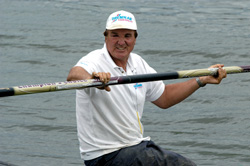 Bob Nudd drew D section but only made 25th in section.
Day One
I knew that I wasn't going to make the team on Thursday when I blanked after losing a bream. So it wasn't a shock when Mark gave me the news that night.
The team was very confident but we knew that it was turning into a peggy affair. Lady luck needed to be shining on us all – usually a lot to ask!
Stuart Conroy was on A36, Alan on B20, Steve Gardener on C28, Bob on D5 and Will on E12.
I started running the bank for Bob's section; the Irish had caught in the area the previous day and I thought Bob would do well.
As in practice, there seemed to be a quick flurry of fish hooked in the first 45 minutes. The Hungarian and the Italian in the section had started well, both netting a barbel. Bob was still biteless when I got to him after 20 minutes. However, in the next 20 minutes he foul hooked several fish – probably barbel which shed the hook. He managed to land a small carassio of 8oz or so but then struggled badly. He resorted to bleak for the last twenty minutes and finished with a weight of 450g – only good enough for 25th in the 39-peg zone.
Other results were more encouraging with Alan winning his section and Stuart weighing over 6kg for fourth. Steve had just three bites and landed a barbel over a kilo for eleventh but Will struggled in E, landing a single foul-hooked barbel for 18th.
After Day One England were lying in sixth place with 63 points. The leaders, Belgium, had amassed just 32 points from Hungary on 36 and Poland on 43.
Day Two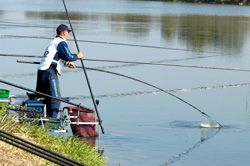 That man Alan Scotthorne on his way to another individual gold – his fourth.
The team was still confident that we could achieve a podium place but we knew that a very low score was required – possibly 15 points or less. Again we had to be positive but were mindful that bleak could play a part in some sections depending on the draw.
As is usual, the highest points scorer was dropped. In this case Bob was the unfortunate angler who made way for me.
That night was spent frantically remaking rigs, tying hooks and replacing elastics in readiness.
I knew I would be on A section, which I was happy with as there were several good weights taken there.
We met up as usual, sharing out baits and mixing groundbaits when Mark arrived to dish out the section tabards. I ended up on 16, not the greatest area but I was confident of catching a good weight. Alan was on B32, which gave him a great chance of winning the individual title. Steve was on C25, Stuart had got D1 (a definite bleak only area) and Will was on E9 – just three pegs from his previous day's peg (another desperate area with bleak the only option).
My Match
This is only a short paragraph as nothing happened in my match for two hours and fifteen minutes! Up until then I had only had one slight indication on the big flattie. Mark Addy had come down to try and coax a fish out for me. Some of the team had caught well down the peg but I still hadn't caught when I moved my float back in front of me for what seemed like the millionth time. The shot settled and the float disappeared – steady strike and the fish was on. After a short, one-sided battle a 1lb 4oz baby barbel graced my landing net.
Next cast I had another bite that I missed and, unbelievably, on my third chuck in I hooked another fish that shed the hook almost immediately.
That was the end of my match – three bites in five minutes!
The Italian – former World and European Champion Jacopo Falsini – on my left also caught one fish – a 1kg nase – and the Welshman on my right caught just 10 bleak for 60g. This gave me 28 points – disappointing to say the least.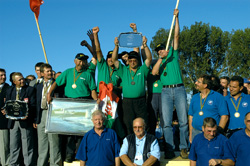 Hungary had practised on the venue literally for months and won the gold.
The Result
We had some good scores with Alan scoring a section second with 7kg, Stuart weighed in over 2kg of bleak for fifth and Stevie landed a couple of bream and barbel for third in C. Unfortunately Will had endured another nightmare to finish 21st with 1kg of bleak. This from a man I expected to win the event – I think this showed the peggy nature of some of the sections.
Hungary had scored an unbelievable second day total of just 19 points, giving them an easy victory over Poland with France in third place. England finished in fifth place, 16.5 points off a bronze medal. That said, we only ever fish for gold and if we had hooked and landed every bite we had we still wouldn't have beaten the Hungarians.
Champion Again
The one good thing to come from this year's championship is Alan Scotthorne's fourth individual victory. As a competitor you sit down and look up and down the match length at nearly 200 other anglers and wonder how you can win one event, let alone four. Do not be fooled that it's about luck. This man is the most dedicated and professional angler I have ever met. He thinks about methods and feeding in a way most people cannot comprehend. Bob Nudd set the benchmark and Alan has now surpassed that mark. He is without doubt the best angler in the world and will almost certainly win it again.
Golden Hungary
I spoke with Hungarian team member Szilard Magyar to see how the Hungarian's approach differed from England's.
" We used a sticky mix containing two bags of Sensas Moline Anglaise (similar to River), two bags of Gros Gardons, one bag of super Pastoncino and three bags of Terre De Riviere. To this we added caster, chopped worm and bloodworm – no joker," he said.
After the initial twenty-ball barrage they would start to top up after one hour with four or five balls of the same mix. This not only fed the swim but the noise also attracted bream into the swim.
Sticky maggots and gravel was also fed regularly to bring in barbel.
Hungary used similar rigs to England with 4g to 6g round floats, 6g to 10g flat floats for running through and 20g to 30g flatties for laying on.
Hook baits ranged from eight bloodworm, red maggot and bloodworm and caster/worm cocktails. These were fished on 0.15mm hooklengths to a size 14 B560 for bream and a size 13 B711 for the barbel.
Hungary had practised extensively for this championship and thoroughly deserved the title.