The world brown trout record has been beaten with a brute of a fish from the Manistee River in Michagan, USA.
The jaw dropping 41lb 7oz fish, which beats the 17-year-old All Tackle IGFA World Brown Trout Record, was landed by Tom Healy, who was fishing the Grand Rapids stretch of the big river with a No8 silver Rapala Shad Rap, a 9ft Cabelas XML rod and a Cabelas Prodigy reel loaded with 30lb Power-Pro.
Fishing with pals Bob Woodhouse and Tim Roller, they were targeting salmon by drifting the river with a variety of Rapala plugs and they had already hooked two salmon, when Tim latched into what he immediately thought to be a big salmon.
The fish made a violent first run up-river where it came to the surface and tried to jump, but according to Tom it couldn't because of its immense size.
The anglers, who then realised it was a 30lb-plus fish, lost all sense of time but believe the fight lasted about 15 minutes.
Only when the specimen came to the net did they simultaneously realise two things: First, the fish was a whole lot bigger than they had originally thought; and second, it was not a salmon at all, but a gigantic brown trout the likes of which no-one has ever seen before.
The world record brown trout measured at 43.75 inches with a girth of 27 inches. The catch caused such a stir locally that a TV station came and recorded the weighing.
For the full story on what some to believe the 'holy grail' of all the IGFA All Tackle World Records, click on the link below:
WORLD RECORD BROWN TROUT – FULL STORY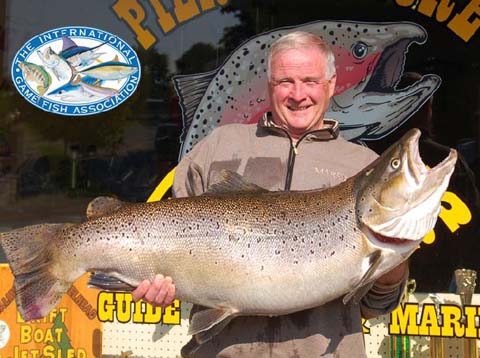 Wow! The new world record brown trout, caught on a Rapala lure by Tom Healy on Michigan's Manistee River.
---