An English carp angler has set a new carp world record with a massive 94lb brute taken by Solar Tackle's Martin Locke.
The mighty fish – known by carp anglers as 'Briggs Fish' – was landed at swim 12 on the 110-acre Rainbow Lake near Bordeaux in France, and is a fish that the Kent angler banked once before in 2008 at 84lb.
It was his only run of a week-long session by the angler known in big fish circles as 'Lucky Locke'.
Martin's mirror carp beats the previous world record, a fish caught by Andre Komornicki in 2008, by 3lb from another French big carp water, Les Graviers.
It fell for Martin's kebab rig coupled to a size 1 Solar Stronghold hook with Solar Chub Mix boilies on a long hair, with a super tough 85lb Kryston Top-Up hooklength and 12oz lead.
Martin said when he got the run it felt like 'striking into a brick wall…'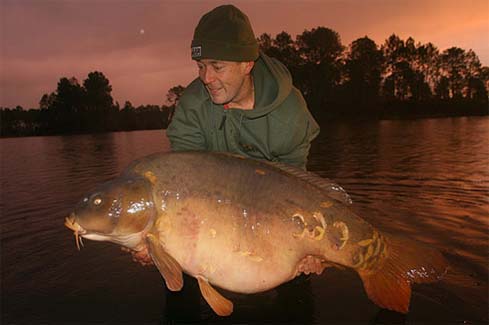 Martin Locke cradles the 94lb mirror carp from Rainbow Lake in France that sets a new world record and brings the prospect of the first 100lb carp nearer to reality.
---