Darren Cox put together this fantastic (and surprise) 50lb bag of quality perch during a pleasure session on Sycamore Lake at White Acres Fishery in Cornwall.
Darren was shooting a DVD for angling TV channel OnlineFishing.tv and was targeting perch in wintry conditions, but found perch from 1lb 8oz to 2lb 8oz lining up in four and half feet of water just over the second ledge.
All the fish fell for double caster fished on a size 16 B911 hook, using a Garbolino Green elastic 0.14mm mainline to 0.12mm hooklength and a 4×10 float.
"This is a great time of year to target perch because they are fattening themselves up and eating virtually anything in readiness for spawning in January or February," said Darren.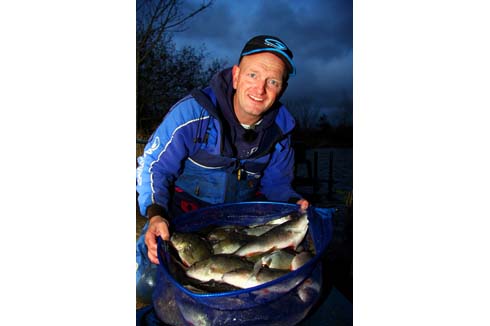 Darren Cox, Garbolino was hoping for tench at White Acres, but caught this superb bag of quality perch instead while filming for OnlineFishing.tv…